Pieces of the 100-year-old former St. Vincent Hospital live on in a new classroom building Ivy Tech Community College opened at its downtown campus in January.

Most visible in the new architecture is the historic façade of the old hospital. Marrying the two was no simple task, though it was made easier by innovative 3-D scanning technology that measures the dimensions of a building to within millimeters.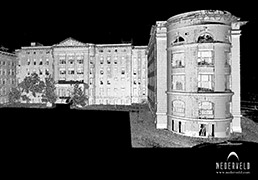 A 3-D scan of the old St. Vincent Hospital (above) helped Ivy Tech renovate the 100-year-old building by matching measurements of its façade with new construction (below) to accommodate enrollment growth. The 3-D scans are so accurate that they're often within two millimeters of a building's actual dimensions. (Photo Courtesy Schmidt Associates)
"Without it, we wouldn't have been able to determine how to save the façade," said Jeff Terp, Ivy Tech's senior vice president of engagement and institutional efficiency. "That was critical to the ultimate design."

Ivy Tech began construction on the site, which is next to its downtown Indianapolis campus, in May 2010.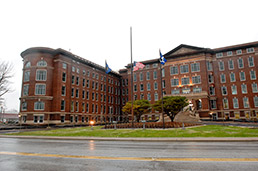 (IBJ Photo/ Perry Reichanadter)
The college tore down parts of the old hospital to make way for the classroom building to accommodate a surge in enrollment. Ivy Tech set a fall semester enrollment record with more than 113,000 students taking classes at its campuses across Indiana. That's up 73 percent since 2005.

The building served the hospital from 1913 to 1974. It was converted to apartments, then slipped into neglect, and has been empty since 2003. Ivy Tech bought the five-acre property between Illinois Street and Capitol Avenue from the city for $1 in 2006.

The first three floors of the new building opened last month, while the fourth and fifth levels should be completed in April, Terp said.

The 3-D technology shaved as much as $3 million off the $40 million cost of the building, Terp said.

Ivy Tech initially looked at only saving the outside shell of the old hospital. But the 3-D software helped the school determine that it could save not only the façade but also several hospital rooms that later were converted into classrooms and faculty offices.

Ivy Tech salvaged much of the interior of the building because its walls are "load-bearing" and constructed with concrete, block or brick. Tearing down the walls, which was the original intention, would have cost the college at least $1 million, Terp said.

"That inside structure was so sound that we didn't have to spend the money just to save the façade," he said.

The technology consists of a tripod-mounted instrument resembling a high-tech camera. It measures dimensions of a building by pulsing a laser light at about 1 million times a second as it slowly turns.

Each scan takes three to seven minutes, and the resulting images create what's called a "point cloud" representing the external surface of a building.

The scans, which resemble a photograph, are so accurate that they're often within two millimeters of an actual building's dimension. For a renovation of a century-old building, in which original blueprints might not exist, the technology is worth its weight in gold.

The architecture firm for the project, Indianapolis-based Schmidt Associates, has used 3-D technology for five years on multiple historic buildings, said principal Sarah Hempstead.

"It's most ridiculously accurate," she said. "Accurate enough where, [if] a window opening is slightly askew, you can pick it up and compensate for it in your design."

Schmidt Associates took about a week to get the scans, and the scans ultimately led architects to design a new building that could be incorporated into the old hospital.

Designers handed the scanning work over to a contractor much like they would for land surveys. Doing so saved a lot of time and effort compared with the old way of collecting building data, Hempstead said.

"You drop [tape measures] from roofs and lean out a window and take pictures," she said. "We still do some of that, but when we have the scans, it almost eliminates that kind of thing entirely, certainly the dangerous parts."

Mark Hanna, founder and president of PrecisionPoint Inc., wasn't involved in the Ivy Tech project, but he's produced several 3-D scans for others, including renovation of the Lady Victory statue atop the Soldiers' and Sailors' Monument, Hinkle Fieldhouse at Butler University, and the Tippecanoe County Courthouse in Lafayette.

He said three companies predominantly manufacture the 3-D scanning equipment, which originally was used in the power and processing industries. A refinery might have used it to measure complicated piping, for instance.

The technology is becoming more accepted within architecture, engineering and construction as prices have fallen to $75,000 for the device from the initial $1 million.

Hanna, who has a background in land surveying and mechanical engineering, founded PrecisionPoint in 2009. It has six employees and enough equipment to run three crews throughout the country.

The company recently completed a project at Denver International Airport in which it produced 500 scans in six days covering hundreds of thousands of square feet of buildings.

"I don't know how you would do that in any other way," Hanna said.•