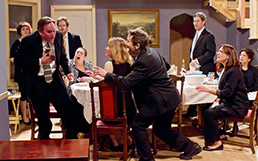 A volatile funeral dinner provides the centerpiece for the comedy and drama in Tracy Letts' "August: Osage County," having its Indiana premiere at the Phoenix Theatre. (Photo Courtesy Phoenix Theatre)
A sprawling, brutally intimate epic both intensely personal and apocalyptic, Tracy Lett's "August: Osage County" sadly and hilariously explores our inability to control one another, our inability to completely know one another, and our inability to love as consistently as we think we should or to hate as intensely as we may think is deserved.
The Pulitzer- and Tony-winning play runs through March 11 at the Phoenix Theatre, a space that proves remarkably accommodating to the expansive set needs. The only thing small about this production are the number of seats, which deserve to be filled for the remainder of the run. (I'd be thrilled to hear that Indy audiences support an extension. Come on, folks.)
"August" starts with the one-sided, self-serving spouting of a man who (minor spoiler) won't be around for scene two. But from there on, it's about lives in conflict and the negotiations and explosions of human beings trying to live with and without one another. It's also about family and what that can possibly mean in a world adrift.
More important, it's about very specific characters, not generalized ideas. It's about Barbara Fordham (the remarkable Diane Kondrat), a woman trying to manage a separation from her husband while being called home to deal with the disappearance of her father and the pill-popping dependency of her mother, Violet (Martha Jacobs), who uses the truth as a very sharp weapon whenever possible.
It's also about Barbara's sisters, the put-upon homebody Ivy (Gail Bray) and the compromiser-in-denial Karen (Diane Timmerman). And it's about the world of people connected to them through blood and otherwise—an errant daughter, a philandering husband, a browbeating aunt, et. al, all of whom are more complicated and interesting than the single-adjective descriptions I'm limiting myself to here. And most are made even more interesting by nuanced work by a cast that seems joyfully committed to a play they can really chew on. Along with Kondrat's stunning work, consistently strong local mainstays Bill Simmons and Matthew Roland offer the most rich and compelling performances I've seen from them.
OK, so I wasn't crazy about how just about every scene seems to end with the dramatic equivalent of a rim shot—and Martha Jacobs presents a bit young to play the 65-year-old matriarch. But these and a few other minor issues do little to diminish the power of what is the must-see theatrical production of the Indy arts season so far.
The sizable cast of characters—13 in all—and the three-act, two-intermission structure are throwbacks to an earlier theatrical time when plays were meaty, the stage was full, and audiences weren't so afraid of commitment. Clearly, "Long Day's Journey Into Night" and "The Iceman Cometh" are influential here, but neither is required reading for enjoyment.
The only prerequisite, perhaps, is the experience of having lived in a family.
  __________
For something completely different, there's "Legally Blonde," the 2007 Broadway musical adaptation of the entertaining 2001 film hit.
Beef & Board's "Blonde" (running through April 6) can't do anything about some of the inherent problems in the material. The absurd majorette sequence in the first act and the unnecessary bathroom trip from the courtroom in the second are never going to go away. But it does give us an Elle Woods to root for in Maggie Taylor, who understudied the part on tour, as well as a formidably voiced Warner in Chad Brosky, and a charmingly rumpled Dominic Sheahan-Stahl as Emmett. It's got a winning Paulette in Annie Edgerton and strong dancing support across the board(s).
My enjoyment of B&B's production sent me back to my review of the touring version of the show, which came through Indy in 2010.  At the time, I expressed admiration for the score I'd heard on CD and for the giddy shot-from-the-stage production that aired on MTV but disappointment in what I saw on stage. The production, I wrote, seemed to be saying 'The Elle with it.'"
What a difference talent and a cast's seemingly genuine fondness and enthusiasm for the material (and a pre-show buffet) can make.•
__________
This column appears weekly. Send information on upcoming arts and entertainment events to lharry@ibj.com.
Please enable JavaScript to view this content.