Ball State University is beginning the final phase of what it says will be the nation's largest geothermal, ground-source heat pump system.
The work, to be completed in 2014, is turning the underside of Muncie into a virtual slab of Swiss cheese. It includes drilling another 780 of what will be 1,800 boreholes in a field south of campus. Some of the holes are as deep as a 40-story building.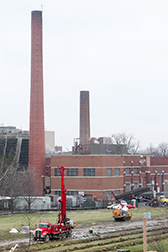 Ball State's $70 million to $75 million geothermal system will heat and cool 5.5 million square feet of buildings. (Photo Courtesy Ball State University)
Water flows through a closed loop of piping that extends into the holes, taking advantage of the Earth's ability to store heat. Conversely, the Earth can cool the water when the system is in cooling mode.
Eventually, the system will heat and cool 5.5 million square feet of buildings. The $70 million to $75 million system will cost about $15 million more than initial plans to upgrade the campus' coal-fired boilers. Ball State estimates the system will save $2 million a year in operating costs and reduce carbon dioxide emissions.
Taxpayers, courtesy of the U.S. Department of Energy, are contributing $5 million to the project.
"When costs began to escalate for the installation of a new fossil-fuel-burning boiler, the university began to evaluate other renewable-energy options," said Jim Lowe, director of engineering at Ball State.
Work began on the project in 2009.
Please enable JavaScript to view this content.