Welcome back to IBJ's video feature "Inside Dish: The Business of Running Restaurants."
Our subject this week is The Local Eatery and Pub, which has weathered its first 12 months in business in fine form with a significant profit. But it wasn't easy. Despite decades of experience in the restaurant business, co-owners Derek Means and Craig Baker traversed an intense learning curve with their creation.
"I think I underestimated how much work it was going to be, running your own restaurant," said Means, 40, who has held management positions in central Indiana brewpubs Lafayette Brewing Co., Alcatraz Brewing Co., and Ram Restaurant and Brewery.
Means met up five years ago with Baker, 38, a chef and former restaurant owner from Portland, Ore., who moved to Indianapolis to be closer to family. Originally interested in opening a brewpub, the pair hashed out several concepts before targeting a specific location in a Westfield strip center in February 2010.
"I don't know if I can remember the original concept," said Means, chuckling. "It went from as simplistic as just pizza and benches, to where it was walk-up counter service. That was the seminal idea."
"It just kind of snowballed from there," Baker said.
They settled on creating a gastropub (tavern food with an artisanal twist) that would focus on ingredients sourced from central Indiana farms and other local vendors. Hence the name: The Local Eatery and Pub.
Following the do-it-yourself ethos that's sympatico with the eat-local movement, Means and Baker took on the lion's share of demolition and renovation work themselves for the 4,800-square-foot space. One key to making it work financially was inheriting kitchen equipment, video screens and some furniture from the space's previous tenant, Bridgewater Sports Café. Keeping build-out costs down through tireless labor, Means and Baker opened their doors on Feb. 5, 2011, with just a $62,000 startup investment.
"I would go several days without sleep, without going home, just staying here working," Means said. "I knew it was bad when we were about to have our final health inspection and we had a leak under one of the sinks. So I was down there tightening the fixture, and the next thing I know I wake up with the water leaking on my head. That's when I knew it was time to go home."
The work schedule didn't get any easier. The Local Eatery is open for lunch and dinner seven days a week, and Means and Baker typically work both shifts.
One time-consuming task for Baker is planning a weekly menu of specials, on top of seasonal shifts for the entire menu. He's quick to pull the trigger on items that don't measure up to his standards or are out of season, including several popular flatbread pizzas and an Asian chicken-and-vegetables dish that was among the restaurant's top sellers.
"It came winter time, and I really couldn't source the vegetables, so we took it off [the menu]," Baker said. Sourcing the dish's brown basmati rice at an affordable price also became an issue.
"And people laid into me," Means laughed.
Early on, they underestimated staffing needs. They opened thinking they could cover lunch service between the two of them. "We quickly realized after the first week that that wasn't going to work," Baker said.
The number of cooks has grown from three to seven over the first year, and total staffing has expanded from 15 to 28.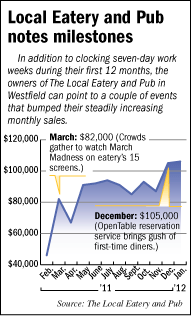 Some would say that's a good problem to have, in that business has been even better than expected. The Local Eatery got an early boost from college basketball when March Madness brought big crowds and essentially doubled sales from its first month. Joining the OpenTable reservation system brought a fresh blast of new diners in December, as monthly gross sales rose from $87,000 to $105,000.
For its first 12 months, The Local Eatery logged a total of $1,066,000 in gross sales—well above the $700,000-plus the owners projected as their break-even point. They've been able to pay off a $50,000 SBA-backed line of credit that funded their initial investment, and sink another $60,000 into improvements to the restaurant.
They've also been emboldened to think about new projects. "I think we were open just two months when Craig said to me, "Hey, I've got an idea," Means said.
They're considering starting a food truck operation and opening another restaurant (which could be a new concept) within the next year. They're also planning on promoting the Local's catering.
"I think if we were just content running this, it would be much different for us," Means said. "But we really want to grow."
In the video at top, Means and Baker discuss the restaurant's origins, the difficulties and added expense of focusing on locally sourced ingredients, and their struggles to find time outside of their daily duties.
 

Concept: Family-friendly gastropub that specializes in artisanal cuisine (modern-American with a twist) with many ingredients sourced from Indiana farmers and other vendors.

Owners: Derek Means, who manages the front of the house, and chef Craig Baker.

Start-up costs: $62,000, mainly covered by a $50,000 SBA-backed line of credit. The owners did the lion's share of demolition and renovation themselves, and benefitted from inheriting kitchen equipment, TVs and some furniture from the previous tenant.

Gross sales: $1,066,000 for the first 12 months of operation

Goals: To bring in more management support so the owners can spend more time promoting the restaurant's catering; to start a food-truck operation; and to open a new location (either another Local Eatery or a new concept) within 12 months.
Please enable JavaScript to view this content.