Longtime Indianapolis banking executive Stephen A. Stitle is adamant that he'll never retire.
So it's likely no surprise to those who know the 66-year-old best that his departure from the local office of Pittsburgh-based PNC Bank is leading him back to the legal profession.
Stephen A. Stitle
Stitle, PNC's Indiana chairman and former regional president, is set to leave the bank to join Krieg DeVault LLP on May 1 as a partner in the firm's corporate and financial institutions practice.
"That's just my makeup," Stitle said of his plans to continue working. "I'm not ready to play golf all the time. Plus I'm not any good."
With 106 lawyers, Krieg DeVault is the city's sixth-largest law firm. It boasts a strong financial services practice and enjoys a long-term relationship with PNC that began with predecessor Merchants Bank before National City Bank purchased it in 1991.
PNC, in turn, bought Cleveland-based National City in 2008 at the height of the financial crisis with the help of government bailout loans. National City had been the city's No. 2 bank, and PNC has held onto the position, with 88 local branches.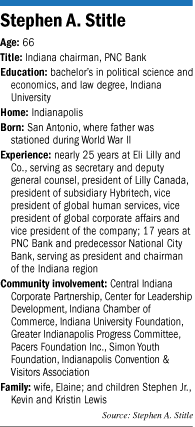 Stitle served as president and CEO of PNC's Indiana region until last August, when Connie Bond Stuart took over. The bank has no plans to replace him as regional chairman.
He came aboard National City in 1995 after logging more than 25 years as an executive at Eli Lilly and Co. His departure as a Lilly vice president and board member followed the tumultuous ouster of Lilly CEO Vaughn Bryson.
Stitle came to know Mike Williams, Krieg DeVault's managing partner, through its legal work with the bank. As the years progressed, the two occasionally would discuss Stitle's plans after banking.
"He's provided sound business counsel for many years to PNC and before that, for Lilly," Williams said. "He obviously knows the financial services area very well, and our firm has a sound financial services practice."
 
Founded in 1870, Krieg DeVault is the city's second-oldest law firm next to Faegre Baker Daniels LLP, which sprung from a merger between Baker & Daniels LLP and Minneapolis-based Faegre & Benson LLP in October.
Krieg DeVault's larger banking clients also include Chase and Old National Bank, in addition to corporations Bridgestone Corp., Cummins Inc. and Rolls-Royce.
The firm has five offices in Indiana and one each in Atlanta, Chicago, Minneapolis and Boca Grande, Fla.
Stitle said he's known about Krieg DeVault since he was a youngster, as his father also was an attorney.
"They've had a wonderful reputation," he said of the firm. "It's just perfect for me. I couldn't dream up a better relationship."
His leap to Krieg DeVault returns Stitle to the practice of law. After earning a degree in political science and economics from Indiana University, he graduated from IU's law school in Indianapolis in 1970.
Stitle went to work at Lilly the following year. He held several positions at the pharmaceutical firm, including secretary and deputy general counsel, president of Lilly Canada, president of subsidiary Hybritech, vice president of global human services and vice president of global corporate affairs.
 
Please enable JavaScript to view this content.