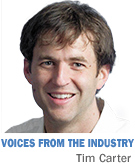 When I moved here from Athens, Ga., in August 2009, my impression of Indianapolis was that the city had just started to appreciate its natural assets. Fast-forward 2-1/2 years, and what I see now is a community working together to improve and use the environment to make Indianapolis better.
Change is incremental, of course, and we're still a work in progress on issues such as mass transit. But when you see 8,000 Eli Lilly and Co. employees working on various environmental cleanup projects for their annual day of service—to mention just one initiative—you realize the trajectory in Indianapolis is positive.
We have ample opportunities to continue that climb in ways that benefit the environment, the economy and livability. Let me mention five.
• Reconnecting to Our Waterways, an initiative backboned by Lilly in partnership with many organizations, aims to connect city residents to six major waterways in the city. The goal is to create more livable communities in Indianapolis by generating opportunities for folks to experience art, nature and beauty along the waterways.
This project will restore and highlight the water assets in the city that have long been neglected and help the community connect with cultural, economic, environmental and educational opportunities along these revitalized community spaces and in the neighborhoods around them.
• Urban agriculture/ultra-local food movements have been attracting interest across the country as people look for fresh food produced organically and delivered with the smallest possible environmental footprint. (Would you prefer fresh from the garden two blocks away or something trucked in from two days away?)
Indianapolis has been turning blighted vacant land in neighborhoods into productive spaces, literally, in the form of community gardens and urban farms. And with the city pushing to demolish abandoned properties, there will be even more parcels that need a temporary or immediate use. Agriculture can have a significant place in broad-based community revitalization.
• Public art projects can help engage the community and increase awareness about environmental issues. Some of our artists are creating wonderful murals of Kurt Vonnegut; others are working on public art installations that explicitly have environment in mind. One of the most prominent and promising of these was Mary Miss' "Flow: Can You See the River?", which shows how ordinary activities are connected to the history, ecology, origin and potential of the White River water system. (Look it up at: http://www.imamuseum.org/100acres/artists/marymiss.)
This project, funded by the National Endowment for the Arts and National Oceanic and Atmospheric Administration, is visible along a six-mile stretch of the river. It uses mirror markers and oversized red map pins to identify important features of the watershed.
• Along those lines, coming soon is an urban bird trail. This trail will benefit birders and ecotourism, but really it's being designed to get people outdoors and highlight Indianapolis' natural beauty. By the end of the year, a website will be up and the locations should be designated.
• Finally, we are beginning to expand the multifunctional greenway system, building off the success of the Monon Trail, with projects such as the Cultural Trail that served the city exceedingly well during the Super Bowl as people moved around downtown. Now we can extend it into neighborhoods, allowing people to access the city's major greenway system through tendril bike and walking trails that connect neighborhoods while improving physical and ecological health.
While these are a handful of tangible environmental initiatives in the city, probably the most important environmental asset is the creativity and collegiality of existing organizations, many of which are not explicitly environmental in focus.
On any given project, you can find folks from Keep Indianapolis Beautiful, People for Urban Progress, the Marion County Health Department, the city's Office of Sustainability, community development corporations, arts organizations and various departments connected to higher education (including the Center for Urban Ecology at Butler University, which I run)—all talking, brainstorming and working together toward the greater good of a better city.
This authentic spirit of collaboration is impossible to imitate. And now this is becoming formalized in the west wing of City Market under the auspices of "The Platform," which will create a physical hub for those interested in solving pressing issues for the city in holistic and creative ways.
As seen with the recent Super Bowl success, Indianapolis does not have to simply follow a script on how to be a great city. It can and should recognize its assets and chart its own course for a sustainable future.•
__________
Carter directs Butler University's Center for Urban Ecology. Views expressed here are the writer's.
 
Please enable JavaScript to view this content.