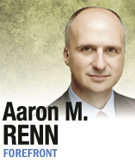 Demographer William Frey once quipped, "There aren't enough yuppies around to save Detroit." What's true for Detroit is also true for the urban core of Indianapolis. Center Township has lost more than 50 percent of its population since 1950, including over 24,000 people in just the 2000s.
People usually talk about attracting people back to the city in terms of young professionals. In this view, the ideal prospective resident is a Gen-Y vegan hipster who bikes to work on a fixie to his job as a graphic designer downtown in a LEED-certified office. That's a nice demographic, but there just aren't enough of them to repopulate central Indianapolis. What's more, every city is trying to lure them, and places like Portland, Ore., are better positioned to do it.
So to start bringing people back to the urban core, we have to go beyond standard yuppies and think about additional demographics that Indianapolis can plausibly attract. While I won't claim these are the only possibilities, I will give three real life examples.
Families. Central cities aren't always great places for families with kids because of schools, crime, etc. But some places are better than others. Unlike, say, San Francisco, Indianapolis has a key advantage here: the affordable single-family urban home, an actual house being what most families want.
In Indy, you can get a house with a yard close to downtown for less than you'd pay for a cramped condo in lots of places. Plus, schools aren't always the barrier we think. Even in those apartment-heavy cities, families are starting to stay in urban neighborhoods. People claim we need better schools to get middle-class families to stay in the city. But the reality today is that it is middle-class families staying in the city that is driving improvements in the schools.
Mayor Ballard has said Indianapolis needs to find out how to become known as "a great urban place to raise a family." I agree.
Immigrants. The Hispanic population of Center Township was up 4,300 people, or 50 percent—a bright spot in an otherwise bleak demographic picture. The Asian population was also up 40 percent, albeit on a very small base.
While this underperforms overall regional growth in those demographics, the central city has done a better job with them than with other groups. Immigrant-driven revitalization is more visible in older suburban township areas like Lafayette Square, but it's happening in the central city, too.
The more Indianapolis is able to attract immigrants, the more possibilities for capturing some of that growth for the urban core. The repopulation of Center Township can't be based on purely an upscale white demographic.
Christian urbanists. There may be opportunities for Indianapolis to go after segments of the urbanista crowd, but it has to do it by finding focused segments where Indy has unique appeal. One possibility may be Christian urbanists.
Indianapolis has long been known as a city with a strong tradition of faith. We see this in the central city, as well. The Harrison Center for the Arts is housed at Redeemer Presbyterian Church. The Earth House Collective is housed at Lockerbie United Methodist Church. Both are key cultural institutions respected even by atheists.
Many locals involved in urban revitalization efforts are explicitly motivated by faith. Mention religion in an urbanist setting in Chicago, and you'll get cold stares. Mention it in Indy and people are likely to tell you what church they attend.
Whatever it chooses, Indy needs to do some sort of a market segmentation study to find groups it is competitively advantaged to attract. Then it needs to build an environment to attract them and effectively market it.
In this regard, it should copy the sports strategy, where Indy made an explicit choice to be different and put a stake in the ground around a unique claim for the city. Similarly here, Indy should resist a me-too strategy of pursuing latte sippers, and build its own unique strengths and character.•
__________
Renn is a former Indianapolis resident now living in Chicago who writes the Urbanophile blog, one of the nation's leading urban policy websites. Send comments on this column to ibjedit@ibj.com.
Please enable JavaScript to view this content.