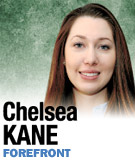 I must congratulate the House of Representatives and Speaker Brian Bosma for tabling Senate Bill 89, which would have enabled teaching creationism alongside scientific theories of the origin and development of life on Earth in our public schools.
The bill may resurface in 2013, but the General Assembly made the right call. Despite the amendments mandating other creation stories be taught in addition to the Judeo-Christian version of events, such teaching, regardless of its breadth, has absolutely no place in an American science classroom.
Creationism is not science. Never in a science class should it be taught alongside the theory of evolution. Even introducing this as an option demeans the scientific establishment and the endeavors of many who have given their intellectual talents to the honest exploration of the origins of life.
Often, champions for teaching creationism argue, "Evolution is only a theory." But what is a theory? A theory is a set of unified constructs that attempt to explain processes or phenomenon in the natural world.
When a theory is developed, it is inherent that its tenants be tested empirically. Creationism may have a unified set of constructs meant to explain and give meaning to life, but the ideas cannot be tested empirically.
In scientific inquiry, when results indicate a theory is false or incomplete, the theory is modified to fit the new information or is eliminated. As research accumulates in support of a facet of a theory, and the research grows to support the theory at large, the theory gains empirical strength and is therefore more credible.
So, a theory is not a "theory" in the way it is commonly used. This straw man argument is employed frequently by creation science advocates.
Ascribing to and studying the theory of evolution does not preclude the possibility of belief in the role of a divine creator, despite some opinion to the contrary. Scientific theories and research are not ideas to be "believed." Rather, the theories exist to be proved or disproved.
Creationism is, however, something to believe in, by virtue of its being unseen and therefore impossible to empirically research. By teaching our children scientific theories on the origins of life we are not removing their ability to be steadfast believers in spiritual thought.
We are, however, enhancing their ability to be critical consumers of research and literature, skills that extend beyond the science classroom.
Bills like SB 89 attempt to subversively introduce religious curriculum in public schools. This communicates to the community that advocates for this type of instruction have no regard for laws respecting separation of church and state or boundaries of science.
You cannot put the word "science" after creation and deem it scientific. The work of creation scientists has been criticized, refuted and dismissed by groups including but not limited to the National Science Teachers Association, the National Center for Science Education and the National Academy of Sciences.
There is, however, a place for religious and cultural instruction in our schools. I welcome and encourage teaching on religious doctrine and philosophy if it occurs in an appropriate context such as history, philosophy, cultural studies, religious or anthropology classes.
Indeed, many of the founding principles of our republic, as well as our legal system, are rooted in Judeo-Christian philosophy and practice. We would be negligent as a society if we were to teach on government, history, etc., without religious, cultural and political context. This is true regardless of the nation, government or historical period.
Teaching creationism and evolution side by side communicates implicitly that these topics are equally relevant in the eyes of the scientific community. This is categorically untrue and cheapens the quality of our science.
We are poorly equipping students for work in the sciences and in society if we send them on their way with such an unscientific understanding of current theory. Our students deserve better and I am glad the House of Representatives think so.•
__________
Kane is a doctoral student in clinical psychology at the University of Indianapolis and a past president of the College Republicans at Indiana University. Send comments on this column to ibjedit@ibj.com.
Please enable JavaScript to view this content.