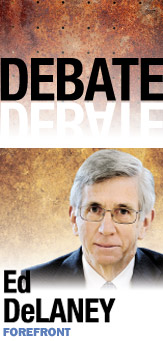 Question: Will the adoption of right-to-work legislation affect results of the general elections in November?
Answer: The passage of "right-to-work" will affect this year's races for the General Assembly. The only question is the breadth of the debate about that law. Can we expand the debate to cover the future of wages and income for all Hoosiers?
Indiana's labor union members have been put through a long and difficult education about what the General Assembly can do to or for them. It is highly likely these voters will turn out in solid numbers this fall.
Union members and teachers are likely to give up on any idea that the Republican Party represents them. They have been attacked in their wallets.
Union leaders will organize their get-out-the-vote efforts at a far higher level than in the past. These renewed efforts will have an impact especially in districts with substantial numbers of union members. That helps explain the votes of the few brave Republican legislators who bucked their leadership and voted "no."
The larger question is whether the broad public will sense that its own interests are affected by what looks to be an isolated fight over the details of union rights. If this happens, we will all benefit.
I believe this broader discussion is needed. I will work to see that it occurs.
The Republican attack on unions has to be understood in context. It is not an isolated action. It is part of a belief system that says austerity is needed but also is clear as to who must suffer.
Thus, the person who must sacrifice is identified as the civil servant, the teacher or the union member. In this world view, they are the ones at fault for our economic problems. If only they were laid off or paid less, all would be fine.
In this view, ordinary people are not seen as victims of economic stress. Rather, they are seen as the cause of our problems: They are paid too much, their retirements are too generous for the rest of us to afford.
In this world view, the real victims are those who have done really well, not those who have simply worked hard to earn decent pay and a decent retirement. Thus, the majority in the General Assembly has cut back on civil servants and teachers but wants to eliminate the inheritance tax. That contrast is a window to the Republican soul.
The question for Democrats is whether we can get the broader question of how to grow income on the table. Can we open an honest discussion as to what needs to change in order to build careers for the young and decent retirements for the middle-aged?
Too often, we focus exclusively on how things were in 2006 when all seemed fine. We want to preserve all the good things we had then, especially jobs and houses with equity. We need to move beyond that to discuss how to create better schools, new career paths and a modern infrastructure under today's circumstances.
I see little chance that the Republicans want to debate our future. They are busy trying to turn the clock back. They have rejected our efforts to modernize the unemployment system. They oppose modern public transit that could strengthen our cities. They see government as something to be controlled by them but attacked as useless.
While we Democrats may want it to be 2006 again, they want it to be their dream version of life in 1929.
I hope we will debate austerity and argue about the way forward. That debate is not simple, nor is it suited for sound bites.
But if we can have a real debate as to how we can work for a better future, some good will come out of this year's legislative chaos.•
__________
DeLaney, a Democrat, represents District 86 in Indianapolis. Send comments on this column to ibjedit@ibj.com.
Please enable JavaScript to view this content.