Bryan Fonseca is the reason The Phoenix Theatre has never, not once in 29 years, staged a revival.
Local premieres of contemporary work are the theater's hallmark, and it is Fonseca, co-founder and producing director, who rebuts the occasional suggestion by an actor or board member to bring back a popular play.
"We don't produce Shakespeare. We never will, as long as I'm here," said Fonseca. "I don't work in a museum. I work in a contemporary theater."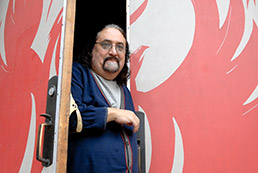 Bryan Fonseca, 57, plans to work another 10 years as producing director at The Phoenix Theatre, which he co-founded. Other local arts groups are also still led by their founders. (IBJ Photo/ Perry Reichanadter)
Yet Fonseca won't always call the shots, and the 57-year-old was reminded of that by a recent hospital stay. Although his health problem was resolved, and he plans to work another 10 years, the episode demonstrated the need for succession plans at Phoenix and other arts groups that are led by their founders, a few of whom are approaching retirement age.
Theatre on the Square, Heartland Truly Moving Pictures and Gregory Hancock Dance Theatre are also led by their founders. Only one of them, Ron Spencer at Theatre on the Square, plans to retire soon.
Succession planning is critical for any organization but even more so when the person making the hand-off is the creator and driving force, said Mike Alerding, senior director at the accounting and business consultancy Alerding & Co. "I think there's a much bigger responsibility on a founder."
Founders should be judged by how well they shift the focus of donors and other supporters from themselves to the organization as a whole, Alerding said.
Spencer, 65, is putting himself to that test now. After doing everything from managing finances to writing and directing since 1988, he'd like to find his successor in the next 18 months.
"I'm it, pretty much," Spencer said. "It requires an incredible amount of energy and stamina. It's kept me young and used me up at the same time."
Spencer said he realized that, to find the next leader, he would have to let others step up to the task. He's spent most of his time since Nov. 1 in Mexico, leaving the day-to-day management to two other staff members and a core group of contract artists.
"Things are going quite well," he said from Puerta Vallarta.
Fonseca said he and the Phoenix board first talked about succession plans five years ago. His ideal scenario is to work alongside a new artistic director for a season before he retires.
Although he still plans each season and has a hand in general administration, Fonseca thinks the Phoenix has grown into an institution with a larger identity. The theater took a big step in that direction about 10 years ago when it used an Indianapolis Foundation grant to create the position of managing director, which handles most fundraising duties.
Still, there's no assistant director on the staff of six who's being groomed to take over the lead artistic or management role.
"We are so small that every position is vital," Fonseca said.
The lack of a management pipeline poses a problem for the whole not-for-profit sector, according to The Bridgespan Group, a Boston-based consultancy.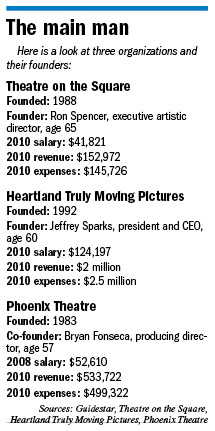 Baby boomers are retiring, and the not-for-profit sector is growing. But apart from hospitals and colleges, organizations don't employ middle managers who easily could fill the roles, according to Bridgespan's 2006 report, "The Nonprofit Sector's Leadership Deficit."
At the time, Bridgespan predicted that organizations with revenue greater than $250,000 would need to attract 330,000 to 640,000 senior managers over the next decade. The firm updated its study in 2009 and still predicts a great need for executives, despite the recession and layoffs at not-for-profits.
The updated study, "Finding Leaders for America's Nonprofits," projected an average of 49,000 senior-management openings per year.
The trick in succession planning is finding the money to build up staff well before the founder retires, Alerding said. Most organizations turn to foundations for grants, just as they do when they need to upgrade their computer systems, he said.
Heartland Truly Moving Pictures began planning in 2006 for founder Jeffrey Sparks' eventual departure as part of a $3.7 million Lilly Endowment grant, Sparks said.
Sparks, who is 60, started what began as the Heartland Film Festival in 1992 and has been the driving force behind its growth into a year-round organization that promotes uplifting filmmaking.
He also has been the main fundraiser for most of Heartland's history. Heartland has built up its staff, which now includes a vice president of advancement, so that when Sparks does leave, it can manage while the board searches for a new CEO, Sparks said.
He acknowledged, though, that he's still a big part of Heartland's identity. As the founder, he has an advantage in fundraising, Sparks said, but that also means there will be a void to fill when he leaves.
"The ill of it is there's some contributors that only want to talk to me," he said.
Choreographer Gregory Hancock has a completely different take on succession planning. He launched the eponymous dance company, based in Carmel, in 1998 as a vehicle for his own creativity. Working with a group of eight to 10 contract dancers, he's built a reputation for melding Eastern and Western styles. Three years ago, he started an affiliated for-profit dance school, The Academy of GHDT.
Hancock, who declined to reveal his age, said he's more concerned about the fate of his choreography than that of the not-for-profit organization. He thinks it will carry on, even if Gregory Hancock Dance Theatre doesn't.
"We have lots of dedicated dancers that would want the work to continue as well," he said.•
 
Please enable JavaScript to view this content.