Local lenders hope this year will be as solid as 2011 in number of loans they provide through popular U.S. Small Business Administration programs.
SBA lending hit a national record last year thanks to federal incentives that waived certain lending fees for borrowers and increased the percentage of loan values guaranteed by the federal government.
Though the incentives are gone, bankers still think 2012 will be a good year for SBA lending, even if activity falls short of last year.
Mike Newbold, president of Columbus, Ohio-based Huntington National Bank's central Indiana region, acknowledged that the incentives helped boost the numbers last year. But he's optimistic about this year, too.
"We continue to see very robust activity this year," he said. "It might be a little slower than the pace of last year, but we're still seeing good activity."
Huntington is the Indianapolis area's largest SBA lender, IBJ statistics show. In 2011, Huntington made 234 SBA loans totaling $35 million, a 41-percent increase from 2010.
Huntington's increase in SBA lending last year can be partly attributed to the American Recovery and Reinvestment Act signed into law by President Obama in September 2010.
The legislation raised the SBA guaranty on a bank loan to 90 percent from a prior high of 85 percent, meaning the SBA assumed more responsibility when a borrower defaulted on a loan.
In Indiana, SBA lending shot up 39 percent, to $603.6 million, in the fiscal year ended Sept. 31. The number of loans increased 10 percent, to 1,451.
But the number of loans and dollar amounts in Indiana both fell more than 70 percent through the first fiscal quarter of 2012, which ended Dec. 31, according to the SBA.
Even so, Indiana banks are on pace this year to surpass the amount they doled out in SBA loans in fiscal 2010 before the incentives.
Besides Huntington, Cleveland-based KeyBank's central Indiana office also is experiencing high SBA loan traffic. IBJ stats show Key as the area's second-largest SBA lender behind Huntington, doing $17.2 million in SBA loans last year, a 34-percent increase from 2010.
Gary Hentschel, president of KeyBank's central Indiana office, attributed the increase to an improving economy more than federal incentives.
"I expect that to continue in 2012," he said. "2011 was excellent, and we feel that 2012 will be good, as well."
Still another incentive from the federal act continues to provide a boost. The maximum loan amount for a 7(a) SBA loan permanently increased from $2 million to $5 million.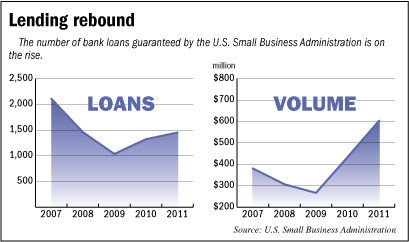 The 7(a) program, which funds needs ranging from operating costs to expansions and improvements, is the SBA's most popular loan.
Scotty's Brewhouse owner Scott Wise turned to Huntington to consolidate a few loans totaling about $4 million. That wouldn't have been possible under the old $2 million cap. Terms of the loan enabled him to extend maturity to 10 years, which lowered monthly payments while providing more operating capital.
"In our business, margins are slim, so cash flow is everything," he said.
Yet the SBA also is targeting startups too young to access traditional capital by increasing the cap of its microloan program from $35,000 to $50,000.
"It's a big change for a marketplace hardest hit in the depression," said Marianne Markowitz, the SBA's regional administrator for the Midwest.
Markowitz is upbeat about SBA lending activity in 2012, saying it should return to pre-recession levels.
That's likely going to be less than the record $30.5 billion banks nationwide loaned through SBA programs in the year ended Sept. 30. But Markowitz is OK with that.
"What we saw last year was an anomaly," she said, "but a good anomaly."•
Please enable JavaScript to view this content.