Hunger-fighting charities hope to tap volunteers and resources for special projects through a new entity, the Indy Hunger Network.
Led by hunger-relief activist David Miner, the network recently launched a website, IndyHunger.org, and is seeking tax-exempt status. The network's partners include local charities such as CICOA Aging and In-Home Solutions, Gleaners Food Bank and Second Helpings, as well as government agencies like the Indiana Family & Social Services Administration.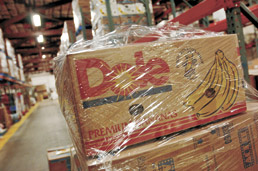 Gleaners Food Bank is a partner in the nascent Indy Hunger Network. (IBJ File Photo)
Each of those entities fills a niche in the food-delivery system, but there are some gaps in the system that leave thousands of people going hungry, Miner said. That's where the Indy Hunger Network comes in.
The network's goal is to ensure that anyone who needs food will have access to it by 2015, Miner said.
Miner, a retired Eli Lilly and Co. executive, is taking a scientific approach to the system's shortcomings. One of his current projects is helping Gleaners reach 10,000 kids with BackSacks this year.
BackSacks is a program that provides a weekend's worth of kid-friendly food. The network created a survey to help local schools identify kids who might be going hungry over weekends.
The network will accept donations for certain projects, but it does not want to spend money on regular paid staff or detract from its partners' own fundraising, Miner said. (He is also executive director of the Interfaith Hunger Initiative, another volunteer role.) One of his greatest needs is skilled volunteers.
"Some of these projects might be a great fit for a corporation," he said.
Please enable JavaScript to view this content.