The CEO of the Indianapolis Airport Authority and two key officers spent more than $67,000 last year on travel that included extended business trips to Brazil, Denmark, Greece, Morocco and Switzerland.
Nearly half that amount was incurred by CEO John Clark, who arrived in Indianapolis in 2009 under a cloud of controversy stemming from his globetrotting while head of the Jacksonville Aviation Authority.

Clark
Clark's big trips from Indianapolis last year included an $10,000 journey to Zurich in January to meet with Comlux Aviation executives. He ended the year, in November, with an $8,300 trip to Morocco to attend the Airports Council International World Economics Committee conference.
His flights and lodging, at the Palmeraie Golf Palace in Marrakech, cost $8,020.
Mike Wells, recently appointed to the board by Mayor Greg Ballard and subsequently named its president, said he isn't happy with the extent of the travel.
Wells
"I'm making major changes to the travel policy," said Wells, president of REI Real Estate Services.
His predecessor, Michael Stayton, resigned in December, saying he'd recently turned 65 and wanted to reduce his commitments.
Wells—who served a stint as president when he was on the airport board from 1992 to 2008—said he's still getting up to speed.
"It's still early. However, I think from an order of magnitude I'm led to believe maybe the travel is excessive just in terms of the gross dollar amount."
Democratic City-County Councilor Angela Mansfield agrees. She said she isn't comfortable with this level of travel spending by municipal employees—of an airport or not.
Clark "has brought a culture to Indianapolis that wasn't here before," she said. "There's no accountability regarding his expenditures."
Wells said he's also concerned about the amount of time the trips keep executives away from the airport. Others must step in to cover their work.
Travel records show Clark was out of Indianapolis for most the first quarter of 2011. In late January, he left for Zurich and was gone for most of the month of February and the last half of March.
Under a policy to be proposed by Wells, airport executives will be required to submit a proposed travel itinerary for the upcoming year.
"What we will do is review that and approve it," if appropriate, Wells said.
The same will apply to trips that come up on short notice, such as a need to fly to Washington, D.C., to meet with the Federal Aviation Administration, Wells added.
"That's the way it was when I was president of the board, before."
Wells conceded that he could be perceived by airport executives as micromanaging.
"If so, so be it," Wells said. "I'm probably not going to win homecoming king at the airport."
'Best practices'
Airport officials said Clark, 51, was not available for an interview, but he provided written responses to IBJ's questions.
Clark said he went to Zurich at the invitation of the president of Comlux "to promote the aircraft-finishing business" the company has in Indianapolis.
"The trip to Zurich was directly related to fostering the addition of 500 jobs supporting the Comlux operation here; Comlux clients wanted to hear from the IAA directly," Clark said in his statement.
It's not clear whether Clark helped persuade Comlux customers to bring more planes here for refurbishing. But the Swiss company already had announced two years earlier that it planned to expand the local base and add 500 jobs over five years.
Clark has long defended his travel in Jacksonville and Indianapolis, saying many of the trips were related to his roles with the industry's key trade group, Airports Council International, where he is a former chairman.
In his statement, he added: "In other cases, the objective [of travel] is to observe and improve upon best practices that can be applied directly to IND."
Toward that end, he encouraged Marsha Stone, the airport's chief financial officer, to serve as a speaker at the Airports Council International World Economic Council in Athens, Greece.
Stone's May 16-20 trip cost the airport $7,781, according to travel records.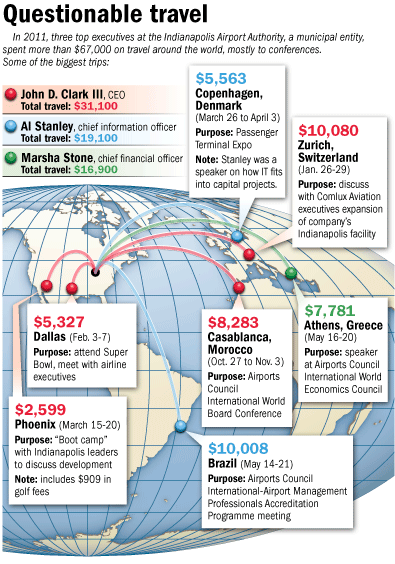 Meanwhile, the airport's chief information officer, Al Stanley, made two big international trips last year. In March, he flew to Copenhagen, Denmark, where he was a speaker at the Passenger Terminal Expo, for a total of $5,563.
Stanley was invited to speak there, said Indianapolis Airport Authority spokesman Carlo Bertolini.
In May, Stanley attended an ACI-Airport Management Professionals Accreditation Programme meeting in Brazil. Expenses for the Brazil trip totaled $10,000.
Wells said airport officials could use cheaper alternatives, such as published papers and expertise from consultants, to keep abreast of best practices.
Clark pointed out the airport spent less than 0.3 percent of its operating expenses on travel and related expenses in 2011.
"However, it is committed to improving its efficiencies at every opportunity and to scrutinizing the [return on investment] on all of its expenses, including travel," he wrote.
Technically, money spent on airport executives' air travel does not come from tax dollars. Clark said travel expenses are funded entirely by revenue from airlines, which comes in the form of landing fees and space rentals.
Airlines "have praised the IAA for its fiscal management and commitment to lowering airline costs even as they are increasing at many airports, and by non-airline revenues the IAA generates."
Yet Mansfield likens travel spending at the municipal entity to the type one might find at a private corporation, which she noted it is not.
"They need to act accordingly, in a financially prudent manner. I am just not seeing it," she said.
'Evaluating all aspects'
Asked whether Ballard is concerned about airport officials' travel spending, the mayor's communications director, Marc Lotter, said the new board president's job is to take a deeper look at "one of the region's prime economic development assets."
Lotter added that Wells "is currently evaluating all aspects of airport operations, including spending. Mayor Ballard believes it is very important that Mike and the board be given adequate time to get a full picture of the airport's performance before making specific improvement recommendations."
Former board president Stayton could not be reached for comment.
Upon his resignation in December, Stayton told WXIN-TV Channel 59 that he had reviewed Clark's travel records personally and had no problem with them.
Stayton is CEO of the utility-locating service US Infrastructure Corp. Previously, he was chief of staff and chief operating officer of the United Nations World Food Programme.
Clark was known for extensive on-the-job travel even before he touched down in Indianapolis.
While in Jacksonville, he flew to ACI conferences in Brussels, Buenos Aires, Frankfort and Paris. A trip to Shanghai cost $11,300, reported Folio Weekly, an alternative newspaper in Jacksonville.
Randall Tobias, the airport authority president at the time, said then that Indianapolis airport officials had thoroughly vetted Clark. Jacksonville leaders refuted published claims of wild spending reported by the newspaper, Tobias said.
Tobias, former CEO of Eli Lilly and Co., praised Clark's broad international aviation experience and his record of success increasing non-airline revenue.
He said at the time that Clark was just the man for Indianapolis amid recession and a decrease in air travel.
Growing revenue and reducing expenses is especially important as the airport now shoulders a roughly $40 million annual debt load for its new $1.1 billion Weir Cook Terminal and related airfield improvements.
One of Clark's key initiatives has been to engage Marion County and Hendricks County officials in an airport-centric development theme. He envisions further development of aviation, logistics, manufacturing and other businesses radiating from the airport.
A study released last year by a consulting firm estimated that Indianapolis airport-owned land could generate up to $63 million in revenue for the airport by 2040.
Clark has a strong financial incentive to find ways to increase revenue and curb expenses. He has a base salary of $270,000 and can earn 30 percent more—an additional $81,000 a year—if he meets terms of a management incentive agreement.
Domestic trips
Most of the trips airport executives took last year were within the United States and Canada.
Some were to airport conferences, others to meet with the FAA about air traffic plans for the Super Bowl in Indianapolis. Some jaunts to Washington, D.C., were to favorably influence federal legislation that affected the airport.
Or, as in CFO Stone's case, she flew to New York to make a presentation to analysts about the airport's financial picture. Another trip involved a visit to the headquarters of JetBlue, which the airport has been trying to woo.
Some trips weren't so cut-and-dry.
Last March, Clark attended something his expense report describes as "Boot Camp," March 15-20 in Phoenix. Travel and lodging at the Boulders Resort totaled $1,533.
Clark spent another $909 in golf fees that were reimbursed.
The agenda? The trip is an annual tradition for Indianapolis power brokers, including Mark Miles, head of the Central Indiana Corporate Partnership, who talked with Clark about light rail, according to Clark's travel records.
Clark was invited to the resort because he was still relatively new to town and would be able to meet at one time with other Indianapolis business leaders who are heavy users of the airport, said Lou Gerig, a principal of the prominent Indianapolis public relations firm Sease Gerig.
Gerig, who was one of the participants, said the event has been held for 20-some years and that golf is a key part of the activity.
"If business is conducted, it's not necessarily formal," Gerig said.•
 
Please enable JavaScript to view this content.