'Tis the season for college basketball's March Madness.
For fans, it's time to don school colors and hope for a chance to dance.
For players, it's a shot at one shining moment.
For coaches, it's an opportunity to sweeten their annual pay—in some cases by more than $1 million in less than 30 days.
Indiana University hoops Coach Tom Crean has his eye on a deep tournament run for the first time in four years. And his incentives to lead the Hoosiers well into March go beyond the glory of old IU.
If IU makes it to this year's Final Four in New Orleans as some have predicted, Crean will be due a $260,000 bonus. If Crean's Hoosiers manage to win the national championship, he'll collect a total of $510,000 in bonus money. That's on top of his $600,000 annual base salary and another $1.64 million in marketing and promotional pay from the school.
Crean's contract also carries a $125,000 bonus for winning the regular season Big Ten championship and $50,000 for winning the Big Ten's postseason tournament, held in Indianapolis March 8-11.
These days, virtually every NCAA Division I football and basketball coach's contract is peppered with such incentives. Some contracts are even heavier with bonuses than Crean's, and colleges have found the most creative ways to boost their coaches' pay.
Last year, for instance, Purdue University men's basketball Coach Matt Painter was paid $50 per person when the school exceeded 11,000 in average home attendance. He got $60 a head for everyone over 12,000 and $80 for every person over 13,000.
Under that formula, Painter was paid $183,280 last season in attendance bonuses. He also received a $76,800 bonus for Purdue's second-place finish in the conference regular season, $64,000 for being named Big Ten Coach of the Year, $32,000 for making the NCAA tournament, and another $32,000 for winning a first-round game. Painter left plenty of money on the table when his team lost in the second round.
"We believe in paying for performance," said Purdue Athletic Director Morgan Burke. "Variable compensation isn't new to the private sector, and we think it's a good way to motivate people."
After the season, Painter—who was recruited to coach at the University of Missouri—was given a hefty raise and his incentive package was restructured. Some of his bonuses were lessened as the up-front pay increased.
Andrew "Buddy" Baker, an Indianapolis attorney and Painter's agent, said the bonus structure makes "perfect business sense."
"Success on the court means financial success for the school," said Baker, president of Exclusive Sports Group. "It only makes sense that the coach shares in the economic growth and success of the program he leads."
Burke, who has been Purdue's athletic director since 1993, said coaches' bonuses have become more prevalent in recent years but have been around in some form for at least two decades.
The attendance bonuses, Baker said, are especially common at mid-major schools and college programs that are in the rebuilding process.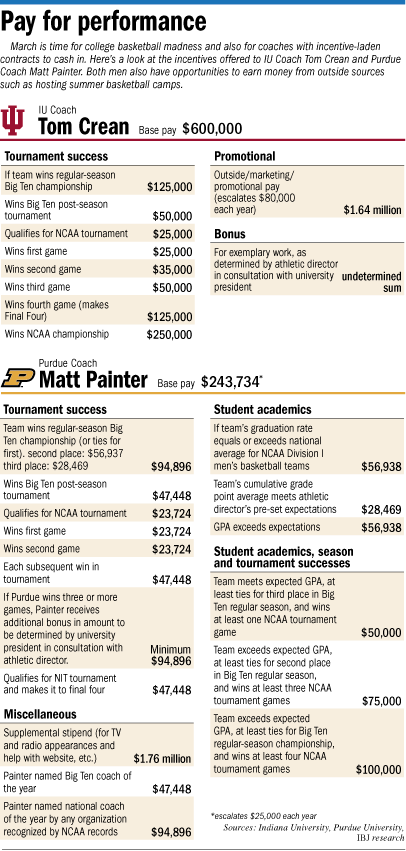 No bonuses for Knight, Keady
College coaches' contracts haven't always been riddled with bonuses. In the early careers of coaching icons such as IU's Bob Knight and Purdue's Gene Keady, team leaders worked for a flat fee on a year-to-year contract.
"Before the 1980s, a lot of coaches worked with a handshake deal and a smile," said Richard Sheehan, a University of Notre Dame economist and author of several sports-business books. "In the 1980s and early 1990s, the contracts were two or three pages. They basically said, 'Don't violate NCAA rules and your compensation is X.' Now, most contracts are 35 pages long."
David Ridpath, a professor of sports administration at Ohio University and past president of The Drake Group, a not-for-profit that bills itself as a watchdog for academic integrity in big-time college sports, calls bonuses "a good way to hide a coach's true pay level."
Purdue's Burke calls the bonuses "a good way to shape behavior."
Painter's contract—but not Crean's—contains bonuses if players achieve a certain grade point average.
"We think it's important for the coach to set the tone for the way we want our program to operate and we think attaching coach's bonuses is one way to do that," Burke said.
Baker, who represents a handful of Division I college coaches, said he's been writing GPA-related bonuses into his clients' contracts for more than a decade.
"These are student-athletes, and performance in the classroom is an important part of these deals," Baker said. "His players' work in the classroom has always been important to Matt."
But paying the coach for athletes' classroom performance can be a dangerous practice, Ridpath said.
"On the surface it looks … like a good way to hold the coach's feet to the fire," he said. "But I've seen cases where attaching a five- or six-figure bonus to players' grades leads to even more academic shenanigans."
For instance, Ridpath said coaches can make sure all their players sign up for classes taught by "favorable" professors. It also can lead to a practice called "academic clustering," where all members of a team are herded into the same—often the perceived easiest—major at the school.
"You can end up having an athlete taking the classes the coach tells him to, not where his interests are," Ridpath said. "These bonuses simply add another potential layer of academic fraud to the system."
Crean's big prize
IU Athletic Director Fred Glass said he has shied away from academic bonuses to avoid any perceived conflicts. But Ridpath said IU's Crean may have an even more dangerous bonus in his lucrative contract.
The contract, which was crafted by Glass' predecessor, Rick Greenspan, states that "for exemplary work, as determined by the sole discretion of the athletic director, in consultation with the university president," IU can award Crean an unspecified bonus.
This year, the Crean-led Hoosiers have improved from last season's 12-20 record and last-place finish in the Big Ten to a 24-7 regular-season record and a fifth-place conference finish. Some would call that exemplary work.
"We won't look at anything like that until after the year concludes and we evaluate the entire season," Glass said.
He hasn't pondered what amount would be appropriate, but Glass indicated Crean could be in line for consideration of that bonus.
"My feeling was, if we qualified for even the NIT or the NCAA, that would be a substantial step forward," Glass said. "We've certainly blown through all of that. We're at least a year ahead of where I thought we'd be."
Ridpath isn't comforted that such a bonus would have to be approved by IU President Michael McRobbie.
"Some would say university presidents—and their endorsement of escalating salaries—have become a big part of the problem," Ridpath said.
While Crean's unspecified bonus is hardly common, it's certainly not the strangest bonus ever written into a college coach's contract. Some coaches, Ridpath said, have been given incentives just for not having any player drop out of school.
Ralph Friedgen, who coached the University of Maryland football team from 2000 to 2010, had a five-figure annual bonus in his contract if none of his players were arrested. One of football Coach Jim Tressel's bonuses while at Ohio State University included the free use of a private jet for personal purposes.
Glass makes no apologies for including performance bonuses in his coaches' contracts.
"It's the market," he said. "There's a certain expectation that there are performance bonuses in these contracts. We think they're a good retention tool, and certainly provide added motivation to strive for excellence."•
Please enable JavaScript to view this content.