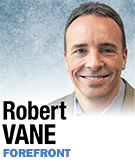 I am a hypocrite.
I am an avid, absolute supporter of term limits. For every branch of government at all levels, there needs to be a reasonable limit on the number of years someone can spend in elected office.
Yet, I am an avid, absolute supporter of Sen. Richard Lugar in 2012.
Why?
It begins with absolute integrity, a quality Lugar has as much or more of than any elected official in this state's history.
It is this quality that makes the attacks against him by his primary challenger, State Treasurer Richard Mourdock, so politically puzzling.
Why in the world would any campaign question Lugar's integrity or Hoosier credentials?
Any political ad—negative or positive—lives or dies on its believability. Who on this planet with an opposable thumb believes Lugar isn't a man of supreme integrity?
Last year's mayor's race saw Melina Kennedy's campaign waste millions of dollars in wretched negative ads claiming Mayor Greg Ballard was a criminal.
Trying to convince voters that a man who served 23 years as a Marine Corps officer was selling the mayor's office is like trying to convince the pope to make Hugh Hefner an archbishop.
Nobody believed it about Ballard and nobody believes it about Lugar (a veteran as well).
I don't really care if someone elected to federal office maintains a residence here—as long as that official has a vibrant and effective Indiana presence. The Lugar effort here is a model of responsiveness and responsibility.
Lugar has a 98-percent attendance record in the Senate, and that is exactly where I want him to be. Working, in the Senate, on behalf of his constituents is a hallmark of Lugar's dedication to his state.
And regarding Lugar's contention that his federal service is like military service, I am in complete agreement. When I was in the military, I had my mother's address as my permanent address; yet, she moved before I left for basic training, so I had never even lived there.
Lugar's dedication to an effective foreign policy is another reason he makes me a hypocrite.
Eliminating nuclear weapons, protecting America's economic interests, and fighting for democracy overseas is not a distraction from what a senator should be doing; it's exactly what a senator should be doing.
It is no disconnect from Indiana, for example, to fight for stability in the Middle East. My wallet is directly affected by what is going on in that part of the world. Paying $4 a gallon or more for gas appears to be acceptable to the Obama administration, but it is bleeding my budget and that of many Hoosiers.
I want Lugar and his expertise in the Senate advising presidents and coaxing his colleagues to work together to effect a productive, bipartisan foreign policy.
The final nail in my hypocrisy coffin comes when I think of Lugar's work to transform Indianapolis from a one-restaurant town to an amazingly vibrant, beautiful city that awed people from around the world as Super Bowl host.
Would we have hosted a Super Bowl in 2012 without the leadership and vision Mayor Lugar showed in 1972? I believe we all know the answer to that.
Richard Mourdock is a dedicated Republican and is within his rights to mount a primary challenge. He is ill-served, however, by a campaign determined to mount a Sisyphean challenge to Lugar's honesty and integrity.
To my friends in the Tea Party who are pining for the days of Ronald Reagan, may I gently remind you that no U.S. senator voted with the Reagan administration more than Lugar?
When the epitaph on Lugar's career is written, he will go down as the greatest public servant in the history of Indiana.
Oliver P. Morton. Mitch Daniels. Birch Bayh. Andy Jacobs. All are Hoosier legends.
Richard Lugar, however, outshines them all. And makes me a proud hypocrite just this once.•
__________
Vane, a U.S. Army veteran, has worked for elected Republican officials including Indianapolis Mayor Greg Ballard, and currently owns the public relations firm Veteran Strategies. Send comments on this column to [email protected].
Please enable JavaScript to view this content.