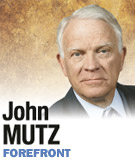 Determining who calls the shots and on what subjects is the next big question facing education reformers. The fancy term for this issue is governance.

Good governance procedures are a common theme in most discussions about successful businesses. The emerging paradigm is an engaged board that concentrates on choosing a leader and evaluating performance while day-to-day leadership is delegated to the CEO and staff.

When it comes to public schools, we have spent billions of dollars, tried a lot of ideas, established "blue ribbon" committees, filed bills in the Legislature, set deadlines and debated many possible solutions.

"For all the effort, for all the pain, education reformers see little gain," says Michael J. Petrilli of the Thomas B. Fordham Institute.

"Our challenges are much more fundamental. It's not that the wrong people are in charge," Petrilli says. "It's that there are so many cooks in the education kitchen that nobody is really in charge. And that is a consequence of an antiquated governance structure that practically forces all those cooks to enter and remain in the kitchen."

Its not just the Fordham Institute that has come to this conclusion. In Indiana, The Mind Trust is advocating a major change in Indianapolis Public Schools governance, the state chamber of commerce education committee is taking a fresh look at the subject, and thoughtful legislators are aware of the problems with the current system.

In New Orleans, when faced with the devastation from Hurricane Katrina that virtually closed down the entire system, the state and community opted for a whole new approach, new governance and a different organization, not just a reconstructed version of the old system.

Many school boards have failed to provide the leadership necessary to dramatically improve K-12 education. Some elected boards have become rubber stamps for the superintendent and her staff. In many cases, they have agreed to union demands without adequate concern for the welfare of students, and in some cases have not listened carefully to parent concerns. Often, the long-term implications of their decisions have not factored into decision making.

Most literature on good management arrangements makes it clear that most day-to-day decisions in any enterprise should be delegated to leaders who work with their employees every day. In the school arena, these issues would include hiring and firing teachers, curriculum adjustments, time on task, salary changes, incentives for performance, routine building maintenance and preparation of a budget.

The board's most important priority is finding the best leader or principal. It also must monitor the leader's performance in reaching goals for the year, staying within the budget, and assuring an ethical atmosphere is created.

If the school fails, the principal should be fired and a new leader recruited. Current systems would be replaced by a portfolio of charter schools, each with a separate board.

Most layers of management usually housed in a central office are not necessary except for funding individual schools on a per-pupil basis and servicing bond issues. The money saved by eliminating this expense can be shifted to the classrooms.

In the case of IPS, The Mind Trust estimates the amount spent per student could almost be doubled so that the best teachers could be recruited and paid more. In addition, preschool, classroom assistants and special kinds of instruction could be affordable, including up-to-date technology.

To make a portfolio of charters work, it must be accountable to parents. Allowing parents their choice of schools gives them power to vote with their feet and move their children to the school that best meets their needs.

Unfortunately, our existing system of elected school boards is not getting the results our state and nation need. It's time for some experimentation with new models of governance. Perhaps the suggested changes at IPS along with some other ideas for smaller communities are what we need for all public schools.•

__________

Mutz has held leadership positions including lieutenant governor and president of Lilly Endowment and PSI Energy. Send comments on this column to ibjedit@ibj.com.