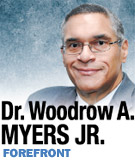 Indiana did a wonderful job hosting last month's Super Bowl. The crowds were huge but overwhelmingly friendly and well-behaved.
However, there was one clearly unwelcomed visitor who could have ruined it all for a lot of innocent and wonderful people. We could have collectively prevented the harm inflicted, but we as a society have begun to forget the public health principles our grandparents and great-grandparents had to learn the hard way.
We allowed rubeola, the virus that causes measles, into Super Bowl Village, and it is simply a miracle that we avoided spreading it to hundreds if not thousands of vulnerable people, predominantly the very young, through the primary vector: the unvaccinated.
Measles (rubeola) and its cousin German measles (rubella) are viral diseases easily spread by casual contact (coughing, sneezing, touching the eyes, nose and mucus membranes) with infected individuals. For most people, measles is the more serious disease; the exception is pregnant women, for whom German measles can induce birth defects.
Typically, measles symptoms start about a week or so after infection, and they include cough, fever, bloodshot eyes, muscle pain and a characteristic rash. The ear infections suffered by some patients with measles can cause permanent hearing loss. There are other serious complications, including pneumonia and encephalitis which, especially in immune-compromised people and the very young, can lead to death. For every 1,000 children who contract measles, one to two will die from the disease.
The number of measles cases dropped over the last several decades to almost zero in the United States and Canada. However, rates have started to rise again. As of early March, the Indiana State Department of Health had identified 16 new cases of measles in central Indiana, and an early case was confirmed to have attended Super Bowl festivities. At least 13 of these individuals are known to have "declined" vaccination.
The MMR (mumps, measles, rubella) vaccine is all it takes to be protected, with 95-percent immunity (protection from the disease after exposure) after the first dose and 99-percent after the second. If 100 percent of children are vaccinated, the likelihood of an epidemic is close to zero. Last year for Indiana middle school children in public schools, about 95 percent were up-to-date on the MMR vaccine, but only 78 percent of middle school children in private schools had their MMR shots.
Why? Because there are parents who, in spite of numerous studies confirming the benefit of vaccination and the lack of any linkage between vaccination and autism, still refuse to allow their children to benefit from this amazing and effective technology. Recent studies have estimated one in 10 parents now refuse to follow vaccination guidelines for their children and the number is increasing. That has pediatricians worried.
So society (and our Legislature) must now confront the question: When does a parent's refusal to follow a clearly defined, physician-approved public health practice constitute child abuse? The courts have faced that issue directly with parents who attempt to deny their children lifesaving blood transfusions on religious grounds and the courts have sided with the physicians treating the child.
The vaccination question is more complicated because it is a preventive and not an "immediately" lifesaving therapy.
However, the most vulnerable in a measles epidemic are children too young to be vaccinated. So if Parent A's unvaccinated child transmits a highly communicable disease to Parent B's child (who is too young for vaccination), is it permissible for Parent A's scientifically unfounded fears to result in harm to the child of Parent B?
Public health laws and regulations are based on scientific evidence that has been rigorously reviewed and debated by our nation's best experts. The more deviation we allow from these recommendations, the more risk we take for individuals (who frequently can't make an informed decision for themselves) and for the public (where the costs of managing the unnecessary epidemic are borne). Individual liberty has limits when the health of the public is at stake.
It is time to push the pendulum in a different direction. Well before our next Super Bowl.•
__________
Myers is a former chief medical officer for WellPoint Inc. and served as health commissioner for Indiana and New York City. Send comments on this column to ibjedit@ibj.com.
Please enable JavaScript to view this content.