From the Murderdrome riders zooming around board tracks to Peter Fonda cruising into movie history in "Easy Rider," the motorcycle has been a part of American culture for more than a century. And the Eiteljorg Museum does a very effective job of bringing that to light in "Steel Ponies," a rare museum show that feels both surprisingly original and perfectly in line with its mission. That the show opens up the Eiteljorg to potential new audiences makes it even more of a win-win-win.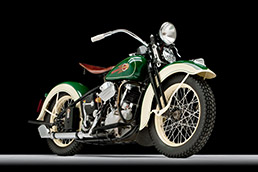 A 1936 Harley-Davidson Knucklehead (Courtesy Eiteljorg Museum of Native American And Western Art.)
(And, for the record, my experience with motorized cycles is limited to the moped I had in high school.)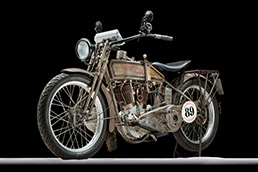 Effie, a 1915 Harley-Davidson nicknamed Effie competed in the 2010 transcontinental Cannonball Run.(Courtesy Eiteljorg Museum of Native American And Western Art.)
With its motor running through Aug. 5, "Steel Ponies" may be short on artifacts and ephemera, but it's long on smartly chosen cycles—more than 20 of them, gathered from nearly as many different collections and museums.

One of Evel Knievel's jump bikes is on hand, of course, along with Lee Marvin's bike from "The Wild One" (in addition to a funny poster from the film that ignores its motorcycle subject and instead touts star Marlon Brando, stating "That 'Streetcar' man has new desires.")

Motorcycle racers in Vale, Oregon (Courtesy Library of Congress, Prints Photographs Division, FSA/OWI Collection, LC-USF3301-013094-M1.)
Particularly fascinating to me were the well-worn bikes from the early years of the 20th century. They are more like tricked-up bicycles than what we would recognize as a motorcycle today. At the other extreme, "Steel Ponies" includes bikes blinged with bead work, deer hide and elaborate artwork, created less for riding than for displaying.

As interesting as the bikes and their stories are, I was equally drawn to the blown-up vintage photos that accompany the show. Smartly chosen with an eye toward both historical value and humor, they go a long way to round out a show that goes the extra mile.

__________

One of the truths of my reading life is that I cannot follow most noir thrillers. That doesn't mean I don't enjoy them. It's just that, even after the final chapter, I usually have no idea who may or may not have done what to whom. And that applies whether its Raymond Chandler's "The Long Goodbye" or Walter Mosely's "Devil in a Blue Dress" (just two examples of books I enjoyed while remaining fairly clueless).

For me, the pleasures of such books don't come from the plot points. They come from a compelling central character and a fascinating milieu—something Dan Barden's new novel "The Next Right Thing" has in (Sam) spades.

(Full disclosure: Before he moved to Indianapolis to teach at Butler University, I admired Barden's book "John Wayne: A Novel" and reached out to him to write a column for Indy Men's Magazine, which I was editing. We've been acquainted ever since.)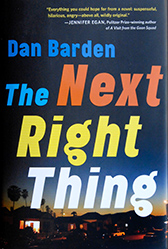 Barden's lead, Randy Chalmers, is built from elements we've seen before—he's the ex-cop whose friend, Terry, was found dead under mysterious circumstances. The originality is in the details, though. Chalmers is a recovering alcoholic, kicked off the force for excessive brutality, and Terry was his AA sponsor, who taught him how to live again.

In search of answers that he knows he may never find, Chalmers ricochets through the much-traveled California landscape that once inspired Chandler and others. Often I didn't know where he was going or why, but that's my issue, not Barden's. Throughout, I cared about this troubled soul and, most importantly, didn't know how his personal journey would end.

"The Next Right Thing" is knowing and truthful, smart and sad. And I'm hoping we don't have to wait so long for Barden's next.
__________

Stephen Sondheim's "Merrily We Roll Along" is one of the most tinkered-with shows in musical theater history. Tanking on Broadway after only 16 post-opening performances, the show seems to have been on the operating table ever since, with major rewrites, omissions and additions going into subsequent production on both sides of the Atlantic.

What's the problem? Many blame the structure. "Merrily" begins at the end, with its core character, Franklin Shepard, very successful and very unhappy, having alienated his two closest friends. The piece then proceeds backwards, with each sequence taking place years before the last.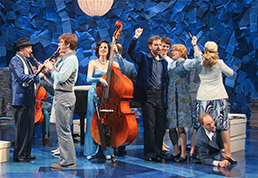 The actors—including Malcom Gets (center, in jacket)—do double duty as orchestra in "Merrily We Roll Along" at Cincinnati's Playhouse in the Park. (Photo/Sandy Underwood)
Fascinating, yes, but even with a glorious, intimate, funny and moving score, what it lacked was hope. Once we've seen the future, all we can do is watch the series of wrong turns both small and large that led to that unhappy end. And it's tough to build a musical on the narrative equivalent of a car wreck seen in reverse.

I'm thrilled to report that the most recent major revival/redo, premiering at—and I hope having a long life after—Cincinnati's Playhouse in the Park, finds an answer that works. Without adding dialogue that I can tell, it frames the story with Franklin's son digging through his father's musical manuscripts. In that character—and in Franklin's implicit desire to have his son not repeat his mistakes—we get the missing hope, offering a strong reason to care.

The production is the brainchild of director John Doyle who, as he did in recent revivals of Sondheim's "Sweeney Todd" and "Company," has his on-stage actors also serving as orchestra, playing their own instruments throughout. The device works much better here than it did in those previous two attempts (granted, I saw the first in a non-Equity tour and the other on PBS) because it accentuates the core story and solves problems in the text rather than feeling like an imposed directorial vision.

Playhouse in the Park's production also benefits from a very strong cast of Broadway vets, including Malcolm Gets as Franklin (making use of his ample piano skills), Becky Ann Baker as his novelist/alcoholic pal Mary, and Daniel Jenkins as best friend/collaborator Charley.

For Sondheim fans, the beautifully designed yet simple production—which runs through March 21—is a must. Anyone else who appreciates musicals with meat on their bones should also consider a breezy road trip down Interstate 74.•

__________

This column appears weekly. Send information on upcoming arts and entertainment events to lharry@ibj.com.