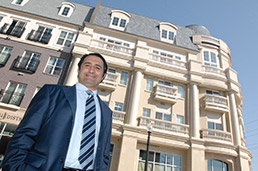 The $60 million mixed-use Sophia Square in Carmel is Ersal Ozdemir's most ambitious project yet. (IBJ Photo/ Perry Reichanadter)
Ersal Ozdemir seems to have vaulted, pretty much overnight, from a rising star in Indianapolis real estate to a powerhouse developer.
The 37-year-old Turkish immigrant is a civil engineer by training, a builder and developer by profession. He's smart, creative, earnest, and he works 12-hour days.
But competitors wondering how he has come so far so fast shouldn't underestimate a few of Ozdemir's other talents: as a salesman and schmoozer with a knack for building profitable relationships with politicians.
The 1997 Purdue graduate—who earned his U.S. citizenship in 1999 and founded Keystone Group in 2002—has gone from mostly smaller jobs including office remodels and the construction of bank branches to orchestrating some of central Indiana's most ambitious developments, including a $15 million parking garage and retail deal in Broad Ripple and the $60 million mixed-use Sophia Square in Carmel.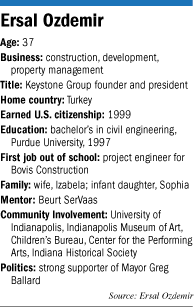 The construction arm of Ozdemir's privately held Keystone Group is acting as the city's project manager on the $155 million CityWay development downtown, essentially holding the purse strings on the deal. And its current construction projects include the new Wishard hospital and a new science and engineering lab at IUPUI.
Ozdemir has given money to politicians, as most developers do, but his vision and ideas appear to have accomplished at least as much as his cash toward winning the trust of top elected officials including Indianapolis Mayor Greg Ballard and Carmel Mayor Jim Brainard.
"He's a great American story," said Brainard, who has leaned on Ozdemir for advice on Carmel City Center and other projects after persuading him to live in Carmel instead of on Geist Reservoir several years ago.
The friendship has paid off for Brainard. Keystone Group's most ambitious project yet is Carmel's Sophia Square.
It's a celebration
Ozdemir was among the first to congratulate Ballard on his resounding reelection victory, shortly before the ex-Marine made his way through a raucous crowd at the Murat Theatre to deliver his victory speech Nov. 8. One could argue the developer had as much to celebrate as the mayor.
Ballard's administration already had agreed to contribute $6.35 million toward Keystone's parking garage and retail project in Broad Ripple, after a request for proposals process that attracted six other bidders. The city hired Keystone to oversee Buckingham Cos.' CityWay project without soliciting bids.
After Ballard's surprise election in 2008, Ozdemir contributed $25,000, joining dozens of firms that either do business with the city or hoped to do so.
Early in Ballard's first term, Ozdemir joined the mayor on a trip to England aimed at recruiting motor sports businesses to set up shop in Indianapolis. In 2009, he hired Ballard's then-chief of staff, Paul Okeson, to serve as Keystone's vice president of business development.
And in 2011, Ballard ran his reelection campaign out of space leased by the Marion County Republican Party in the Ozdemir-owned Majestic Building at Pennsylvania and Maryland streets.
Keystone hasn't fared poorly in Carmel, either. The city kicked in $13 million for a 400-space, underground parking garage to support the 7-story Sophia Square and its 202 apartment units and retail tenants including Detour—An American Grill, Taste of Sensu, and Anytime Fitness.
Political philosophy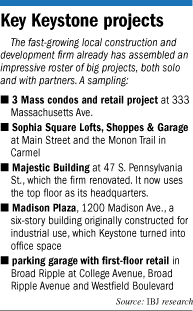 Ozdemir disagrees with the notion that political contributions have earned him business. He said it's more about relationships and a reputation for doing good work.
Most of Keystone's projects, including the renovation of 131 S. Meridian into the Six Over Meridian condos and restaurant space, the mixed-use 3Mass project (in partnership with Halakar Properties) and the Majestic Building remodel, didn't require any government incentives. Ozdemir said more ambitious deals with structured parking simply can't work without some help.
Ozdemir tends to support mostly Republicans, since he sees the party as more philosophically in line with his view of the United States as a beacon for entrepreneurialism and self-reliance.
But he also got along fine with former Democratic Mayor Bart Peterson (whose administration inked a 10-year lease deal to move several city functions, including the Department of Code Enforcement, to a Keystone-owned building at 1200 Madison Ave.) And he's made contributions to U.S. Rep. Andre Carson, D-Indianapolis.
"I love to see the younger guys get more engaged in public service," Ozdemir said of Carson. "We need a new generation of leaders."
Building in his blood
Ozdemir's original passion—since he was five years old—is building.
It's a bit of a family business. His father, Aydin Ozdemir, worked in construction for 30 years and developed mid-rise buildings back in Turkey.
They still talk every Sunday, though the conversations can be painful since his father has Alzheimer's. One of Ozdemir's proudest moments was showing his father his buildings here in Indiana.
He has three brothers. Two are in Turkey—one in construction, the other a physician. The third is an economist and lives in the United States.
Ozdemir said he's proud of the structures he has built or renovated and says he has no interest in selling any of them. He has no plans to expand beyond central Indiana.
He selects development projects carefully, one at a time, avoiding high levels of debt and anything other than traditional bank loans. He says he's never missed a loan payment, and a search of court records suggests he isn't blowing smoke. It also helps that the firm's main focus and largest source of revenue is construction, which is lower risk than development.
Ozdemir declined to discuss specific figures but said Keystone Group's revenue rose 15 percent in 2011.
Ozdemir's newest passion is his daughter, Sophia, who will be one year old March 30. Before she was even born, he named his Carmel mixed-use project, his most ambitious to date, for her.
Ozdemir met her mother Izabela, a former Broadway performer, at a fundraiser for cystic fibrosis research in 2005. A friend had lost his brother to the disease. The couple married in 2007.
"Her mom sends me a picture every day," Ozdemir said of Sophia. "It changes my whole mood."
Family is important, but he has no plans to pull back on Keystone's growth. His goals are to "do things right, attract talent, and provide the same quality of service as when we were smaller."
Among the firm's newest hires are veterans of Hunt Construction and Kite Realty Group.
A passion for real estate
Ozdemir has built influence fast largely by putting in long hours and convincing others of his vision, said Brainard, the Carmel mayor.
"He's smart, a good manager, and very ambitious," he said. "Without question, he's a tough negotiator, but always honest and true to his word."
Ozdemir got his start in the business building bank branches for the Hasten-family-owned First National Bank & Trust, and he says an early mentor was Beurt SerVaas, the business and community leader who presided over the Indianapolis City-County Council for 27 years.
Keystone has been "uncannily successful" in recent years at landing big projects, said the developer Gerry Kosene, whose firm built many of downtown's newest residential units. He said the success is a testament to Ozdemir's skills as a negotiator and ability to bring financing.
Developers who are tight with mayors are nothing new for Indianapolis, or any other major city.
"I don't see anything wrong with elected officials relying on the help of supporters in the business community and elsewhere as long as the end result benefits the taxpayer," Kosene said.
Ozdemir often spots opportunity in empty buildings and even cornfields, like the visionary developers who preceded him, said Bill French, a senior vice president in the local office of commercial real estate brokerage Cassidy Turley.
"Some people in the real estate business just have excellent vision and some don't," French said. "He's got a passion for it. He's an exciting guy to be around."
Vision for Indianapolis
Ozdemir has high expectations for Indianapolis. He wants more infill development, taller buildings, more parks and trees, green roofs.
The city's geography is no excuse for a lackluster built environment, Ozdemir said.
"Paris and Berlin don't have mountains or water," he said. "Before I die, I'd love to see no surface parking lots downtown."
The vision has gotten the attention of the administration of Mayor Ballard, said Deputy Mayor Michael Huber.
The mayor and his staff regularly meet with Ozdemir to discuss projects and ways to encourage more development.
"He has built up a reputation for being willing to take risks," Huber said. "The bottom line is he just goes for it."
But is Ozdemir the mayor's favorite developer?
"It's not in the city's long-term best interest to be seen as playing favorites," Huber said. "We meet with a lot of developers. Our goal is a competitive and transparent process."•
Please enable JavaScript to view this content.