With the loss of two of its biggest stars after last season, the IndyCar Series faces a stiff challenge ramping up its television ratings, attendance and overall financial fortunes.

But IndyCar Series CEO Randy Bernard has a plan to do just that despite the death of reigning Indianapolis 500 champion Dan Wheldon and Danica Patrick's departure for NASCAR.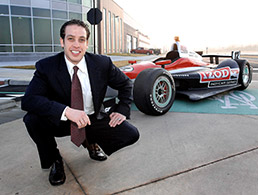 IndyCar is trying to boost TV ratings and attendance while overcoming the departure of Danica Patrick for NASCAR. (IBJ file photo)
Following October's season finale—which was cut short by the horrific accident that killed Wheldon—Bernard replaced 15 percent of the series' front office staff and overhauled the series' executive ranks.

The changes are designed to improve communications across series departments and make sure everyone is accelerating in the same direction, series officials said.

Gone is IndyCar's commercial president, Terry Angstadt. Brian Barnhart will continue to serve as president of race operations but has been removed as race director and official. Beaux Barfield replaced Barnhart as race director and has overhauled the series' rulebook.

"I was kind of surprised by all of the staff changes, but so far I like a lot of what they're doing," said Dennis Reinbold, co-owner of Dreyer & Reinbold Racing.

As part of the changes, Bernard promoted Marc Koretzky from director of

business development to chief operating officer.

In his new position, Koretzky, 35, will be responsible for much of the day-to-day operation of the series and will be Bernard's point person in transforming it.

"We became familiar with Marc through his work with [IndyCar team owner] Roger Penske on the Super Bowl in Detroit," Bernard said. "He's articulate, goal oriented and very focused."

Bernard's confidence in his lieutenant was bolstered last year when Koretzky headed promotions for the series' finale in Las Vegas, including brokering a deal to have 34 open-wheel cars paraded up and down the city's famous strip.

The fatal crash overshadowed promotional achievements, including that efforts led by Bernard and Koretzky drew nearly 70,000 spectators to the race and sold out 121 luxury suites at the Las Vegas Motor Speedway.

Unfortunately, much of the revenue from that had to be refunded due to the crash.

"His promotions were on target and on budget," Bernard said. "What he accomplished there in terms of gaining attention for our series was unbelievable."

Koretzky's new position should free up Bernard to focus on the series' grand planning.

"Randy before was spending too much time on internally managing the firm," Koretzky said. "I'll handle all the little details on a granular level. I'm the guy from the corporate side working behind the scenes."

Koretzky said he already has a long to-do list, including working on promoting the series' new engine and chassis formulas; raising the profile of series drivers; and helping improve television and other media coverage of the series.



But there's one even higher priority.

"My first priority will be to further develop the executive team and make sure we have a common vision," Koretzky said.

Before joining IndyCar in May, 2011, Koretzky worked with the NFL as director of operations for Super Bowl committees in Atlanta, Houston and Detroit.

Koretzky, who has an undergraduate degree from the University of Georgia and an MBA from Georgia State University, also has done operational consulting work for the NCAA's Final Fours and at Lowe's Motor Speedway.

Prior to coming to the IndyCar Series, Koretzky served as director of strategic development for Atlanta-based 360 Sports Academy LLC, a firm that offers training and consulting for student-athletes and their parents.

Though Bernard is finalizing a search to fill a couple key executive posts—including web and licensing positions—he said he feels he has the team in place he needs to accelerate series growth. He said he will not downsize the staff of 60.

"We're in a very good place right now compared to where we have been," Bernard said.

IndyCar's new executive strategy team includes Bernard, Koretzky, Barfield, Barnhart, Vice President of Technology Will Phillips, Executive Vice President of Business Development and Partner Strategies Greg Gruning and Chief Financial Officer Richard McComb.

"This is the first year the series has had an executive strategy team that looks at the business case and return on investment for every initiative we do," Koretzky said. "We're going to have a high level of scrutiny on every business aspect of the operation."

Promoting man and machine

This will be the first year the series has featured new equipment since 2003 and it's the first since 2005 that has been more than one engine manufacturer.

Koretzky promised driver promotions won't be sacrificed to market the new car.

"I think there will be a lot of interest in the new cars," Reinbold said, "But I'm pleased they haven't forgotten about the people who really drive this series forward, and they're putting some serious effort into increasing promotions of the series' drivers."

With the exit of Patrick—voted by fans last year as the series' most popular driver—and the death of the much-liked Wheldon, driver promotion may be more important than ever this year.

"Top to bottom, this is by far the best field this series has ever had," Reinbold said. "Everyone in the series has to make sure we promote that and put the personalities of these drivers front and center."

To do that, Koretzky and Bernard have helped broker a deal with NBC to launch a TV show, "IndyCar36," which will follow a driver for 36 hours leading up to each race. The drivers who will be highlighted on the show have not been identified.

New web initiatives, including a Verizon mobile app and social media programs, will be launched before the series opener March 25 in St. Petersburg, Fla. Koretzky also promises new special events featuring series drivers in each race market.

Board scrutiny

One thing the board overseeing the series will be scrutinizing is IndyCar's push toward profitability.

The series hasn't turned a profit since it debuted in 1996. Bernard's predecessor, Tony George, said in late 2008 that the series had better be profitable by 2013 "or there won't be a 2013" for the IndyCar Series.

Hulman & Co.—the parent company of the Speedway and IndyCar Series—announced March 8 that it expanded its board of directors with the appointment of four high-profile business leaders.

Board additions were Cardinal Equity Partners Managing Director John Ackerman, Speedway CEO Jeff Belskus, Central Indiana Corporate Partnership CEO Mark Miles and Pacers Sports & Entertainment President Jim Morris.

The appointments expand the board to 11 members.

Hulman & Co. appointed three new directors in February 2011 to expand its board from five to eight members and to diversify a board that had been dominated by Hulman-George family members.

Joining at that time were Lacy Diversified Industries Ltd. Chairman Andre B. Lacy, retired Anthem executive Michael L. Smith and HHGregg Executive Chairman Jerry Throgmartin. Throgmartin died Jan. 22.

Motorsports business experts estimate that the series has lost more than $270 million since its inception.

With the addition of several key sponsors and new race markets in the last two years, the series' annual loss fell to around $10 million, sources close to the series said.

The addition of Chevrolet and Lotus—along with Honda—as engine suppliers, and new sponsors such as Discover have IndyCar officials optimistic about 2012.

The amount of money series sponsors spend on promoting the series doubled from 2010 to 2011, Bernard said, and he expects that amount to double again this year.

Bernard preaches patience when it comes to the IndyCar Series turning a profit.

"We're getting closer," he said. "But we can't take short cuts just to get a profitable year. We still need to invest in things like staffing and promotion to ensure the long-term success of this series."•