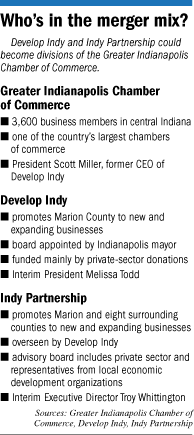 Central Indiana needs an independent voice marketing the region to new business, say suburban economic development professionals who worry that they'll get just the opposite in a merger with the Greater Indianapolis Chamber of Commerce.
The merger skeptics are members of the Indy Partnership, which promotes economic development in Marion and surrounding counties. They say they lost momentum in 2011 after being folded into Develop Indy, the economic development arm of Indianapolis. Now they face further consolidation because Develop Indy is working on a merger with the chamber.
The current proposal is for Develop Indy and the Indy Partnership to join the chamber as separate divisions, said Melissa Todd, interim CEO at Develop Indy.
"I don't see where that does the regional organization any good at all," said Dan Theobald, executive director of Shelby County Development Corp. "It really needs to be a stand-alone organization."
Dax Norton, executive director of the Boone County Economic Development Corp., foresees the merger going through but said Boone County officials don't think it's a good long-term arrangement for Indy Partnership. "We need to look and see if it can break away at some point."
Indy Partnership markets the region on a national level and serves as a single point of contact for site-selection consultants. Each county-level member contributes to the marketing budget according to its population size.
The Hamilton County Alliance contributes about $27,000 a year for marketing, President Jeff Burt said, and Indy Partnership supplies about half his leads.
Burt said it doesn't matter to him where Indy Partnership exists, as long as it fulfills its mission.
"Is it going to have the resources, the staffing and the governance to do the job it needs to do?" he asked.
Indy Partnership is part of Develop Indy, but the few staff members who work on behalf of the region continue to use the brand name and keep their own budget. The local economic development groups are represented on an advisory board.
Develop Indy operates as a private not-for-profit, but its board is appointed by the mayor, and it has received significant funding from the Indianapolis Bond Bank. The organization took in $2.9 million and spent $2.7 million in 2010, according to the most recent tax information. (Todd declined to disclose more recent information because of competition from other cities.)
Chamber board Chairman John Neighbours and his counterpart at Develop Indy, Citizens Energy Group CEO Carey Lykins, began talking about a merger last year. The idea seemed to gain momentum in October, when the chamber hired Scott Miller, former CEO of Develop Indy, as its new president.
The two groups are working through legal language, Todd said. "We're still early in that process."
One hang-up could be the question of how to include doughnut county constituents.
Although the chamber is a regional organization with 3,600 members, Theobald views it as Indianapolis-centric.
"I don't think my board would want to pay dues up there," he said.
The chamber would preserve regional marketing by making Indy Partnership a separate division, Todd said.
"We still very much believe in the idea of regionalism and want to see that continue," she said.
Indy Partnership's advisory board could opt out of joining the chamber, Todd said. "It's not a unilateral decision."
That was news to advisory board member Harold Gutzwiller, manager of economic development and key accounts for Hoosier Energy, a utility that serves an area from Indianapolis to the Ohio River.
"As far as I know, that option has never been expressed to anyone on the advisory committee," Gutzwiller said.
The goal of combining various business-booster groups is to save money for corporations that support each of them.
Mark Miles, CEO of the Central Indiana Corporate Partnership, which represents the largest companies and universities, argued in 2006 for consolidation of the chamber, Indianapolis Downtown Inc. and Indy Partnership.
Indy Partnership became part of Miles' group in 2007, then shifted over to Develop Indy in February 2011.
Gutzwiller thinks that was a mistake.
"It's losing steam and name recognition," he said.
Norton said organizations in competing regions are spending $6 million to $7 million a year, while Indy Partnership's budget is just over $1 million. He's considering adding Indy Partnership's name to his own business card, just so he can help promote the region when he travels on behalf of Boone County.
The suburban counties need Indy Partnership's name because site-selection consultants in other states have never heard of places like Lebanon or Zionsville, Norton said.
Bruce Jaffee, a professor at Indiana University's Kelley School of Business, found modest savings potential when he studied the issue for Central Indiana Corporate Partnership back in 2006. He said that's not the only factor that should be considered.
"Can you generate the same or more business from that leaner staff?" he asked.
Todd said saving money is not the only point of the merger.
"Our goal would be to increase our marketing efforts, not decrease them," she said.
Jaffee doubts that a chamber of commerce, which has broad-based goals and membership, is cut out for economic development.
"If you really want to develop Indy and deal with the movers and shakers, both the current ones and future ones, you want an organization that is more focused and more aggressive than the chamber of commerce is," he said.
Chamber of commerce interests and activities don't always line up with economic development, Gutzwiller said. One in Southern Indiana, which combines the two functions, lost support after it started backing candidates for elected office, he said.
"Chambers typically are very active politically," he said. "Economic development cannot be political."
A period of growth and low unemployment could make attracting new companies to the region a low priority for the chamber, Gutzwiller said. "Chamber members don't want competition for their employees."•
Please enable JavaScript to view this content.