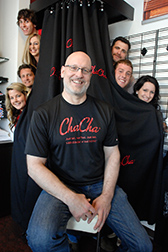 About 80 employees, including these at ChaCha's Clay Terrace headquarters, helped founder Scott Jones work "a hard six years" to reach profitability. (IBJ Photo/ Perry Reichanadter)
After six years and $75 million in funding from investors no less than Amazon.com founder Jeff Bezos, ChaCha Search has danced into the black.

"We just turned the corner on profitability and we are cash-flow-positive," said co-founder and CEO Scott Jones.

He declined to quantify how much the Carmel-based firm earned on what he described as a "disappointing" $7 million in revenue last year.

But the revenue situation is improving rapidly. Lately, the question-and-answer service is running at a rate equivalent to $20 million in annual revenue, Jones said.

The company expects to generate $15 million to $25 million in revenue this year.

"We have had a dramatic increase in traffic to our website and mobile apps from sources including search engines and social platforms. Also, visitors stay on ChaCha longer. All of this adds up to increased advertising revenues."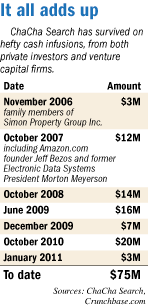 Jones co-founded ChaCha in 2006 as a human-assisted Internet search engine accessible via desktop computer.

It still uses human guides, who generally are paid between 2 cents and 20 cents per answer. But in recent years, the company shifted its focus to fielding and answering questions over mobile phones, mostly via text messages, or by using one of its mobile apps. One new app allows ChaCha users to speak a question verbally to a voice recognition system that responds by speaking the answer.

And many of the advertisement-embedded answers now come from a database that's grown to over 100 million question-and-answer pairs.

Last year, ChaCha entered the United Kingdom and it scored a plum domestic job, contracting with New York City's "311" municipal information service to provide answers about various city services, such as garbage collection or parking. (He discusses ChaCha's growth and several of its new initiatives in the video below.)



Yet ChaCha might be one of the most challenging tech ventures yet for serial tech entrepreneur Jones.

Profitability "took a hard six years. So, even though I've done all of these companies, it doesn't get any easier," said Jones, who founded such companies as Boston Technology, Gracenote and Precise Path Robotics, to name a few.
Interactive ads

ChaCha has undergone a number of iterations as the answers service genre evolves—or devolves, depending on how one views it.

Many of ChaCha's most loyal customers are teenagers who seek quick answers to movie trivia or pop culture questions.

Or there are "ChaCha quizzes" on its website sure to delight phone-toting teen males. Next to a photo of a busty woman is the question: "Are these boobs real or fake?"

Beavis and Butthead would cackle, but generating revenue from this sort of thing is the real challenge.

Typically, ChaCha embeds ads in the answers to questions. Now it's about to make some of those ads interactive in a compelling, Q&A format.

Starting April 3, ChaCha plans to launch a Web-based ad for Toyota that touts its Prius hybrid. The ad will have its own graphical user interface in which viewers can ask questions about the Prius and instantly receive answers.

ChaCha and Toyota created 60,000 question-and-answer pairs that will be loaded into the ad. In case someone stumps the database, ChaCha will also have a number of its human guides trained on the Prius and ready to step in with answers, said Scott Housefield, chief international officer and vice president of sales at ChaCha.

Housefield said the Q&A ad gives potential Prius buyers a way to get a quick answer to a question rather than having to click their way through the automaker's website in search of things such as vehicle colors or specifications.

ChaCha introduced similar functions in regard to ads involving the Super Bowl and for Marian University.

"This is the first time on a commercial-type basis," Housefield said. "We think it will be a big contributor to revenues."

Whether ChaCha can lasso more advertisers for such an ad depends entirely on how visible and successful the Toyota campaign is, said Greg Sterling, senior analyst at Internet2Go, a unit of San Francisco-based Opus Research.

"ChaCha has a specific audience and that will influence other advertisers' thinking about whether to follow Toyota's lead as well," Sterling said.

One risk to advertisers is if the Q&A database or human guides don't provide satisfactory answers, Sterling added.

"The risk is probably minimal. They will probably be seen as representatives of Toyota, depending on how it's all presented."

Changing with the technology

Meanwhile, Jones' company is trying to woo new users with a voice-recognition feature for those using Android phones. Last January, ChaCha announced a partnership with Dexetra, an India-based mobile app developer, which came up with something known as Iris.

Iris is the backward spelling of Siri, the voice recognition app on the rival iPhone.

Rather than texting a question to ChaCha, someone using the Iris app can speak the question into a phone. Iris accesses ChaCha's database and provides the answer in a computer voice.

Jones said his company is now handling a half-million questions a day via Iris.

The app has also generated some controversy. The Huffington Post ran a story last month claiming ChaCha responses on Iris were racist when one person asked whether whites were superior to blacks. The Iris response cited a quote from a South African apartheid figure.

Some liberal groups were offended when an answer to the question, "Is abortion wrong?," cited a verse in the Book of Exodus condemning murder.

Whoever's nose was knocked out of joint, the controversy gave ChaCha some visibility it might not ordinarily have received outside the circle of the younger generation wedded to its wireless phones.

Jones' team is also pressing ahead with unconventional markets for ChaCha. Besides providing answers to questions asked to New York City's 311 service, ChaCha has proposals in front of three other major cities seeking to automate their municipal answers services.

Next: corporate customers

Meanwhile, the company has yet to close a deal with corporate customers that could outsource to ChaCha part or all of their corporate call center traffic.

Companies are sometimes hesitant to hand over such functions to an outside firm that might not be as sensitive to its corporate image. Housefield said he's hopeful the company can close a deal with a company in the second quarter. "It would be a major, major customer."

Last fall, Jones said it can cost a traditional call center $3 to $4 per customer interaction but that ChaCha has found a way to pare that down to a fraction of the cost.

ChaCha has almost 80 employees, most of them in an office behind the company's merchandise sales store on the north end of Carmel's Clay Terrace shopping complex.

Jones in the 1980s co-founded Boston Technology, which developed the underlying technology for voice mail still used by 2 billion people worldwide.

The 1997 sale of the company, for $830 million, gave him the freedom and the cash to launch a flurry of tech companies in central Indiana, including music browser service Gracenote, robotic lawnmower firm Precise Path and ChaCha.

ChaCha claims to be the leader in the answers genre, which includes competitors such as Facebook Questions, Yahoo Answers and Mahalo Answers.

Privately held ChaCha in 2010 had revenue of $6.3 million, up 1,441 percent over three years, according to Inc. magazine.•