Jeff Crabill gets calls every day from booze suppliers hoping to land a distribution deal with Indiana Wholesale Wine & Liquor. As general manager, his job is to pick the most promising products.
"I say yes to less than 5 percent" of inquiries, Crabill said.
Those end up at bars and liquor stores, where patrons ultimately cast the deciding votes. And every once in a while, their response lets him know he found a winner.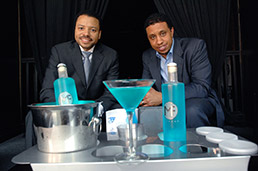 Ken Thorpe, left, and James Wide partnered with fraternity brother Don Johnson, who is based in California, to launch Blue MF liqueur in October. (IBJ Photo/ Perry Reichanadter)
Among his most recent discoveries: Blue MF, a vodka-and-rum-based liqueur concocted by three Indiana University fraternity brothers turned entrepreneurs. Their firm, Indianapolis-based More Fun Liqueur, launched its signature drink in October and now is seeking investors to help fund expansion.
Partners Ken Thorpe, James Wide and Don Johnson have been encouraged by the early response to Blue MF—and what could come next.
The liqueur, which has a flavor akin to a blue Popsicle, already won a bronze medal for taste at the inaugural MicroLiquor Spirit Awards and was featured in a celebrity gift lounge at the American Music Awards.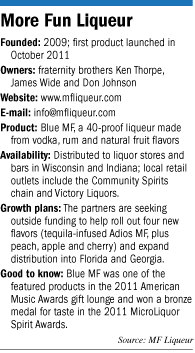 "Everyone is looking for the next big thing, and we feel like we're right there on the edge," said Thorpe, the company's CEO.
He's in the position to know. Thorpe, 43, also owns Ice Ultra Lounge downtown and Memories Bar & Grill on the northwest side, giving him easy access to instant feedback. And his connections in the industry helped MF Liqueur overcome many of the obstacles other independent suppliers face.
"If you're not tied to a major brand, you really have to stick out" to capture the attention of distributors and the public, Indiana Wholesale's Crabill said.
But local liquor store chain Community Spirits agreed to buy 25 cases of Blue MF right out of the gate—without even tasting it—because of an existing relationship between Thorpe and owner Charles Eberhardt.
"And it just started growing from there," said Wide, MF Liqueur's chief marketing officer. Wide, 38, also is communications director at Indianapolis-based Promotus Advertising.
Chief Operating Officer Johnson, 41, is based in California, where he works in sales for biotech firm Dyax Corp. His West Coast connections helped get Blue MF into the music awards' swag bags.
The partners met at IU, where they were members of Kappa Alpha Psi fraternity. They kept in touch after graduation and almost 10 years ago came together to form New Art, cashing in on a fashion craze by making engraved military-style dog tags.
New Art sold its products at Lafayette Square and Castleton Square malls, then sold franchises in Texas, Michigan and Ohio. When the dog tag trend died down, they shuttered the business.
"It was never our idea to do that long term," Wide said.
But the trio enjoyed working together—and for themselves. Thorpe, in fact, is a serial entrepreneur, eschewing traditional corporate life after a stint at a major telecommunications firm.
Besides his bars and Sushi on the Rocks, a restaurant on the first floor of his downtown nightclub, he owns JMK Development, which specializes in market-rate housing; general contractor Thorpe Construction Services; and Compass Residential and Consulting.
"I've always had a burning desire to do my own thing," Thorpe said. "It's just energizing—everything about it. Some people are born to be entrepreneurs."
Thorpe credits guidance from a "great" mentor: Indianapolis businessman Bill Mays, whom he met in college and has maintained a relationship with over the years. Like Mays, he also wants to help others interested in business ownership.
So when his fraternity brothers came to him with an idea for an energy drink, he played devil's advocate until they eventually decided to work together on a liqueur, creating a "party in a bottle."
Their target audience: the bar-hopping 21- to 30-year-old crowd looking for tasty-yet-potent cocktails. (Older customers, they reasoned, have already established their preferences.) Thorpe started mixing drinks in his office at Ice, and before long he struck gold—blue gold, that is—with a mixture of vodka, rum, blueberries and other fruits.
The partners shipped their concoction off to a chemist who tweaked the recipe for mass production, then found a contract manufacturer in Michigan to make the first 2,000 cases of Blue MF.
Community Spirits' Eberhardt was the first taker. He and Thorpe have been friendly for years, sharing industry insights as alcohol trends heat up and cool off. Eberhardt said he'd give Blue MF a try at his 21-store chain, but since retailers can't buy directly from suppliers, Thorpe had to find a distributor. Enter Indiana Wholesale.
"It definitely helped that they had a relationship with us," Eberhardt said.
Blue MF is one of Community Spirits' top-selling premixed cocktails, he said. "It does pretty well for us. We have to keep it on the shelf, because people are asking for it."
The distributor is equally satisfied with the product's performance. In fact, demand outstripped early supply, causing Indiana Wholesale to run out of Blue MF briefly at the end of 2011.
The partners credit their grass-roots marketing efforts, which include promotional partnerships with radio stations and nightclubs during which models hand out free samples and Blue MF merchandise. They also have come up with drink recipes using the product, including Wide's favorite: the Green Lantern, which combines the liqueur with cognac.
"They're doing it all the old-fashioned—hard—way," Indiana Wholesale's Crabill said. "They don't have the connections that a national supplier would have. They're building it from scratch."
Despite the challenge, Blue MF is distributed throughout Indiana and Wisconsin, and a deal is in the works to expand into Florida. The partners have invested about $250,000 of their own money in the enterprise so far, but Thorpe said they need outside funding to keep growing.
"The first thing you think about when you introduce a new product somewhere is money," he said. "What is it going to take to do that? It's a substantial financial commitment."
Thorpe and his partners estimate it will cost $250,000 to $500,000 to enter a major market like Florida—mostly in advertising and marketing expenses.
But the potential payoff is there. Liqueur suppliers grossed $2.4 billion in 2011, the Distilled Spirits Council of the United States reported in January, up 5 percent from the previous year.
In addition to the geographic growth, MF Liqueur is planning to introduce four new flavors by summer: Adios MF—made with tequila—along with apple, peach and cherry.
The partners have high hopes for their enterprise—and their collaboration. Working with friends can pose challenges, but Wide said they've managed to get past the occasional disagreement by voting.
"Everything for us is built on trust," he said. "We lean on each other."
And the fact that they are pushing ahead with the business at all is a success in itself, Thorpe pointed out.
"It's one thing to have a dream," he said, "but if you don't have a course of action, it will never be anything more than that."•
Please enable JavaScript to view this content.