The 16-mile drive from wealthy Zionsville to working-class Lebanon is the quickest way to understand how public school finance has, over the past five years, been turned on its head.

Zionsville's all-brick housing developments and strip malls give way to the massive distribution warehouses along Interstate 65 that, while not pretty to look at, provide a huge boost to Lebanon's schools.
So now, even though household incomes in Zionsville are more than twice as high as those in Lebanon, it's Zionsville's schools that are cash-strapped. The Lebanon district, meanwhile, has healthy cash reserves and recently won approval from its residents to spend $40 million on a high school expansion and renovation.
Zionsville school leaders are once again begging their residents for help, asking voters in a May 8 referendum to approve a $4.7 million annual property tax increase. Without it, they say, 10-15 teachers will be laid off, in addition to the 16 who lost their jobs after a previous referendum failed.
"It has been an enormous sea change," said Zionsville Community Schools Superintendent Scott Robison, speaking of the impact of several changes in state law on Zionsville's funding picture. He added, worriedly, "Is this the high-water mark for us?"

Taylor
Robert Taylor, superintendent of Lebanon Community School Corp., is spending his time dreaming how his students can benefit from having the 55-year-old core of Lebanon High School finally outfitted with Wi-Fi access and classroom smartboards.
"It's going to be state of the art," Taylor said. "We're in a financial position where we can make this happen."
The two districts' outlooks are vastly different than they were in early 2007. At that time, Zionsville's more than 20-year strategy of using high-quality schools to attract high-end residents, and high-end homes to support high-quality schools, seemed unstoppable.
The strategy was also working well in Fishers and Marion County's Franklin Township.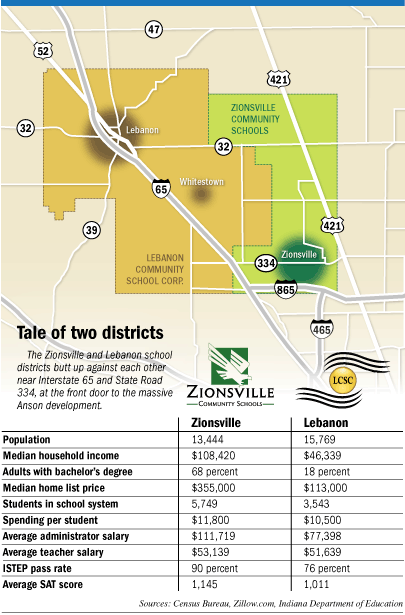 Meanwhile, Lebanon's school enrollment was stagnant through the 1990s and grew only modestly in the 2000s, while its spending per student remained below state averages. Other districts with stagnant populations and slow-growing economies were struggling to keep pace with school investments made by the high-flying suburban schools.
But in the summer of 2007, a citizens revolt erupted over property taxes, which had, as the result of a long-delayed reassessment process, shot up for some homeowners—particularly those in older, high-end homes.
That outcry led the Indiana General Assembly to overhaul both property taxes and school funding during its 2008 session. Beginning in 2009, homeowners could be taxed no more than 1 percent of the assessed value of their homes. Farms could be taxed up to 2 percent of their value and businesses could be taxed up to 3 percent of their value.
At the same time, the state of Indiana raised sales taxes statewide and used the extra money, in part, to take over all financing of schools' general funds. Districts with healthy property tax revenue now can use those funds only to pay for buildings and buses, not to pay teachers or to fund educational programs.
Then came the recession, which ultimately led Gov. Mitch Daniels to cut school funding $150 million, meaning all schools were getting less per student for their educational programs than before.
The Legislature's 2008 actions "changed the game," said Dax Norton, a Zionsville resident who is executive director of the Boone Economic Development Corp., based in Lebanon.
"The General Assembly basically said, 'If you want to continue to survive, if you want to continue to innovate, you're going to have to play the economic development game.'"

If Norton is right, it means Zionsville's strategy of appealing to well-heeled homeowners—and stiff-arming major commercial development—is no longer viable.
And it means Lebanon's actions over the past two decades to replace declining manufacturing employment with logistics businesses will pay increasingly handsome dividends. Tenants in the Lebanon Business Park alone, which opened in 1994, now account for more than 10 percent of Lebanon schools' tax base.
Lebanon schools also stand to gain as tenants in the massive Anson development—such as Amazon and Medco Health Solutions—begin to produce tax revenue. Most of their taxes now go to pay for infrastructure in the park, but the TIF will expire after 25 years.
Zionsville has been getting some tax revenue from town homes and a strip mall developed in Anson, but the value of those establishments will pale compared with the industrial development in the Lebanon part of the park.
"Zionsville kind of got screwed on that deal," said Chip Cravens, who was a Zionsville school board member from 1984 to 2010. The Anson development was predicted to bring another 1,000 houses into the Zionsville district, but those numbers never panned out.
"We were building schools and everything was going fine, and then the bottom dropped out of the market," Cravens said. "And suddenly the building stopped and the moving stopped, and we were too far ahead of the game."
Zionsville town leaders have launched a plan to boost Zionsville's commercial property value to 20 percent of its total, from less than 5 percent now. In the meantime, however, the Zionsville school system is stuck with the state's largest debt load per student and declining revenue.
How much less in revenue? Zionsville schools' property tax collections swooned from more than $41 million in 2008 to less than $23 million the next year. State funding made up much of that gap, but Zionsville still claims it's getting $4.5 million less per year than before the changes.
Self-inflicted wounds
Recent cost-cutting efforts have saved Zionsville schools nearly $5 million. But that's not enough to offset the district's steadily rising debt payments.
In the early 2000s, with enrollment surging and Indiana University economists predicting it would for years to come, Zionsville schools sold $60 million in bonds to pay to build new facilities to house all the new students.
But school officials structured the payments to start out low and gradually increase, so the yet-to-arrive residents would shoulder more of the burden they were causing.
When homebuilding ground to a halt in 2007 and 2008, Zionsville was stuck with rising debt payments right at the time the Legislature sapped its ability to pay the ever-larger bills.
Then in May 2007, Zionsville leaders agreed to give its teachers 3 percent annual raises for another five years. Zionsville leaders felt they had to compete for teachers with other "premier" school districts—such as Carmel, Hamilton Southeastern and Fishers.
But the environment has changed dramatically in recent years. In 2010, the Zionsville Educators Association accepted slower pay increases and some reductions in benefits, which saved Zionsville schools $1 million.
Zionsville CFO Mike Shafer said the school district will have to ask the teachers' union for better terms when the contract runs out in 2013.
But for many Zionsville residents, that's not soon enough. They say school leaders must win concessions from teachers before asking for a tax increase.
"The union contract has really been the big problem with costs in the Zionsville program," said Ron Martin, the longtime chief financial officer of Indianapolis-based real estate developer Centre Properties. "The amounts of benefits and raises, as we're finding, are way out of market."
Martin is a leading member of Zionsville Taxpayers for Responsible Education, which opposes property tax increases for Zionsville schools.
While Zionsville's average teacher salary is less than in neighboring Carmel, that's partly because its teachers are younger or have less education. Martin noted that a teacher with the same level of experience and education would make, on average, 7 percent more in Zionsville than in Carmel.
Matt Mulholland, a physics teacher at Zionsville's high school and president of the Zionsville Educators Association, declined to comment for this story.
Zionsville also has a reputation for extravagant building. Even though its enrollment has doubled since the late 1990s, it is still well under its total building capacity. The district has nearly 5,800 students, but has room for nearly 8,200.
In the late 1990s, Zionsville's board set metrics that no classroom would have more than 30 students per teacher, and that when a building reached 85 percent capacity, the board would start moving to build another one.
Those actions avoided the headaches and eyesores of having temporary classrooms in mobile trailers. But now it's coming back to bite the district.
One of the most controversial aspects of Zionsville's building was the 2010 opening of a $13 million football stadium, with a striking archway for an entrance and a towering grandstand.
By contrast, the football field at Lebanon High School has much more modest grandstands, with black paint chipping off the sides.

Robison
Robison, who has been Zionsville's superintendent since 2006, said the district's reputation for extravagance is undeserved. On a tour of Zionsville's high school, he pointed out several pieces of evidence that show how the district's finances are being pinched.
The carpet in the hallways has some tears that are going unrepaired for lack of capital projects money. The tennis courts out back have been unused for two seasons because inch-wide cracks between the courts make them unsafe for competitive play.
A science classroom with lab benches to seat 24 students has 31 students in it. Bunsen burners, beakers and pipettes sit unused in a storage closet because safety regulations don't allow hands-on experimentation with that many students in a small room, Robison said.
And as for the football stadium, the money for building it was raised in an earlier bond issue and was already costing Zionsville taxpayers in annual debt service, Robison noted. Lawyers told the district the money could not be used for any other purpose than an athletic facility.
School officials had planned to share the stadium with a second high school, which Robison and Shafer nixed due to cost concerns.
"That would have cost another $200 million," Robison said of a second high school. "You talk about being upside down."
Save now, spend later
Lebanon's school district didn't have to deal with the headaches of rapid growth. In the past decade, its total enrollment has grown just 200 students, or 6 percent.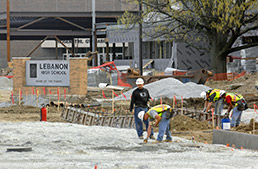 Lebanon High School is adding 20 classrooms and bringing wireless technology to the rest of its 1958 facilities as part of a $40 million project. (IBJ Photo/ Perry Reichanadter)
In addition, Lebanon has been especially conservative in its spending, even establishing a rainy day fund in 2009. That conservatism has allowed the district to build up a large cash reserve of $12 million.
A key difference between Zionsville and Lebanon is that Lebanon voters approved—by a mere 35 votes—a 2010 referendum that allowed Lebanon schools to sell $40 million in bonds to finance the current expansion and renovation of the high school.
The new bonds did not, however, raise property taxes in Lebanon, because some old debt was expiring.
Even so, the measure was fiercely opposed by some in the community, most vocally by Aaron Smith, who runs a website called Watchdog Indiana.
Smith fears that Lebanon is now making the same mistake Zionsville made, building up its facilities because it expects housing developments near Whitestown to boost its enrollment over the next decade.
"The Lebanon mistake is worse," Smith said. "Zionsville's capital projects mistake was a result of poor planning. Events revealed that it was poor planning. Lebanon is consciously embarking on a build-it-and-they-will-come approach."
But Lebanon school leaders emphasize that, even if enrollment growth does not come, the district desperately needs to upgrade its facilities, which have become outdated as Lebanon preserved cash instead of investing heavily as Zionsville has in new technology and the facilities needed to support it.
"Even if we weren't growing at all, we were still in a 1958 building with 1958 infrastructure," said Kevin O'Rourke, principal of Lebanon High School, as he walked down one of its narrow hallways, still lined by those tan horizontal brick tiles so common in schools and hospitals of that era.
He's happy now, however, that the district's conservative fiscal track record is paying off. He even thinks it helped win support among voters during the 2010 referendum.
"If you don't have a track record of being wasteful, then people are more likely to support new projects," O'Rourke said. "There comes a point where everything doesn't have to look like a college."•
Please enable JavaScript to view this content.