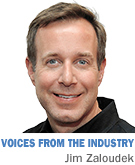 Free access to workout facilities, an arcade, a TV and game room just for little tykes, work by the graffiti artist Banksy on the walls, convenient access to amenities and two taps in the kitchen for local craft beer. This is no posh condo—this is my office. And if you're looking to hire great tech talent in Indianapolis, yours needs to look something like it or you'll be left in the dust. Welcome to work.
The Indianapolis business community is tight-knit, and although neighbors in this burgeoning technology city love to see each other succeed, I'd be remiss if I didn't also acknowledge that we all compete for top talent in a less-than-infinite pool.
So when we outgrew our old office last fall, the parking software and solutions company I've been with for the last seven years—T2 Systems Inc.—decided to mix business with pleasure. We moved from the "warehouse district" of Park 100 to a building next to the Fashion Mall at Keystone at the Crossing.
Our new location places us closer to the key, high-tech employees we recruit. We created what I think is an ideal working environment. The large break room is modeled after a café and has lots of windows and comfortable nooks. It's beautiful and energizing, making a strong setting for collaboration (and our monthly Thirsty Thursdays party). If "cubes" aren't yet dead, they're on the way out.
Angie's List, ExactTarget and the other leading Indianapolis technology companies have opened their doors to a more casual, family-friendly—but no less professional—style of work. We all must if we want to remain competitive. And it's not just a product of the Midwestern mindset. If you haven't seen Google's Googleplex, then, well, Google it.
The reason for this shift is threefold: It's a reflection of a greater cultural shift, it's an effort to create a fulfilling and open work culture, and it's a tactic to differentiate and make our companies more attractive to new talent. In pursuit of great people, it seems that today's companies compete to create less competitive-feeling work environments. What a paradox.
Employee expectations are always rising, and today's leaders try to meet those expectations on the employees' terms. Our company, like our peers, has witnessed and contributed to a shift in our culture toward a more casual, collaborative environment.
But what of virtualization, the other trend that's changing the way we work?
Virtualization is what allows us to work remotely, and at first glance it threatens to undermine office cultures everywhere. More than 40 percent of today's tech industry employees work remotely more frequently than they did just two or three years ago, and over 80 percent of tech sector workers are already doing at least an hour or two of work outside of the office every week.
Executives spend more time out of the office, too. Microsoft has gone so far as to say that enabling remote work is a "business imperative." And workers overwhelmingly desire that flexibility, especially since mobile computing is about to overtake desktop computing.
This means that in order to compete for top talent, today's offices are being asked to create a strong office culture while empowering employees to spend more time outside of the office. This is dichotomous indeed.
Admittedly, the shift to a more remote work force is nothing new to our company; almost half of our employees work from their home offices across the United States and Canada. Still, virtualization continues to impact the way great companies are built, especially in light of the competing demand for an inclusive, cohesive office culture. The best companies will walk the line between creating a destination workplace and a decentralized office.
To attract the best and brightest, today's workplace needs to foster creativity, collaboration and innovation. Our development lab, for instance, is based on tech blogger Joel Spolsky's ideal setup and involves concealable walls. But in some cases, promoting collaboration may mean putting a keg in the kitchen.
Whatever the case is, the fact remains that if you're not helping employees succeed in ways that matter to them, they'll find somewhere else to work that does.•
__________
Zaloudek is CFO and executive vice president of T2 Systems Inc. Views expressed here are the writer's.
 
Please enable JavaScript to view this content.