One of the appeals of City Market for downtown lunchers is that one member of the group can grab a slice of pizza, another a sandwich, and another a crepe. All you have to do is decide where to meet after the food is purchased.
This means Cajun cravers can grab lunch at Papa Roux (222 E. Market St., 603-9861), while co-workers try tamer fare at another food stand.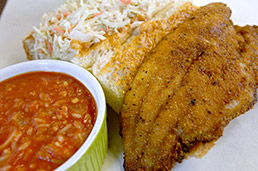 Catfish is just one of several po-boy choices at Papa Roux. (IBJ Photo/ Perry Reichanadter)
Papa Roux opened the City Market version of its popular east-side establishment last year. The accent here is on overstuffed po-boys—sandwiches housed in what seem like half-loaves of French bread. We went for the Catfish ($10.50) and the Grilled Sausage ($9.50) and if those prices seem high, factor in that each includes a side and a bottle of Abita root beer or vanilla cream soda.
Both po-boys were sloppy and substantial. The sloppiness can be traced to the mound of house coleslaw and vouxdoux mayo spread across the inside of the bread. Even with a quick scrape, the slaw nearly overwhelmed the hand-breaded and pan-fried catfish it was meant to accessorize. All good, though, especially when partnered with a deliciously kicky Spicy Garlick Stew (available as an entrée for $7.50), rich with onion, corn, and rice.
The coleslaw couldn't drown out the spicy flavor of the Grilled Sausage. The accompanying side of Tomato Creole gave even more heat to this satisfying but messy meal.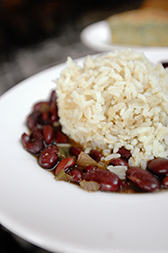 The Red Beans and Rice holds its own at Miguel's. (IBJ Photo/ Perry Reichanadter)
When your entire party has a craving for the spices of the south, consider a trip across the street to Miguel's Southern Kitchen (130 N. Delaware, 955-0001).
The atmosphere here isn't much fancier than the City Market purveyors—you order at the counter and take a seat in a nondescript dining area. But here, in addition to the scooped jambalaya, gumbo and etouffee, you can also get a satisfying slab of ketchup-topped Meat Loaf ($8) paired with a door-stopper-sized hunk of corn bread.
One could happily make a meal of the Red Beans and Rice ($7), although you'd need more willpower than I have to pass on the mountain of house-made Bread Pudding ($5) that serves as one of Miguel's two desserts (the other is, of course, pecan pie).•
—Lou Harry
__________
Second in a month-long series of reviews of eateries in and around City Market.
Please enable JavaScript to view this content.