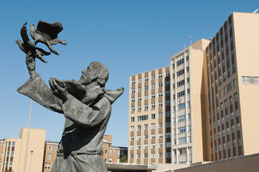 A statue of St. Francis stands outside the former St. Francis Hospital. Another statue that stood in the lobby is headed to a short-stay medical center in Carmel. (IBJ Photo/ Perry Reichanadter)
St. Francis Hospital served as the beating heart of Beech Grove for almost a century.

It was a spot for moments of joy and grief. It provided a livelihood for thousands and a sense of community—and, of course, health—for many thousands more.

So there was a mix of sadness, grief and anger in this city of 15,000 when Franciscan Alliance in mid-March moved the last inpatient and emergency operations to the new Franciscan St. Francis hospital at Stop 11 Road and Emerson Avenue.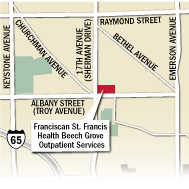 The departure of Beech Grove's largest employer was no surprise; it has been in the works for more than 20 years.

But that didn't make it any easier for Mayor Dennis Buckley and many others, including longtime employees, to see the hospital stripped of its signage.
Even more disturbing: The life-size statue of St. Francis that greeted generations in the hospital lobby is headed to the hospital system's new short-stay medical center in Carmel.

"The majority of people I have spoken with, far and away, feel that Franciscan Alliance has walked away from them," said Buckley, who envisions a mix of senior housing, park space and neighborhood service uses to replace the hospital. "The general consensus is, they don't care about Beech Grove or what they're leaving behind."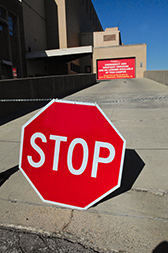 The last inpatient and emergency operations were moved out last month. (IBJ Photo/ Perry Reichanadter)
The hospital doesn't see it that way: Franciscan St. Francis has worked closely with Beech Grove civic leaders over several years in hopes of finding a productive new use for the property, said Joe Stuteville, a hospital spokesman.

Stuteville said the hospital is listed for sale but he declined to specify the asking price or brokerage firm handling the offering of the roughly 900,000-square-foot facility spread over 15 acres. The goal is to find one buyer, but it won't be a hospital, thanks to a non-compete clause.

Some St. Francis administrative employees continue to work at the former hospital, along with a separately owned rehabilitation operation, but both are scheduled to move out by December. The Sisters of St. Francis, who live atop the hospital tower, will move to a convent now under construction adjacent to the new hospital campus.

Buckley
"We're hopeful we can attract a suitable buyer for the property that fits in and meshes well with the Beech Grove community," Stuteville said.

Buckley, who took over as mayor in January, doesn't expect Franciscan Alliance will find a buyer for the property. His goal is to persuade the organization to foot the bill, up to $10 million, for a partial demolition and cleanup, which would pave the way for redevelopment. He figures it would cost Franciscan more than $6 million per year just to mothball the property.

The mayor would then ask the Beech Grove City Council to issue up to $10 million of revenue bonds to support redevelopment, which could give the city's tax base a boost. (The not-for-profit hospital does not pay property taxes.)

He plans to make a personal appeal at the Franciscan Alliance headquarters in Mishawaka.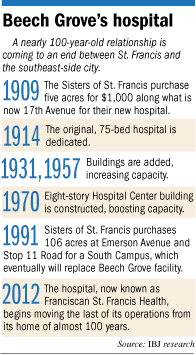 "I want to talk about the human side of this—what this move has caused our city," said Buckley, who was born at the hospital, as were his wife and their two children. "Our city is in trouble. We have problems. And this is just a big dagger that's hit us.

"We've lost a hospital that's been associated with Beech Grove since 1914. It hurts, and I think they need to hear that. Sometimes, when you're away from it, you hear one side but you don't hear the human side of this."

Frank Mascari, who represents Beech Grove on the City-County Council, wants to see the building torn down to make way for a complete redevelopment.

He's keen on a university user for the space and the opportunity to secure federal money for redevelopment.

Mascari said the hospital cannot follow the path of Winona Hospital, which sat vacant and crumbling for years before the city of Indianapolis stepped in and demolished the property.

He's confident St. Francis wouldn't let that happen. The hospital tried in the late 1980s to assemble land for an expansion in Beech Grove instead, but not enough homeowners would sell, he said.

"It won't just be abandoned," Mascari said. "They're going to take care of it. I feel very comfortable about that. They're going to be good stewards."

Beth VanSickle, who works in the still-open hospital gift shop, fears what will happen if the hospital is left vacant long.

"This was such a big part of Beech Grove," said VanSickle, 47, who grew up a few blocks from the hospital. "I don't want it empty or torn down. Let's get a thriving business in here."

The departure of St. Francis may hurt Beech Grove, but the city's struggles are nothing new, Gordon Harwood, 82, said over a plate of three runny eggs, sausage and toast at Backstop Diner on Main Street.

At 12:15 on a weekday afternoon, the diner's lunch rush consisted of Harwood and a reporter.

"It's sad, but you gotta move on," said Harwood, who lived in Beech Grove for 16 years starting in 1955, before the hospital had expanded from its original building along 17th Street. "The question now is what they should do with it."

Harwood figures a retirement community would make sense for the old hospital: "Beech Grove has a lot of old people."•