Often stilted, often hokey, and just as often charming, "Magic/Bird" is a Broadway oddball—a biographical drama without romance and without family conflict, but with an ample supply of game clips and a very mobile backboard.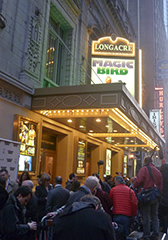 "Magic/Bird" opened at Broadway's Longacre Theatre on April 11. (IBJ Photo/ Lou Harry)
The play, which opened April 11 at Broadway's Longacre Theatre for an open-ended run, tells the story of the rivalry between Magic Johnson and Larry Bird (played effectively, if not exceptionally, by Kevin Daniels and Tug Coker). It should go down in theatrical history as the first play to contain the above-the-title producers' credit: "In association with the National Basketball Association."
"Magic/Bird," which was created with the cooperation of both Johnson and Bird, opens sharp and playfully with the actors introduced by an announcer, a la the start of a basketball game. (There are six in the play's starting lineup, with all but Daniels and Coker playing multiple roles.) It squanders that lead, however, by jumping to the moment when the world found out about Johnson's HIV diagnosis—a dramaturgical decision that waters down an important moment that would have more impact if introduced later in the piece, after we had gotten to know the attention-loving Johnson and the monosyllabic Bird.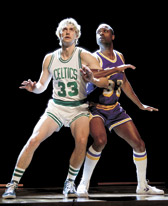 Tug Coker and Kevin Daniels play the iconic athletes.
Click here
for a gallery of photos from the show. (Photo/ Joan Marcus)
It quickly regains its footing, though, once the narrative resets to the players in college and later brings on Peter Scolari (best known from TV's "Newhart" and "Bosom Buddies") to give distinct, fun interpretations of Pat Riley, Red Auerbach and Lakers' owner Jerry Buss.
One of the strongest scenes in the play comes when Scolari takes on another character, a Boston bar-dweller and Celtics loyalist who engages in a verbal battle with a guy who might be the only Lakers fan in Massachusetts. Here, playwright Eric Simonson (who also penned last season's "Lombardi") is at his best, crafting detailed characters and earning big laughs while bringing up some serious racial undertones of the Celtics/Lakers rivalry. Later, he and the cast also earn points from a scene telling the oft-told tale of Johnson's visit to French Lick to film a sneaker commercial—an awkward shoot that, thanks to lunch with Bird's mother (the fun Dierdre O'Connell), became a turning point in their relationship. (A snippet of that scene, and several others, are included in the video below.)
As someone who had some understanding of the relationship between the two men and their importance to basketball but didn't follow the game closely during the Magic/Bird years (forgive me: I was in New Jersey), it wasn't clear to me how the story was progressing from season to season. I wanted to feel the tension build and change. Instead of a buildup, it's more of a blur.
In all, "Magic/Bird" is a likable show that is unlikely to draw an audience away from more traditional Broadway fare. But it might just attract a different crowd—like the guy behind me who proudly explained to his son what was going on in just about every one of the 49 television images projected onto a screen before the show.
Theater can be for those guys, too. And as a member of the relatively sports-ignorant class, I was happy to go along to the game.
Next week, look for reviews of more non-musical Broadway. (You didn't think I'd see only one show while in New York, did you?)
_________
And now, a bit closer to home.
The reason "Candide"—with its brilliantly bombastic Leonard Bernstein score—isn't as well-known to the masses as his "West Side Story" or "On the Town" is a function of its core story. The characters in the other two musicals have a clear set of appealing and interesting desires, but "Candide" is largely about the audience waiting around for the main character to realize how rotten the world is.
As a musical, a form that usually requires both strong music and compelling characters to succeed, "Candide" is a tough nut to crack—as numerous rewrites and reconfigurations over the years attest. But when offered by an opera company (as it was by Indiana University Opera, April 6-14), the conventions of opera can help mitigate those expectations.
In other words: When an audience's primary desire is to hear the music sung, it's easier to overlook an absence of rich characters.
At IU, the show was double-cast, with a different set of Friday and Saturday leads. On my visit, both Will Perkins and Katelyn Lee sounded wonderful as naïve Candide and the glitter-loving Cunegonde, but neither succeeded in creating strong visual characters. No effort was made to disguise the fact that Ashley Stone was nowhere near the requisite generation to play an important character called The Old Lady. And Joseph Legaspi offered an obvious Maximilian (but such is to be expected in operetta).
Director Candace Evans' boldest choice—which turned out to be a good one—was to have the actor playing Dr. Pangloss (Joseph Mace) also serve as narrator and frame the piece as the book's author, Voltaire. Without adding a word or violating the piece, the frame and thread help give "Candide" needed perspective and drive.
High praise to the orchestra and to a strong chorus, which seemed as populous as all of fictional Westphalia. And a lot more powerful.•
__________
This column appears weekly. Send information on upcoming arts and entertainment events to lharry@ibj.com.
Please enable JavaScript to view this content.