IBM's supercomputer Watson is already a "Jeopardy!" champion. Now, three doctors in Indianapolis are trying to teach it how to treat cancer.
The physicians, working from the Indiana University Simon Cancer Center and the Regenstrief Institute Inc., have been tapped by Indianapolis-based WellPoint Inc. to develop Watson's ability to analyze patient records to find the relevant details and match them against all available medical research to suggest the best courses of treatment—and to do it in a quick and easy-to-use way.

Loehrer
WellPoint, the nation's second-largest health insurer, announced a similar partnership in February with researchers at the Cedars-Sinai Cancer Institute in Los Angeles, and it is in discussions for similar work with oncologists at the Memorial Sloan-Kettering Cancer Center in New York.
Watson, which is the persona given to 90 computer servers, isn't the world's fastest computer—not by a long shot. But it earned its fame because it can receive queries in plain language—like Alex Trebek's clues on "Jeopardy!"—and chew through 1 million books in three seconds to find the best answer.
WellPoint hopes that language-based computing power can make doctors more efficient and better able to base their recommendations on the evidence generated by rigorous medical research.
"There is a constant barrage of new studies, new therapies, new tools, that are coming into our knowledge base. For the typical oncologist, it is virtually impossible to keep up with all of that information," said Dr. David Lee, vice president of health care management at Anthem Blue Cross and Blue Shield, the Indiana subsidiary of WellPoint. Watson, he added, "really helps with the trickle down, if you will, of that academic information that becomes available."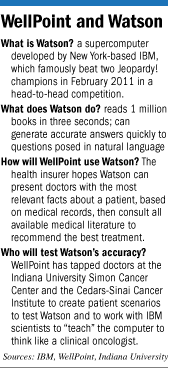 The local physicians ginning up story problems for Watson to tackle are Dr. Patrick Loehrer, director of the IU Melvin and Bren Simon Cancer Center; Dr. George Sledge, a well-known breast cancer researcher at the IU School of Medicine; and Dr. Bill Tierney, CEO of the Regenstrief Institute, which has been a pioneer in using electronic medical records to improve patient care.
Those three started talking to WellPoint after it announced its partnership with IBM's Watson team in September.
"We all said, 'What a great benefit Watson could be,'" said Loehrer, who is also the HHGregg professor of oncology at the IU School of Medicine.
It particularly provides hope for cancer treatment, which has become inordinately more complex in the past 15 years. Research in that time has shown that cancer is driven by the interaction of a host of genetic alterations as well as a patient's environment and behaviors. That means a condition like breast tumors is not one disease, but many, depending on each patient's combinations of genes and other factors.
Pharmaceutical companies and others have poured money into cancer research, sparking a boom in new studies and new treatments. But keeping up with all that research is daunting, even for academics like Loehrer.
Loehrer, Sledge and Tierney began working in January to develop scenarios that will help Watson learn the medical lingo used by oncologists as well as what kinds of information about a patient are most important when it comes to cancer care.
For example, Watson needs to know that the words "cancer," "tumor," "metastasis" and even the shorthand "mets" all indicate a patient has cancer. But Watson also needs to be able to read a doctor's report that says, "There is no evidence of lung cancer," and not leap directly to the words "lung cancer."
"Right now, Watson is a first-year medical student," Loehrer quipped.
As Loehrer, Sledge and Tierney see how Watson responds to increasingly difficult cases, they will give feedback to the IBM scientists to tweak Watson's processes to improve. After that process runs its courses, Loehrer, Sledge and Tierney will test Watson to see if it can answer queries with the speed and convenience busy doctors will demand.

Lee
"You really have to be able to make some snap judgments," Loehrer said, noting that it is common for a doctor and patient to see each other for just 15 minutes. "This is not going to work," he said of Watson, "unless it saves physicians' time."
WellPoint's Lee agrees. He said once the work by the doctors at IU and Cedars-Sinai concludes, the health insurer plans to run a pilot program with a broader array of academic and community oncologists, to see if Watson's processing power helps them in their day-to-day work with patients.
How long that takes is unknowable at this point, Lee said. Still, he said, working with Watson allows for some exciting possibilities down the road.
"Will Watson be able to think beyond just giving the most effective treatment, or the four most effective?" he mused. "Could it even come up with a fifth option that we haven't thought of before now?"•
Please enable JavaScript to view this content.