One of the most conspicuous local remnants of the condo crash—an unfinished $150 million South Carolina-themed community near Keystone at the Crossing—could finally be completed, as apartments.

Locally based Milhaus Development is scheduled to close on the property along White River in May and plans to spend $32 million to $40 million to develop about 300 apartments in 16 new buildings and three that remain from the ill-fated condo project.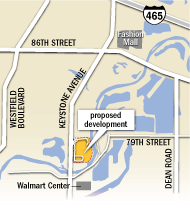 Milhaus will develop and own the community called Solana Apartments at the Crossing, while Gene B. Glick Co. will build and manage it. The apartments will border a lake that connects to White River.

The property at the southeast corner of East 78th Street and Keystone Avenue has been a history-in-microcosm of the real estate boom-and-bust cycle, said George Tikijian, managing director of local apartment brokerage Tikijian Associates.

An aggregates company that used what's now the lake as a gravel pit sold it for an apartment development in the 1970s. When the project to build The Landings stalled, thanks to rising interest rates and a real estate downturn, Oxford Development—then a local apartment powerhouse behind Riverbend and Scandia—stepped in and finished it, Tikijian said.

Fast forward to the condo craze of the mid-2000s, and the nautical-themed apartment community conveniently located between downtown and The Fashion Mall became a hot commodity. A partnership of Sunstone Properties and Shiel Sexton Co. paid almost $9 million for it in 2006, then invested more than $20 million in demolition, infrastructure and construction before the deal went belly-up.

The plans by Milhaus call for the three buildings constructed as condos, which contain a total of 24 units in various states of completion, to become part of the apartment community.

The new buildings will use similar materials as the existing ones but will be shorter. The units will have outdoor patios and a combination of garage and surface parking. About half the units will have water views.

Another challenge unique to the site is that the infrastructure improvements have sat vacant for several years, and the pads left for condo buildings will have to be modified to accommodate the footprint for apartments.

"We're going to create a really nice community that the neighborhood will be proud of, but it's going to be a lot of work to get there," said Milhaus principal David Leazenby.

Solana shouldn't have a problem finding a market and leasing up thanks to a pent-up demand for quality apartments in the 86th Street vicinity, said Steve LaMotte Jr., senior vice president for the Indianapolis-Cincinnati Multi-Housing Group at CBRE.

Several big apartment projects in the works for central Indiana this year are on track to deliver the most new apartment units for any year in the last 25.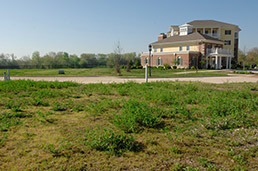 Most of the property slated for the Solana apartment community has been vacant since the $150 million Renaissance Bay condo development faltered during the housing downturn. (IBJ Photo/ Perry Reichanadter)
The East 86th Street and Keystone Avenue area is one of three in the city where apartment development has been hot. The others are downtown and Carmel.

"I don't think we're near saturation point in any of those submarkets," LaMotte said. "There's enough growth and design variation in each project to sustain demand."

A closing on the roughly 55-acre property (about half of which is usable) is slated for May, and Milhaus hopes to start construction the same month, Leazenby said. The seller is Star Financial Bank, which took back the property after the condo project fizzled. No purchase price has been disclosed.

Milhaus plans to partner with an equity investor, which it declined to name, paired with traditional bank financing.

The plans call for one-bedroom, two-bedroom and three-bedroom units charging market rents, Leazenby said.

He declined to provide a specific rent range, though similar properties suggest the rents will be in the range of $1.25 per square foot, or $1,250 per month for a 1,000-square-foot unit.

Average rents are about $1,090, or $1.02 per square foot, at River Crossing near the Fashion Mall; $1,000, or $1.10 per foot, at River Ridge about a mile to the north; and $1,109, or $1.52 per foot, at Residences at Keystone Crossing, Tikijian Associates data shows.

Tikijian said it's difficult to handicap the completion of Solana Apartments at the Crossing because of its large size, other developments planned nearby, and the financing environment (lenders will require equity of at least 20 percent, or about $6.5 million).

"The property is in a strong location and there's certainly a lot of demand from investors in apartments," he said. "I assume they've got equity investors. I'd call it a reasonably good chance it gets built."

A survey of developers by Tikijian Associates suggests 3,438 new units could hit the rental market this year, the highest total since 1987, when developers added 4,500 units.

The nine-county market added 2,526 apartments in 2010 and about 1,800 in 2011.

The two nearest to the Solana project include: a plan by Indianapolis-based Hearthview Residential to build a $24 million project with 230 units behind the Clearwater Crossing shopping center at 82nd Street and Dean Road on seven acres, and Keystone Group's proposal for a $40 million project that would add 240 apartments and retail space to a 12.6-acre parcel at the northwest corner of 86th Street and Keystone Avenue.

The potential influx of new residents should be good news for shops, including those in the Walmart-anchored center just to the south.

"Anything that brings more residents to the area who shop locally, that'll be great," said Dan Gaines, who manages the locally owned Comic Carnival, which has been doing business in the area about 40 years. "That would be wonderful. We thought condos would be wonderful, too."•