IT professor Ali Jafari, who netted Indiana University $23 million on its $130,000 investment in his Angel Learning when it sold three years ago, might be on the cusp of an even bigger hit in the online learning segment.
Jafari recently launched CourseNetworking, known online as theCN.com, which allows learners across the globe to connect and chat around shared interests and class subjects.

Jafari
Think of it as sort of a Facebook for learning.
A psychology professor, for example, might want to go beyond simply sharing an article link with his students and share it with other psychology students around the globe.
"Learning is informed by not just one, but potentially thousands of instructors and peers" worldwide, explained Jafari, CN founder and CEO and a professor of computer and information technology at IUPUI.
CN is different from Angel and other so-called learning management software Jafari has developed. The latter are used by K-12 and higher learning institutions to deliver content to students and course planning and analysis functions for instructors.
Those systems are accessible generally only to students in a particular class. But CN "is about introducing a totally new educational technology model based on social learning," or networking, Jafari said.
Students and teachers—anyone for that matter—sign up for free accounts, similar to signing up for Facebook or Twitter. The site then connects them with other members around the world who are studying or merely interested in similar subjects.
A student could work on homework together with many more students than just those in one's class in a brick-and-mortar institution. Even the mere process of socializing online offers complementary, intercultural learning opportunities, said Jafari, who was born in Iran.
"The first goal of CN is changing the way the world learns. The second goal is to create and maintain a successful enterprise. I strongly believe that education today deserves and needs to have better educational technologies and tools," Jafari said.
The site will receive financial and intellectual capital from universities.
IU and Virginia Tech are the first two institutional funders of the company, CourseNetworking LLC. Jafari hopes to eventually attract the support of 40 institutions worldwide.
The site has received $1.2 million in development funding to date, including the investments by IU and Virginia Tech.
University involvement could help the site from devolving into the narcissistic and trite blather one finds on social networking sites.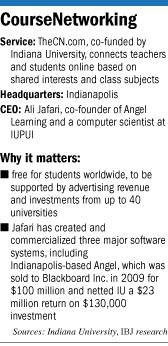 "The funding piece is not as significant as the intellectual capital [universities] can provide," said Sarah Zike, director of business development at CN, which has its office at the IU Emerging Technologies Center downtown.
A university might also be able to offer its own branded version of the site, with its own logos. Educational institutions also are likely to purchase advertisements touting such things as degree programs and study results, potentially a key source of revenue for CN.
Academicians using the site can reach a large audience. For example, a surgeon recently created a spine-surgery discussion group on the site to publish information about the surgeries he is doing to share with other surgeons in the same field, Zike said.
Not-for-profits could use the site to provide training to local and international constituencies. It could even be used as a way to provide training to earn continuing education credits for licensing and certification, she said.
"Eventually, nonprofits and other organizations can use the site to provide training and consultation, collaboration and any other published material for a fee, which will provide a possible revenue stream for the organization," she said.
It will take time to see what uses spring from the site. IU expects to see a number of possible benefits to education by virtue of "the ability of faculty and students to communicate, not just with their class but with students and classes around the world," said Tony Armstrong, president and CEO of the IU Research and Technology Corp., which is backing Jafari's latest effort and hopes to see a financial return.
"Dr. Jafari is a prolific, serial entrepreneur … . He really is a thought leader in that space," Armstrong said.
Jafari's last major hit, Angel Learning, was sold in 2009 to Washington, D.C.-based Blackboard for $100 million.
"I believe that the potential return on investment of CN will be substantially bigger than the success story of Angel Learning," Jafari said.
But Jafari said he's not looking for a similar kind of sale.
"I am hoping and planning for a five-year IPO," he said. •
Please enable JavaScript to view this content.