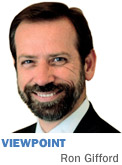 I've been thinking a lot about this question lately: What's the best way to ensure funding for an essential public service?
To be fair, most of you probably haven't used this specific public service and, candidly, you're probably all right with that.
The fact is, most people in the community don't use this service, and when you consider that the private sector used to provide it, it's not irrational to ask why taxpayers should pay for something that's used by only a small percentage of the community.
In fact, some have suggested that if you could identify the people who will need the service, it would be cheaper to buy all of them their own vehicles instead of providing this service all over the county.
Given these realities, perhaps we need a new funding mechanism—perhaps create a "users pay" system to require the service to support itself. Maybe that's a way to stop subsidizing the free riders.
On the other hand, there are persuasive arguments in support of a broad funding base for the service. You can't deny that it can be a true lifesaver to those folks who need it and rely on it.
We cannot effectively compete for new business or talent if this service isn't available throughout the community. Every top-tier city in America provides this service to its residents, and we cannot be an outlier if we want to keep pace. We all benefit from the service, whether we directly use it or not.
And so, in weighing the arguments, the answer is clear: The entire community should continue funding the fire department. It provides a vital public service that benefits us all, even if all of us don't need it.
Wait a minute, you might ask. Did I miss something? Fire department? Weren't you talking about something else, like mass transit?
Well, it's true; we do hear these arguments when we talk about funding regional transit (and, no, we're not suggesting that we change how we fund the fire department). But if you re-read the first few paragraphs with the fire department in mind instead of transit, it might frame the current conversation in a new light for you.
Think about it: Most of us never need the fire department's services (and we're glad of that), but we all pay taxes that ensure the service is available when it's needed. It wouldn't have to be funded that way, though. We could insist that "the fire department should pay for itself"—for example, you could calculate how much it actually cost to put out each fire and charge the property owner accordingly. You might call it "pay as you glow."
But we don't do that, of course. We've decided that, like other essential services, fire protection benefits the whole community, and as such, we should all contribute to its costs—whether we use it or not.
We believe the same approach makes sense for mass transit: Fund it as an essential public service, as it is in all our competitor regions. As you know, we asked the General Assembly last session for local control to put that question to the voters, but our plan ended up on the back burner.
We're redoubling our efforts to pass this plan in the 2013 legislative session. We're launching a broad-based campaign to ensure that residents and policymakers alike understand the substantial benefits of a strong transit system, and to build community-wide support for the plan.
It's time to light a fire under our legislators to give voters a voice on this vital public issue.•
__________
Gifford is executive vice president, public policy at Central Indiana Corporate Partnership. Send comments on this column to ibjedit@ibj.com.
Please enable JavaScript to view this content.