It shouldn't come as much of a surprise that, with limited resources, IUPUI's Hoosier Bard Productions doesn't make a masterpiece out of the most obscure of Shakespeare's plays—one that may not even be Shakespeare's play at all.
To be sure, "The History of Cardenio" is an oddity. And its disputed history is certainly fascinating (Records show that a play by unnamed writers was staged by Shakespeare's company based on a section of "Don Quixote." Other records, half a century later, show a play credited to Shakespeare and John Fletcher. Still other references…ah, why don't you just Google it?)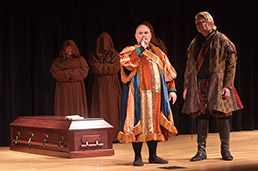 It's academic. Scholars are still pondering how much Shakespeare there is in "The History of Cardenio." (Photo/ Eric Burrous: IUPUI)
For this production, "The History of Cardenio" has been credited as a play "by William Shakespeare and John Fletcher, re-created and reimagined by Gary Taylor." Would I have enjoyed it more if the program had featured question marks after each of the supposed contributors' authorship credit? That might have felt more intellectually honest but, ultimately, its history and its sourcing isn't what was put on IUPUI's new stage. The play—well, a play—was.
As offered here, "Cardenio" has betrayal, forgiveness, cross-dressing, insanity, a prominent coffin, and parent-approved and parent-disapproved pairings—all the stuff that has been used by Shakespeare in other works. It's got a cast ranging from stiltedly amateur to full-out ham with occasional moments of truth and beauty. And it's got a title hero upstaged by the more familiar characters Don Quixote (played with appropriate bombast by Jonah D. Winston) and his sidekick Sancho (a still-in-high-school standout Brandon Merriweather). Not to praise too faintly, but the overall quality of Hoosier Bard's "Cardenio" is significantly higher than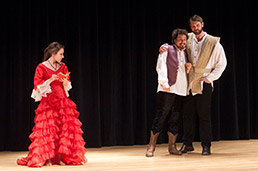 Don Bernard (Michael Hosp), far right, interrupts a romantic encounter between his daughter, Lucinda (Maria Souza-Eglen), and the idealistic student, Cardenio (Thomas Cardwell) in IUPUI's "The History of Cardenio." (Photo/ Eric Burrous: IUPUI)
it was in the company's freshman effort, the excruciating 2011 "Young Hamlet."
As directed by Terri Bourus, "Cardenio" eschews sets, letting costumes and an onstage musical combo do the atmospheric heavy lifting. That, combined with the high-school-auditorium-like design of the new IUPUI Campus Center Theater, accents the overall amateurism of the exercise, although the sizable cast—without doubling of parts—certainly helps keep things understandable.
But should a production by Shakespeare or anyone else be applauded for being reasonably coherent? For getting some laughs (albeit primarily with sex jokes)? Or for existing in the first place?
Ah, there's the rub.
Lesser-known shows not only offer greater acting and directing challenges, they also are likely to cause nervous breakdowns in the marketing department. On top of that, there's also a greater risk of artistic failure.
Of course, while I'd gladly give up another "Romeo and Juliet" or "Midsummer Night's Dream" for a chance to see a solid "Measure for Measure" or "Love's Labours Lost" on area stages, I understand the conservative thinking of theater producers. Pulling off—and finding audiences for—a competent "As You Like It" is a lot easier than bringing "Troilus and Cressida" to life.
Or "The History of Cardenio." Whether a guy named Shakespeare wrote any of it or not.•
__________
This column appears weekly. Send information on upcoming arts and entertainment events to lharry@ibj.com.
Please enable JavaScript to view this content.