Twenty-five years ago, when construction began on the Indianapolis Canal Walk, city leaders envisioned a bustling pathway lined with restaurants and shops, like the San Antonio River Walk.

The vision never quite materialized, as residential and office buildings sprouted on most of the parcels along the meandering 1-1/2-mile stretch.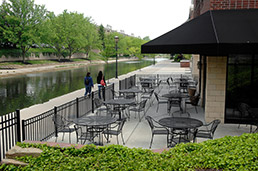 A vacant café outside Cosmopolitan on the Canal is the latest retail casualty along the Canal Walk, which was originally envisioned as a bustling restaurant and retail district like San Antonio's River Walk. (IBJ Photo/ Perry Reichanadter)
The Canal Walk has evolved into more of a local amenity—a running and walking path for those who live or work close by—than a visitor attraction, thanks to a lack of street-level visibility, scarce parking and a suburban approach to development along its banks. There are few cafés, zero nightlife and not enough public rest rooms.

But the Central Canal still may hold some untapped value: Participants in focus groups commissioned by the Indianapolis Convention & Visitors Association ranked photos of the canal ahead of both Monument Circle and the city's skyline.

Convinced it was underplaying the waterway, ICVA has added shots of the Canal Walk to its regional summer tourism campaign.

"The canal creates this perception of a city that's clean, green, interesting, unexpected," said ICVA CEO Leonard Hoops. "Those are some of the words that popped up [during the focus groups in Louisville, Chicago and St. Louis]. It creates a perception of the city among visitors, even if they don't actually visit it."

Hoops is focused on more than perceptions; he's assigning an ICVA-affiliated not-for-profit group called Tourism Tomorrow Inc. to study ways to "activate" the Canal Walk for visitors.

He'd like to see more incentives for the development of restaurants and attractions—a vision more in line with that of four-term Mayor Bill Hudnut, who launched the transformation of what had been a drainage ditch left behind by a failed 1830s canal project.

One surefire way to attract more restaurants is to increase residential density in the area, said Deputy Mayor Michael Huber. That's one reason the city is supporting a mixed-use project led by Flaherty & Collins Properties that calls for almost 500 apartments and a Marsh grocery store along Capitol Avenue about a block east of the canal.

"We're supportive of any effort to make the canal more accessible for residents and new downtown residents," Huber said.

Short of the vision

The concept behind the Canal Walk was inspired, but ultimately it has fallen short of its potential, said urban development consultant Aaron Renn, who writes the Urbanophile blog.
Renn blames a series of developments that give the canal a decidedly suburban flavor: Watermark on the Canal is a gated subdivision plopped in an urban area; Gardens of Canal Court is a suburban apartment complex with winding roads and surface parking that turns its back on the canal; and IU Health's new buildings at the north end of the canal resemble a suburban office park, failing to engage the street or the canal.

"There was never the intensity of development that would support shops or restaurants," Renn said.

Brad Hurt, who worked for the city on the canal project in the 1990s, agrees the result didn't live up to the vision.

"Without question, it has not fulfilled what everybody thought it might do with respect to restaurants and retail," said Hurt, who is now president of development consulting firm Urban Initiatives.

It was not for a lack of trying. Some of the developments pursued simply didn't work.

Local mortgage banker Kenneth Puller spent at least three years trying to finance a $40 million proposal for a hotel, apartments and retail at the northeast corner of New York Street and the canal in the late 1980s.

After Puller's city-endorsed deal finally collapsed, a complex of two suburban-style hotels—a Residence Inn and a Courtyard by Marriott—were built on the site in the early 1990s.

At that point, city leaders didn't have much leverage to force a more ambitious project, Hurt said. The hotels were the first built downtown in at least a half dozen years. Developers weren't all that enthusiastic about downtown, so a suburban footprint was basically a take-it-or-leave-it proposition.

"It was just a different era," Huber said. "If someone could have foreseen we'd have this kind of demand of people living downtown in dense developments, yeah, people might have made different proposals 20 or 25 years ago."

Early apartment projects, such as Canal Square and Canal Overlook, included retail space facing the canal, but there were no takers and the space was eventually leased to office users. Those projects were the first high-density housing downtown in years, and each required heavy city support to get off the ground. Later projects, including Gardens of Canal Court, were built without subsidy.

From the standpoint of return on public investment, the canal has been a runaway success, Hurt noted, with $13 of private development for every $1 taxpayers spent building the Canal Walk. The $61 million to build the Canal Walk and acquire adjacent properties was covered by a combination of federal, state and local funds.

Patience pays

The canal is a pleasant amenity for walking, biking or a family outing to one of the museums at White River State Park, particularly for people who work or live nearby. But it's also a lesson encouraging the city to embrace density and be willing to wait for the right projects, Renn said.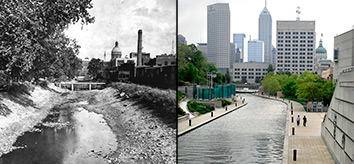 The Central Canal, abandoned as a transportation route in 1839, only three years after it was dug, was an eyesore in the undated mid-20th-century photograph at left. Today, the same spot hosts the Medal of Honor memorial on the canal's northern bank, and the Eiteljorg and state museums on its southern bank. (Photo Courtesy Bass Photo Co. Collection, Indiana Historical Society; IBJ Photo/ Perry Reichanadter)
He applauded the current mayoral administration for not rushing into a redevelopment of the Market Square Arena site that fails to capitalize on the site's potential.

"The canal wasn't supposed to be a tranquil place to escape from the city," he said. "It was supposed to give life."

Newer developments, particularly the Cosmopolitan on the Canal apartments, have done a better job engaging the canal.

But even the Cosmo comes up short. Developer Flaherty & Collins Properties (which has since sold the property) won a 10-year tax abatement worth $2.7 million after promising to include canal-level retail, public rest rooms and 30 parking spaces dedicated to canal users.

The project includes canal-level restaurant space, but it has been empty since tenant Left Bank Café closed about six months ago. There are no canal-level public rest rooms (a property official said the public rest rooms are in the now-locked restaurant space). And the building offers only 12 public parking spaces along Senate Avenue, where the city plans to install meters.

Department of Metropolitan Development officials were checking into whether the lack of public rest rooms and parking spaces violates the project's abatement agreement, said city spokesman John Bartholomew.

He said the city is insisting on public rest rooms and elevator access to the canal for new projects—including a recently approved plan for student housing.

Suburban mind-set

Even as downtown prospers, a suburban mind-set persists for canal development.

Back in 2008, a Kansas developer proposed a hotel, restaurant and retail space for a state-owned parcel along the canal between Ohio and New York streets. The plan envisioned development of the parcel abutting a state parking garage, along with a bridge across the canal to another phase on a surface parking lot north of the Indiana Historical Society.

Years earlier, when the state built its parking garage, city officials had successfully lobbied to keep the canal frontage for a future development. But members of a suburban-minded environmental group lobbied to keep the grassy bank for watching concerts across the canal at the Historical Society.

The recession ultimately scuttled the project, not the environmental group, but the mind-set is indicative of misplaced priorities on the part of some canal stakeholders, Renn said.

Earlier this month, Valparaiso-based Investment Property Advisors won approval from the Metropolitan Development Commission to build a 10-story apartment building marketed to college students along Ninth Street between Senate Avenue and the canal.

The developers had proposed 26 stories with 485 bedrooms and 434 parking spaces, but neighbors objected to the size of the project and said it was out of character along the canal. The approved version calls for 293 bedrooms and 236 parking spaces.

Renn wasn't thrilled with the design of either version of the proposal, but he preferred the higher density. Neighbors with an urban mind-set might have been less concerned with the size of the project and more interested in its design.

Still, even the scaled-back version will bring hundreds of new canal residents.

'An oasis'

Despite its shortcomings, the canal stands as the 14th-most-popular Indianapolis attraction among TripAdvisor reviewers, just after the Eiteljorg Museum of American Indians and Western Art and the Indiana Repertory Theatre.

The canal provides a back porch of sorts for the Eiteljorg, Indiana State Museum and the NCAA Hall of Champions, and it now connects with the Cultural Trail.

One recent reviewer, who raved about gondola rides and free summer concerts at the Indiana Historical Society, called it "an oasis in downtown Indy … a special place worth repeated visits."

The Canal Walk should have a more urban character, Hurt said, but there aren't many more undeveloped parcels to make it happen.

"The die is kind of cast," he said. "I don't think you're suddenly going to see much of a change in terms of the number of retailers and restaurants."

Huber isn't giving up just yet. Even if canal-front parcels are few and far between, there's plenty of land within walking distance that's ripe for good urban development. At the same time, city leaders are developing a "more comprehensive" plan for maintaining the Canal Walk.

"My prediction is, it will be incremental as demand for downtown residential continues to increase," Huber said.•