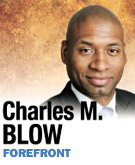 "Even if you like Barack Obama, we can't afford Barack Obama."
That was Mitt Romney's line of attack in Charlotte, N.C., during a recent speech that his campaign ridiculously dubbed a "prebuttal" to the president's convention speech, which is scheduled to be given in that city this summer.
This appears to be an attempt to address Romney's connection conundrum. The president is personally popular; Romney isn't.
According to ABC News pollster Gary Langer, "Mitt Romney has emerged from the Republican primary season with the weakest favorability rating on record for a presumptive presidential nominee in ABC News/Washington Post polls since 1984, trailing a resurgent Barack Obama in personal popularity by 21 percentage points."
If Romney is to have a shot in November, he must convince voters that they can be for the president as a person but vote against him.
It is an interesting tactic that likely has limited application, but one group that, at this point, seems to me to be most receptive to that argument is unmarried men.
Reviews of the internal number in the ABC News/Washington Post poll found that unmarried men had the widest gap between the percentage who viewed Obama favorably (63 percent) and those who approved of his job performance (41 percent).
According to 2008 exit polls, unmarried men with no kids were 11 percent of the electorate and Obama won that group 56 percent to John McCain's 41 percent.
Romney is staking out his argument, but Obama would also seem to have a real opportunity to make inroads. It's not as if these young men are thrilled with Romney, either. Of those polled, 38 percent had a favorable view of Romney, while 42 percent had an unfavorable view of him. That means that Obama has a 25 percentage-point favorability advantage over Romney.
Yet when asked whom they would vote for, that advantage virtually evaporated: 47 percent preferred Obama while 45 percent preferred Romney.
For many of these young men, social issues don't seem to resonate. For them, jobs and the economy are tantamount.
The recession hit everyone hard, but it was particularly brutal for men. Some have even called it the "Man-cession." Men lost more than twice as many jobs as women. And that was particularly hard on younger men.
As The Wall Street Journal reported in November:
"The unemployment rate for males between 25 and 34 years old with high-school diplomas is 14.4 percent—up from 6.1 percent before the downturn four years ago and far above today's 9 percent national rate. The picture is even more bleak for slightly younger men: 22.4 percent for high-school graduates 20 to 24 years old. That's up from 10.4 percent four years ago."
And as the Chicago Sun-Times pointed out after the release of a Census Bureau report on living arrangements last year:
"The report, 'America's Families and Living Arrangements: 2011,' found 19 percent of American men ages 25 to 34 living in their parents' homes—the highest level since 1960. Only 10 percent of women in that age group were living at home with parents."
This jobless trauma will not soon be forgotten.
Many of these young men want to hear a message about economic stewardship and ways to energize the recovery. They want to know that they will be able to find and keep a job that will allow them the economic stability to start and support a family.
The idea that their father's America might be lost to them is frightening.
Obama may have an advantage here, too. A Gallup poll released late last month found that by "52 percent to 42 percent, more Americans have confidence in Obama than in Romney on the economy," although among men the gap was much smaller: 46 percent to 43 percent.
Much of the economic pain was felt on Obama's watch, and Romney is making every effort to portray him as being responsible for it.
The question is: Will bachelors blame Obama and punish him at the ballot box?•
• Blow is a New York Times columnist. Send comments to ibjedit@ibj.com.
Please enable JavaScript to view this content.