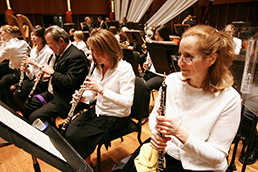 Combined assets of the ISO and its foundation show the symphony in the black. (IBJ File Photo)
The Indianapolis Symphony Orchestra wants off Charity Navigator's list of "10 Charities in Deep Financial Trouble."
The ISO currently tops the list with available assets of -$13.9 million. That's based on its income-tax statement for the fiscal year ended Aug. 31, 2010.
Interim CEO Jackie Groth said Charity Navigator failed to account for the symphony's endowment, which is held by a separate but related organization, the Indianapolis Symphony Orchestra Foundation. Combined audited financial statements show the ISO had $44.6 million in available assets in 2010. Total assets, which include permanently restricted endowment funds, were $76.2 million.
In the most recent fiscal year, available assets were $52 million, and total assets were $83.8 million.
Charity Navigator updates its Top 10 lists every month with the most recent publicly available data from 5,500 of the country's largest not-for-profits. The ISO has been reviewed by Charity Navigator since July, but it's unclear how long it's been on the "Deep Financial Trouble" list, said Sandra Miniutti, vice president of marketing and chief financial officer. Charity Navigator, based in Glen Rock, N.J., doesn't keep archives of its Top 10 lists, she said.
The ISO recently filed income-tax statements for 2011 and will make sure Charity Navigator (itself a not-for-profit organization) has the full picture, spokeswoman Jessica DiSanto said.
Three other performing arts groups—the Seattle Symphony, Florida Grand Opera and Phoenix Symphony—are on the "Deep Financial Trouble" list.
Please enable JavaScript to view this content.