Too good to be true.
That's how Andrew Luck, the Indianapolis Colts first-round draft pick, has been described by football experts and marketers alike.
Those closest to Luck describe him as eschewing preferential treatment, unpretentious, down-to-earth, smart and playful.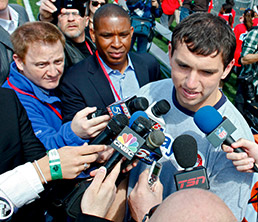 Luck was mobbed by local and national media the day before last month's NFL draft. (AP photo)
Marshall Hughes, one of Luck's best high school friends, calls him "a goober," and sports marketers think his awe-shucks persona will be as much a hit with corporate interests as with Hoosiers.
The word that surfaces most when people describe Luck, a two-time Heisman Trophy runner-up at Stanford University, is "authentic."
"He appears to be a marketer's dream," said David Carter, principal of Los Angeles-based Sports Business Group, which does not represent Luck.
So it's no surprise the line of for-profit companies and not-for-profit ventures is already forming to meet the overall No. 1 pick in last month's NFL draft.
Already, there appear to be some natural commercial fits for Luck. He'll likely sign a shoe and apparel deal this summer, possibly followed by a sports drink deal, Carter said.
"I think there will be a number of technical, automotive and financial services firms that will seek him out," Carter added.
There might be some immediate suitors for unusual reasons. For instance, Luck, an architectural design major, recently said he was a "Legos guy" as a kid.
Luck also got much attention for using an old Samsung flip phone during the televised NFL draft in New York last month. ESPN showed him over and over with the old phone. Marketers said wireless companies are already lining up to get a deal with Luck.
Luck's representatives at Los Angeles-based Wasserman Media Group acknowledged interest in Luck is building, but said no commercial or philanthropic deals are ready to be announced.
"Right now, his priority is to graduate from Stanford and get integrated into the team," said Wasserman Vice President of Marketing Stephanie Rudnick.
Luck was set to be in Indianapolis for a three-day mini-camp May 4-6. Then he was to fly back to Palo Alto to finish schoolwork and graduate June 17.
Per the league's collective bargaining deal, Luck's first contract with the Colts will pay him $22 million over four years. That deal isn't signed yet, but team officials and Luck's representatives think it will get done this month.
Luck's corporate sponsorship deals could triple his salary, marketers said. Before his neck injury, former Colts quarterback Peyton Manning was raking in $15 million annually in corporate deals, sixth among all athletes and tops among NFL players.
If Luck is as good as NFL scouts think, his marketability could quickly match that of Manning, marketing experts said.
Following Peyton's lead
Though Luck's opportunities to cash in will be plentiful, marketers expect him to follow Manning's game plan and remain hyper-selective in whom he partners with. That doesn't mean the process will be slow.
Local organizations are likely to get in the game early.
"The line wasn't very long to Peyton Manning before his first year," said Lou Gerig, president of Sease Gerig & Associates, a local marketing and communications firm.
Gerig met with Peyton's dad, Archie, before Peyton's rookie season in 1998, providing ideas and advice on how Peyton could make local connections and partnerships.

Manning signed local deals relatively quickly with St. Vincent Health, Marsh grocery stores and Bill Estes Chevrolet. Manning then launched his PeyBack Foundation—which provided opportunities for at-risk children—in 1999 during the off season after his rookie year.
"Now people have seen what Peyton did for those local organizations he was affiliated with," said Gerig, who has no relationship with Luck. "He continued his local affiliations even after he became a national star, and I think a lot of people expect to see the same from Andrew Luck."
Luck has had past involvement with Habitat for Humanity and Boys and Girls Clubs charities, said Wasserman's Rudnick, and he could get involved with branches of those organizations here.
"Andrew has a lot of personal passions when it comes to philanthropy," Rudnick said.
Colts officials are learning about Luck right along with their fans. Wasserman officials were scheduled to talk with Colts public relations staffers before the mini-camp to discuss "what Andrew is all about," Rudnick said.
Waiting his turn
Despite his rising star, the Colts are in no hurry to make Luck their poster child, said team owner Jim Irsay. Luck will not be featured on one of the massive murals hanging from Lucas Oil Stadium this year as Manning had been in years past. Instead, murals of Reggie Wayne, Robert Mathis and Dwight Freeney will tower over fans as they file into the team's home venue.
"We want to protect him so he has the sanctum to work on his craft and work on being a great quarterback," Irsay said. "It'd be too early to put him up on Lucas Oil Stadium. He's a rookie and he wants to earn that respect."
The Colts know all too well there's no sure thing in the NFL.
They selected Jeff George No. 1 in the 1990 draft, and the hometown boy seemed a solid fit here. He turned out to be a disappointment on the field, and his behavior was far short of a model citizen off the field, including sideline and locker-room tantrums.
In 1998, the San Diego Chargers selected Ryan Leaf right behind Peyton Manning. Leaf was thought by some to be as good as Manning on the field, and the handsome 22-year-old was also considered good on camera. He became one of the biggest busts on and off the field in NFL history.
But Luck looks as close to a sure thing as you can get.
NFL scouts say Luck is the best quarterback prospect coming out of college since John Elway and Peyton Manning. He's known for superior field vision. With a 6-foot-4, 235-pound frame, Luck is being called a more athletic version of Manning.
"If he performs the way people think, his marketability could be off the charts," Carter said.
Getting by on a bicycle
Even some quarterbacks who have performed admirably on the field haven't gained the kind of traction with marketers that Manning achieved.
Drew Bledsoe was the No. 1 pick in the 1993 draft, and though he piloted the New England Patriots to the 1997 Super Bowl, he never inked the big-time commercial deals that many expected he would. Sports marketers later said they were turned off by Bledsoe's reserved nature and dry personality.
No one thinks Luck will suffer the same fate.
Jimmy Viglizzo, owner of Jimmy V's Sports Café inside the Stanford athletics building, called Luck the "greatest kid of all time, the real deal." Luck never sought to cash in on his celebrity at Stanford, Viglizzo said.
Luck certainly didn't travel around the Stanford campus like a rock star. He shared a Honda Accord with his younger sister, who is a Stanford sophomore, and often ditched the car in favor of riding a bicycle to classes and football practices.
About Luck's only vices are his penchant for keeping a messy apartment and disheveled look, including what his friends call growing his trademark "neck beard." Some marketers call that part of Luck's charm.
He also appears to have an amazing amount of off-the-field perspective for a 22-year-old.
"It is still a game," Luck recently told reporters of his soon-to-be livelihood. "You're not saving lives or curing cancer. You are providing entertainment. Maybe you can make someone's week."•
Please enable JavaScript to view this content.