The newly spruced-up stretch of Georgia Street between the Indiana Convention Center and Bankers Life Fieldhouse is looking older than its age.
Stone pavers are dislodged and stained. The wooden boardwalk is badly discolored. Bollards are askance after taking hits from errant vehicles.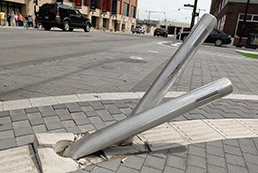 A second phase of construction, including repairs, begins this month. (IBJ Photo/ Perry Reichanadter)
The $12.5 million in streetscape improvements are only about 6 months old, and technically the stimulus-funded project isn't even finished. But a crowd of 1.1 million visitors to Super Bowl Village in late January and early February took its toll. The rush to open it in time for the big-game festivities didn't help.
City leaders are eager to ensure Georgia Street doesn't share a similar fate as the crumbling Pan Am Plaza. A second phase of construction set to begin this month includes repairs to portions of Georgia Street damaged by Super Bowl crowds. And the group charged with maintaining the streetscape, Indianapolis Downtown Inc., is working on a plan for regular maintenance including power washing to clear away some of the grime and blackened chewing gum from pavers.
"Absolutely it's a concern," said Melissa Thompson, IDI's recently appointed Georgia Street manager, of the premature wear to the street improvements. "For me, it's like my house: I can see the dirt and all the little problems."
In the coming months, workers with Hunt Construction will sand down the worn-looking boardwalk and reseal it, Thompson said. To get the project finished in time for the big game in February, contractors had to seal it in less-than-ideal, cold-weather conditions.
Other elements of the Georgia Street plan—including new landscaping, an irrigation system and Roman shades—are scheduled for installation this summer.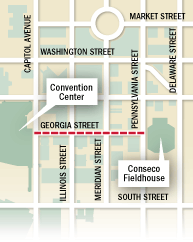 Maintaining Georgia Street is as important as the initial quality of the project, said Leonard Hoops, CEO of the Indianapolis Convention & Visitors Association, which is using the street as a selling point to land conventions.
"We need to make sure there is truly adequate funding to maintain it," Hoops said. "We would hate to see it crumble."
The city and IDI each contributed $1 million to a fund to maintain Georgia Street. Restaurants and bars with sidewalk seating on Georgia also pay a nominal fee toward maintenance, and IDI collects fees from groups that use the street for events.
For instance, The Pub paid $1,500 during the weekend of the Big Ten Men's Basketball Tournament to lease the sidewalk and boardwalk on the north side of Georgia just west of Pennsylvania Street for a beer garden. The Indianapolis Professional Firefighters Local 416 rented a portion of the street for an open house during the FDIC convention.
IDI also is marketing boardwalk space for lease to food and other vendors. Any proceeds would be set aside for maintenance.
Indianapolis Cultural Trail Inc. also is designing a long-term maintenance plan for its network of bike and pedestrian paths connecting the city's cultural districts, said Kären Haley, the group's executive director.
Haley plans to present the plan—which will include some coordination with IDI on Georgia Street—to her board by year's end.
"All these things we're building downtown, no matter what the project, you just always have to have a plan to maintain it, to keep them the gems they are," Haley said.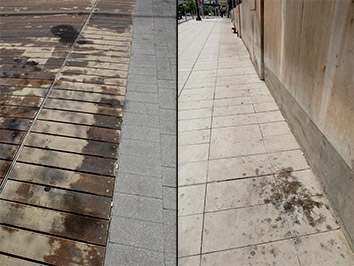 The new streetscape is showing serious signs of wear. At left, the wooden boardwalk is discolored. The paving stones also seem to have attracted an inordinate amount of stains. (IBJ Photo/ Perry Reichanadter)
Some activities such as landscaping and litter pickup can be scheduled, she noted. But determining timing for capital maintenance of pavers, benches or trail signage is tricky since it's not yet clear how long those will last.
The $63 million Cultural Trail plan includes a $6 million endowment to be managed by the Central Indiana Community Foundation. Indianapolis Cultural Trail Inc. can request up to 5 percent of the balance per year to cover maintenance and upkeep, Haley said.
The $2 million set aside for the Georgia Street project represents a similar proportion of maintenance funds compared to total project cost.
The Georgia Street project and Cultural Trail use the same trash cans and recycling bins, so that's one area where the replacement cycle may follow a similar schedule. The groups likely will coordinate on their purchases of snow melt, specifically Safe Step, which the Cultural Trail uses to avoid killing adjacent plants. The retiring president of IDI, Tamara Zahn, also serves on the Cultural Trail board.
Another consideration is whether to stock up on materials including pavers to guard against the possibility they are no longer available when it's time for replacement.
Thompson, the Georgia Street manager, said it's too early to tell whether the pavers, bollards and other materials selected for the project will stand the test of time. Few expected more than a million visitors would traipse through Super Bowl Village; that week alone gave the street a level of wear and tear that could've taken years under normal use.
The Super Bowl provided a good lesson in how much of a crowd Georgia Street can handle and what type of programming makes sense for the space in the future, Thompson said.
"Two concert stages at the same time: probably not ideal," she said, referring to the Super Bowl Village setup. "Ultimately, we're going for a sense of community on the street, not necessarily the party atmosphere."•
Please enable JavaScript to view this content.