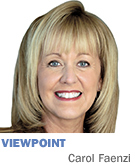 Despite fierce opposition, some politicians are finally speaking out to say they are in favor of marriage and equal rights for gay citizens. Some of these politicians have waffled or stated in the past they were not for it, due to political pressure. And I say to myself, "Finally, thank you. That's clearly said."
This issue is given a lot of news time—equal to the focus on war, the economy, the environment and other critical issues that impact every single one of us. I think that's crazy.
When it comes to marriage, which is defined as a committed relationship, I think about those I know who are in one. I would have to say that I know nearly as many gay couples as I do straight couples.
I also have to say that while I have seen many of my straight friends and acquaintances go the way of divorce or otherwise break up, I have not seen that happen very often with the gay couples I know.
My theory is that when gay people wish to marry, they have already endured years of discrimination and other real barriers. When they make a commitment to make a life together, they have a pretty solid foundation on which to build.
Why should a celebrity marriage that lasts for a month be considered more valid than one between two mature, committed individuals who happen to be of the same sex?
Through the centuries, the ideas associated with marriage have changed dramatically. Not so very long ago, marriages were based on property, power and family. Love was not even a consideration.
This idea of marriage was not in opposition to religious values of the time, by the way, despite practices that treated women as second-class citizens. It was the era and the time and it changed. It had to change.
The same is true today. America is big enough to give equal rights to all of its citizens. It really is. It's our thinking that is small and narrow.
Those who consider gay couples having equal rights offensive to their moral principles, I would ask: How does their choice, albeit outside the bounds of your beliefs, impact you personally? What do you fear will be lost? The need to be right?
Recent polls show that slightly over half of Americans are in favor of equal rights for all citizens, and this trend is growing. The fear-mongers who say gay marriage will destroy the fabric of our society are slowly becoming the minority, just like when there was opposition to interracial marriage. To many, it is just plain obvious we need to include everyone.
But the research also has borne out over time that gay couples, when it comes to longevity of relationship, parenting skills, etc., are no less fit to raise children than heterosexual parents and that their children are no less healthy.
Don't we have more pressing concerns than trying to keep our fellow citizens in the margins? You know, like unemployment, child abuse and hunger?
Lastly, how would we like it if church or government told us that we could not choose a marriage partner for love? But that is exactly what we are doing when we discriminate against those who have a different sexual orientation.
Rumi said, "Out beyond ideas of wrongdoing and rightdoing, there is a field. I'll meet you there."
Love is all there is, people. It's all that matters.•
__________
Faenzi is an author and public speaker. Send comments to ibjedit@ibj.com.
Please enable JavaScript to view this content.