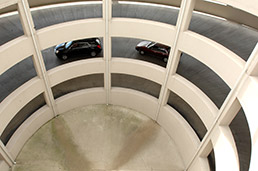 The airport took in $39 million in parking fees last year. (IBJ Photo/ Perry Reichanadter)
The Indianapolis Airport Authority recorded a $31.3 million operating loss in 2011, a result that new board President Michael Wells believes underscores the need to find new sources of revenue.
Wells said the authority years ago should have built a gas station to serve returning rental-car customers and airport visitors.

Wells
It also needs to generate more money from its expansive parking operations, which are under more pressure from private, off-airport lots.
And airport leaders should have taken more action to prepare the former terminal site for shovel-ready reuse, said Wells, president of REI Real Estate Services.
"Corporate America today is on a shorter time frame than ever before. … We've been in a long period of extended planning, maybe a little more than I would have done," he said.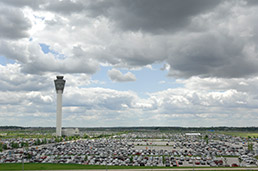 The airport hopes to lure more travelers onto airport-owned parking properties. (IBJ Photo/ Perry Reichanadter)
Wells was tapped by Mayor Greg Ballard in January to address a lack of progress in positioning the Indianapolis International Airport—particularly the old terminal building—for the future.
Nearly four years after it was abandoned for the $1 billion midfield site, the old terminal sits rotting and covered in weeds.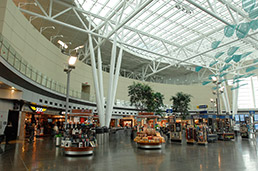 Airport officials said retailers can't generate more revenue with low passenger counts. (IBJ Photo/ Perry Reichanadter)
New, rent-paying tenants for the space are nowhere to be found at a time the authority struggles with a reduction in revenue and higher debt costs.
The palatial midfield terminal, which opened in 2008, added nearly $40 million a year to the airport's debt service. The authority's operating income was whacked further by a $44 million depreciation charge on the new building in 2011.
Yet the newer terminal's potential for increased revenue generation has been stymied by flat passenger growth amid a sluggish economy. Airlines are merging and cutting flights. Terminal revenue at Indianapolis fell nearly 2 percent last year, largely due to Delta Air Lines' merger with Northwest Airlines that significantly reduced space rented.
Time was when the authority could pull a rabbit out of its hat by finding new ways to generate income from retail concessions. The airport has received numerous awards over the last decade for novel food and beverage concepts.
However, "without a big increase in passengers, it becomes difficult to wring more money out of concessions," said Jeremiah Wise, treasurer of the Indianapolis Airport Authority.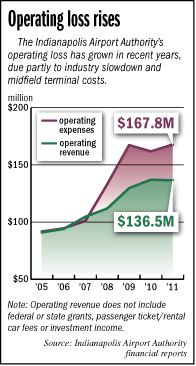 Even the expectant Wells agrees it's hard to grow concession revenue in this environment. But he wants more action on things that have been talked about ad nauseam but never implemented.
The lack of action contributed to the sudden departure of Indianapolis Airport Authority CEO John Clark in March. Clark, who'd held the job three years, also had faced criticism over extensive overseas travel at the airport's expense.
Slow progress
Wells said he's frustrated by the lack of progress on a gas station. The former terminal had a BP station and Burger King just down the street, on High School Road. Finally, last year, the authority put out a request for proposals for a station at midfield. That RFP sought not only a gas station but also ideas for additional tenants, such as a health care clinic, a restaurant, fitness center, commercial office space and even a pet kennel.
The planned location is a lot just east of the intersection of the airport entrance road and West Perimeter Road, near Interstate 70.
The authority received a lone bid, from Jericho, N.Y.-based Airport Plazas LLC, and has been discussing contract terms. The estimated price for the gas station and accompanying retail space is $4 million, said Carlo Bertolini, IAA spokesman.
Airport Plazas operates a travel plaza at Newark Liberty International Airport. It also has plazas under way at airports in Dallas; Fort Myers, Fla.; Nashville; and St. Louis.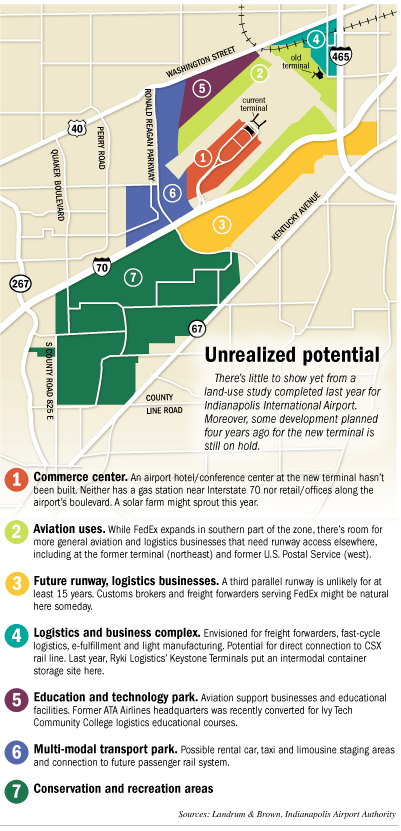 "We are going to have a service station. That's a very high priority of mine. We will make that happen. We will ink a deal" this year, Wells said.
"It should have been done three years ago."
But Wells isn't so gung-ho about the midfield hotel that's been on the drawing board for years. He said the economy will need to improve to make the terminal hotel concept work (it's to be attached to the west side of the airport parking garage). He also noted that two hotels have been built recently at the AmeriPlex complex, near the airport's new entrance off I-70.
Two hotels also continue to operate at the old terminal site along High School Road.
"I think we're being sensitive to the economic interests of the other hoteliers in the area," said Wells, whose firm developed the 34-story JW Marriott downtown.
Upgrading parking
He's less neighborly when it comes to private, off-airport parking operators.
The authority is studying "value-added" parking services, perks intended to squeeze more cash from this all-important revenue stream.
The airport generated nearly $39 million from parking last year, an increase of 1 percent. Parking is the second-largest source of airport operating revenue, behind the $50.3 million from terminal revenue, which was down 2 percent in 2011. That revenue includes rents paid by airlines, retailers and car rental commissions
The emphasis on parking comes, not coincidentally, after Metropolitan Development Commission approval in February for a Cincinnati developer to build a 3,700-space, covered lot in AmeriPlex, just outside the airport.
Airport authority and Ballard administration officials cried foul, saying it will crimp airport revenue and possibly require the boosting of fees charged airlines, which could result in less air service. The airport filed suit in Marion Superior Court, seeking a reversal of the MDC's approval. That case is pending.
Parking upgrades are "an opportunity for us to bring some of that service back to the airport," Wells said of private competition.
Last year, the authority wrung $480,000 more in income from parking, thanks partly to higher valet parking income.
It also has managed modest gains in other areas, such as $400,000 more from the former United Airlines maintenance base, which is nearing capacity. The biggest tenant at the site is Chicago aircraft repair company AAR.
The authority's take from car rentals grew $496,000 and property leases grew roughly $800,000.
The authority has picked up smaller gains from such things as Wi-Fi service revenue and advertisements from video boards on flight data screens and in baggage claim.
Some of the moves to boost revenue have been controversial, including the removal last January of the sculpture Chrysalis, by local artist James Faust. In its place went a giant video panel displaying art—and advertisements.
Attracting aviation firms
But even these sorts of efforts don't compare to the potential of finding new uses for the former terminal and its sea of parking lots.
The old facility has direct access to runways, which have made it logical for aviation-related uses such as air cargo. It also has direct connections to Interstate 465.
To no surprise, some warehouse operators have inquired about projects for the site. Although the authority might well be able to ink deals for non-aviation-related warehouses, that's not the best use for the space, Wells said. Airport land-use plans call for that area to support air cargo and aviation-related logistics.
"I'm not really convinced it's time to wave the white flag" to surrender to non-aviation-related uses, he said.
Wells said the economy is cyclical and that eventually desirable uses for the land will surface. "Most of the reason it sat like it did was the economy."
Until then, demolishing the terminal should help make the property more attractive and speed construction of new buildings, he said. A timetable has not been set. The authority plans to leave the old facility's parking garage, with twin helical ramps, in place.
A land use plan presented to the authority last year estimated that airport land could generate up to $63 million annually by 2040, mostly from seven development zones identified for Indianapolis International.
For the immediate future, the authority will have to be satisfied with smaller projects. One will be a solar farm being constructed at the airport entrance by a joint venture of local firms Johnson-Melloh Solutions, Schmidt Associates and Telamon Corp. Electricity generated from the more than 41,000 solar panels—potentially 11 megawatts—will be sold to Indianapolis Power & Light. Installation is to begin this summer.
Another source of revenue that could come soon is a new tenant for the former U.S. Postal Service air cargo hub.
About a decade ago, the postal service discontinued air operations and contracted air shipments to FedEx. But USPS continued to use part of the hub for truck shipments. Recently, USPS said it was ending truck operations at the site, so the facility reverts back to the authority next year, which will seek a tenant to use the entire site.
Former airport CEO Clark had encouraged airport staff to come up with any number of revenue-generating ideas. They included a farmer's market and car shows for the rooftop of the airport parking garage, allowing non-ticketed passengers to enter secured gates to shop, and renting out the authority's management expertise to other airports.•
Please enable JavaScript to view this content.