In my experience, renovations—whether in a home or in a museum—are of far more interest to the renovator than the visitor.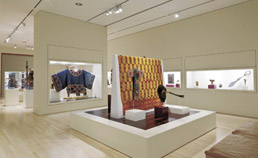 African art has been moved to renovated spaces at the Indianapolis Museum of Art. (Photo courtesy of Indianapolis Museum of Art)
Sure, I'm happy for you that your space is now 20 percent more efficient or a bit more user-friendly and, oh, yes, those new cabinets are lovely. But, truth is, the results are rarely as trumpet-worthy as the owner would want you to believe.
Which is why I'm happy to report that the redo of the Eiteljorg Suite of African and Oceanic Art at the Indianapolis Museum of Art, which reopened May 10, does far more than just give the worthy collection a spiffing up. Rather, it turns what used to come across as an interesting side trip into an experience that could be central to an IMA visit. I anticipate spending far more time there than I used to.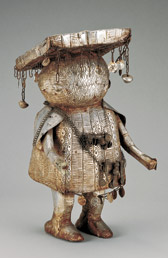 A wood and aluminum figure from the Dohemy People is one of the treasures of the IMA collection. (Photo courtesy of Indianapolis Museum of Art)
In large part, the IMA pulled this off by honoring the experience of a layperson visiting the museum. That isn't to say the artwork has been dumbed down, just that the designers seem to appreciate that, presented ineffectively, there can be a sameness to largely anonymous art. And when presented, as they used to be, geographically, the experience can feel structured for academics. Abandon all hope, ye who enter without a graduate degree.
Now, the organization of the collection is smartly thematic, with individual spaces devoted to Power, Royal Arts, Ancestors, Life transitions, Collecting, Body Adornment, and Design for Living. Each space has its own subtly different color scheme, with even the wood veneers differing from gallery to gallery.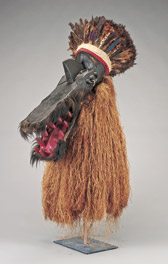 A helmet mask from the Loma people. (Photo courtesy of Indianapolis Museum of Art)
Universally, the spaces are more brightly lit than returnees may remember from past visits to the collection. And the pieces themselves—figurines, brass weights, daggers, bracelets, a throne, et. al—are presented with a clear vision, some alone in cases and others combined for interesting contrast.
As with Facebook redesigns, I'm guessing visitors will quickly forget how things were. Unlike Facebook, though, I don't think there will be many complaints about the changes. And I suspect even some frequent visitors will now experience an important collection that they didn't even know the IMA had.
––––––
Last week I wrote about "Oedipus Rex," the collaboration between No Exit Performance and Paper Strangers performed on the IMA grounds. That flawed-but-fascinating experience led me back for Sophocles' less-often-produced follow-up, "Oedipus at Colonus," offered by the same companies.
Unlike "The Godfather Part II' and "The Empire Strikes Back," though, "Oedipus at Colonus" doesn't have the dramatic heft of its predecessor. The play concerns the blinded Oedipus, guided by his daughter/sister Antigone, looking for a place to die and aided by kindly king Theseus of Athens. Meanwhile, his sons/brothers are battling it out for control of Thebes with his brother-in-law/uncle Creon.
It's more meditative, and the companies wisely tighten the scale for this production. Rather than take the audience to multiple locations, it focuses the action around the fountain at the Lilly House, with the audience encircling the playing area.
Unfortunately, there's a sense of gravity missing in this youthful production—no feel of an aging giant about to die. And much sympathy is lost here by the residual effect of the rape that was unnecessarily included in "Oedipus Rex."
But the Chorus that largely got in the way of the previous installment is quieter this time. The sense of ritual is heightened to positive effect. And, once again, a striking image ends the barely-over-an-hour proceedings—one that has me anticipating another Thursday night at the IMA with the final part of the trilogy, "Antigone."
If you want to see all three productions, there's still a chance. "Oedipus Rex" returns May 31. "Oedipus at Colonus" comes back on June 1. And "Antigone" gets a final staging June 2. More details at www.noexitperformance.org.•
__________
This column appears weekly. Send information on upcoming arts and entertainment events to lharry@ibj.com.
 
Please enable JavaScript to view this content.