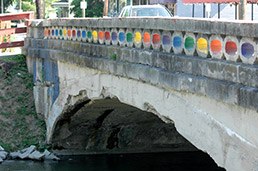 The Guilford Avenue bridge in Broad Ripple is in one of the most heavily used sections of the Central Canal Towpath. (IBJ Photo/ Perry Reichanadter)
The city of Indianapolis and private-sector players are lining up behind an effort to rebrand the Central Canal Towpath as an art-themed destination by adding artwork and improving the trail.

The concept, dubbed Art 2 Art, has backing from the Central Indiana Community Foundation, Mayor Greg Ballard and Citizens Energy Group, which controls the canal and 20 feet on either side of its banks. The name Art 2 Art comes from the fact that 4-1/2 miles of trail connect the Indianapolis Museum of Art on West 38th Street and the Indianapolis Art Center in Broad Ripple.

Art 2 Art hasn't been studied by engineers. Nor does it have a price tag. But supporters in Broad Ripple Village already have scoped out $10 million in improvements for the heavily used section between College Avenue and Westfield Boulevard.
The Broad Ripple Village Alliance for Progress would like to see $10 million in improvements along the Central Canal, including replacement of the Westfield Boulevard bridge. (IBJ Photo/ Perry Reichanadter)
People in Broad Ripple Village have pushed to transform the canal from forgotten drainage ditch to natural asset for 25 years, said Tom Healy, president of the Broad Ripple Alliance for Progress. That effort was stymied after 9/11, when the canal—the source of drinking water for 600,000 people—was designated as vital to homeland security. As a result, former utility manager Veolia Water was leery about allowing alterations.

Healy and volunteers from other north-side neighborhoods saw an opening for Art 2 Art when the city sold the utility to Citizens, a public trust, last year. They got the green light in a meeting with Citizens officials this spring.

"We're definitely interested in working with the group on Art 2 Art," Citizens spokeswoman Sarah Holsapple said. Citizens can't spend ratepayers' money on beautification, but the fact that it won't stand in the way of trail-widening and other improvements marks a turning point.

Although major players haven't discussed technical aspects of the plan, they're already throwing support behind it.

"The project is definitely an example of the kind of connectivity initiatives the mayor's been talking about," said Michael Huber, deputy mayor for economic development.

Huber said he anticipates sitting down with representatives of Citizens within weeks to hash out their roles and how to pay for an engineering study.

Central Indiana Community Foundation likely would provide a grant for some portion of the plan and help round up other donors, President Brian Payne said.

"I love it," he said. "I think it's going to happen."

Unifying a corridor

Thies
Art 2 Art is the brainchild of Eden Collaborative, an urban planning and landscape architecture firm that worked with Midtown Inc. on a master plan for neighborhoods north of 38th Street.

Eden Collaborative President Adam Thies said his team was struck by the fact that neither the Indianapolis Art Center nor the IMA is identified with Midtown as a whole. Yet they're separated by a short bike ride on the Monon Trail and canal path.

Art 2 Art is simply a way to call attention to that fact, he said.

"I think you could make it the Art 2 Art path by the end of the week," Thies said. "You start signing and calling it that. It does not require an extensive amount of work."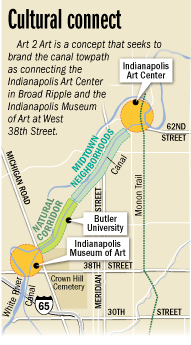 Eden's concept paper points out safety and other problems with the path, and it's obvious that fixing them would amount to more than the cost of a few signs.

The mostly gravel path is narrow and not well-marked in places, the paper notes. It crosses busy intersections without clear direction for users or drivers. And it doesn't invite users to stop and observe wildlife on the canal itself.

Art 2 Art aims to preserve the varied settings along the path, which goes from urban in Broad Ripple to serene outside Butler University. Eden Collaborative pointed out types of art that would be appropriate for different places.

CICF provided a grant in 2010 that allowed Eden Collaborative to flesh out the Art 2 Art concept. Payne thinks Art 2 Art is off the shelf and gaining steam because it fits into a city-wide initiative, "Reconnecting to Our Waterways," to turn polluted streams into natural assets that raise the value of neighborhoods.

"Reconnecting to Our Waterways" is backed by Eli Lilly and Co. and dozens of not-for-profits. Its steering committee is looking for ways to turn Fall Creek, the White River, Pogue's Run, Pleasant Run, Eagle Creek and the canal into attractive destinations.

That's what Art 2 Art is trying to accomplish on the canal, said Payne, who is also involved with the waterways initiative.

"This is a lot bigger idea than just putting some art on the canal towpath," he said.

Funding question

One potential hurdle is pushback from other neighborhoods that also want new trails or improved trails.

Budget watchdog Pat Andrews said she has no quibble with trail upgrades but wouldn't want to see the city play favorites with the canal path.

"If it's in disrepair, one would hope it's in a prioritized plan," said Andrews, who writes the "Had Enough Indy?" blog.

The canal path could become eligible for Rebuild Indy funds—the payoff from the $1.9 billion sale of the water utility—with a word from the Mayor's Office, Chief Engineer Andy Lutz said.

The parks department's greenways master plan, funded by public and private sources, calls for building three new trails—the Eagle Creek Greenway, Pennsy Trail and Pogues Run Trail, Lutz said. Those projects are getting a boost from the Department of Public Works, which used Rebuild Indy money for scoping studies, he said.

Even if the canal towpath isn't a priority under the greenways plan, it could qualify as an economic development project, Lutz said.

Specific plans for art are taking a back seat to infrastructure, which Thies refers to as the "canvas."

"We have so many world-class assets on the trail already, why not make the trail world-class as well?" Midtown President Kathryn Shorter said.

Broad Ripple boosters are hoping for major improvements, including bridge repair and replacement, along a short section of the path from College to Westfield Boulevard.

The Broad Ripple Alliance for Progress, the fundraising arm of the Broad Ripple Village Association, raised money for a more detailed study, finished in 2010, that estimates the cost at $10 million.

Half the money would be spent repairing the Guilford Avenue bridge (also known as "the rainbow bridge") and replacing the Westfield Boulevard bridge, Healy said.

Other improvements would include widening the path, creating pedestrian-friendly lighting, and landscaping areas and ledges to keep poop-producing geese and ducks off the walkway. The plan also calls for building another pedestrian bridge between College and Guilford.

The Broad Ripple group hasn't identified a funding source for its section, but one possibility is a proposed Midtown tax-increment financing district. TIFs use additional property taxes generated within their boundaries to pay off debt issued to fund improvements in the area. Creating new TIF districts is on hold while the City-County Council studies existing districts.

Healy said he expects criticism from people who think Broad Ripple should pay its own way. He argues it's about time the city reinvested in an area that produces so much tax revenue.

Healy is also hopeful that Art 2 Art will be embraced as a Midtown—not just Broad Ripple—initiative.

Indeed, the first place that the concept comes to life could be Alice Carter Place Park, which is in the triangle between Meridian Street and Westfield Boulevard.

CICF gave Midtown half the $100,000 it needs to transform the high-traffic area into an oasis with a playground and a pedestrian crossing to the canal. The gateway to the park is begging for a signature sculptural piece, Shorter said.

"We think the art will come as people realize the usage of the trail," she said.•