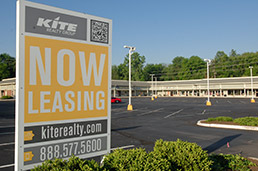 Kite Realty Group plans to give its strip center The Corner, at the southwest corner of 116th Street and Rangeline Road, a face-lift—including a new pizza restaurant. (IBJ photo/ Perry Reichanadter)
Kite Realty Group Trust is planning a Rivers Edge-like overhaul of two shopping centers it owns at 116th Street and Rangeline Road in Carmel.
The Indianapolis-based real estate investment trust has landed new tenants, including a natural and organic grocery store and a handful of restaurants, for its renovation and re-tenanting of The Centre and The Corner.
A 25,000-square-foot Earth Fare specialty grocery will anchor The Centre at the intersection's northwest corner, in a spot CVS vacated when it moved across the street to a new store, several retail brokers said.
Plans also call for a stand-alone Walgreens drugstore at the corner and restaurants including City Barbeque and Panera, which plans to move from Merchants Square at 116th Street and Keystone Avenue.
South across 116th Street, MacKenzie River Pizza Co. is expected to take the former Bike Lane space, adding a second central Indiana location to its restaurant in the Castleton area.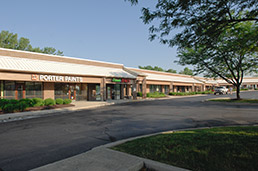 Kite's The Centre, at the northwest corner of 116th Street and Rangeline Road, is slated for a complete remodel—including an Earth Fare grocery, a Walgreens and a Panera. (IBJ photo/ Perry Reichanadter)
Construction is set to begin in the next few months, starting with a move of the Old National Bank branch off the northwest corner to make way for Walgreens. No exact price or renderings for the multimillion-dollar project were available.
"It's an easy infill opportunity in a high-density, high-demand market," noted Gary Perel, director of retail services for Newmark Knight Frank Halakar. "If they can do what they did with Rivers Edge, that would be very successful."

McGowan
Kite President Tom McGowan declined to discuss the project in detail, citing sensitivity over the need to close deals with new tenants and negotiate exits with departing ones.
He said the projects—which will total about 127,000 square feet—will be similar to Rivers Edge in terms of the scope of the design overhaul and value created by higher rents, though the retail trade areas are different.
Carmel's retail market is strong but not as strong as the 82nd Street corridor near The Fashion Mall at Keystone, where Kite landed Nordstrom Rack, The Container Store and BuyBuy Baby for its 2011 repositioning of Rivers Edge. That project's success has spurred the development of two new retail strip centers across the street (details are at the Property Lines blog at IBJ.com).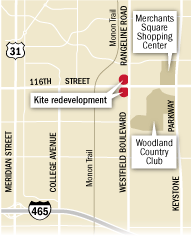 "It's a different scenario, but its impact will be significant," McGowan said of the Carmel centers.
The company circulated a site plan at the International Council of Shopping Centers' annual deal-making convention in Las Vegas that shows new tenants including Walgreens, City Barbeque, Panera and Verizon Wireless. The plans referred to the spaces set aside for Earth Fare and MacKenzie River Pizza as "anchor" and "restaurant."
Multiple retail brokers and developers familiar with Kite's plans identified the tenants for IBJ.
The project has led to a "shuffling deck" of retail in the area, as Kite allows leases for some of its tenants to expire and recruits others to the project, said Pat Boyle, a broker in the local office of Midland Atlantic who handles leasing for four nearby retail centers.
Soccer Village, for instance, has moved a few blocks east, next to McAlister's Deli in the Merchants Pointe shopping center. Bike Line has moved to 126th Street and Rangeline Road.
Panera's departure from Merchants Square for a Kite redevelopment is a familiar story: Kite also persuaded Arhaus to decamp from the struggling Merchants Square, for Rivers Edge.
Boyle said Kite's Carmel investment should improve fortunes for the centers he represents nearby, including Carmel Walk, One East Carmel Drive, Hunter's Quest and Hunter's Run, which he described as "very affordable for Carmel."
The centers, owned by Carmel-based The Fineberg Group, count Dunkin Donuts, Noodles & Co. and Dooley O'Toole's in their tenant mix.
"I'm sure it'll be first-class and will look awesome," Boyle said of Kite's plans. "It's a great piece of real estate, and Carmel is a premier market."
Kite set the stage for the redevelopment in February 2011, when it paid $2.2 million to buy out a 40-percent partner in The Centre, which was developed by locally based Kosene & Kosene.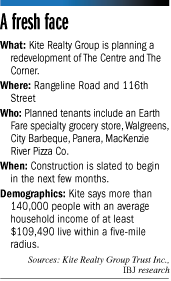 The 77,500-square-foot retail strip would wind up with about 84,000 square feet as proposed. The plan appears to use most of the existing structure save for a larger anchor space and portions that would be demolished on the center's north and south ends.
The Walgreens and a new building with Panera and Verizon would be two stories and lined up with Rangeline Road, as required under Carmel zoning rules for new construction.
A site plan for The Corner, which has about 43,000 square feet, does not show as many changes. Current anchors Hancock Fabrics and Advance Auto Parts remain listed as tenants.
Kite would not disclose a cost for the project. The company has said in regulatory filings that its three current redevelopment projects–including The Centre and larger projects in Jacksonville and Naples, Fla.–will cost a total of $10.2 million.
The company plans to fund the investments by borrowing from a revolving credit facility.
The plans must win approval from the Carmel Board of Zoning Appeals, which is scheduled to review the proposal June 25.
City planners are working with Kite and hope to improve the project's pedestrian-friendliness by moving the anchor up to Rangeline Road, Carmel Mayor Jim Brainard said.
He said Kite is technically in compliance with the city's urban design guidelines since the rules do not apply to existing buildings. Brainard added that it's a three-way discussion that includes retailer tenants, who often are reluctant to accept a parking-in-the-back model.
"It's a good plan," he said. "It's our job to push to get the best building, best materials and best look we can. We have higher standards than other places."
The project continues a trend by Kite and other developers toward blurring the lines between retail property types such as strip, lifestyle and power centers, said Scot Courtney, director of retail services in the local office of Lee & Associates.
"It'll redefine the center of gravity in the older Carmel trade area," Courtney said.•
Please enable JavaScript to view this content.