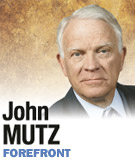 Solutions for the divisiveness that threatens our society and its government system are not easy to identify. Often, one side says the solution is for the other side to agree with its viewpoint. Some proposed solutions have been suggested but flatly rejected, thus increasing the tension.
Parker J. Palmer in his newest book, "Healing the Heart of Democracy: The Courage to Create a Politics Worthy of the Human Spirit," gives us a different perspective on how to cure what ails our divided political system. Many writers, including this one, have said compromise is necessary for the process to work.
Palmer, a speaker, writer and social activist who has been a regular consultant for Lilly Endowment for years, including my tenure there, says the answer lies in what he calls the habits of the heart that were identified by our nation's founders and later chronicled in Alexis de Tocqueville's classic, "Democracy in America" written in the 1830s.
Palmer's habits might seem radically simple. But Tocqueville was sure our democratic experiment would fail if we didn't ingrain in generation after generation "patterns of receiving, interpreting and responding to experiences that involve our intellects, emotions, self-images, and concepts of meaning and purpose." Palmer calls these the infrastructure of democracy.
Palmer defines and describes "those spaces and settings of everyday life in which habits of the heart are formed, for better or for worse." He asks us to cultivate as individuals and in the institutions of society an understanding "that we are all in this together." He asks us to develop "an appreciation of the value of otherness." He also asks us to cultivate the "ability to hold tensions in life-giving ways," "generate a sense of personal voice and agency," and "strengthen our capacity to create community."
Of the five concepts, the "ability to hold tensions in life-giving ways" holds great promise for our predicament. Common practice in our society is to consider issues either right or wrong. Palmer suggests that significant differences could be honored by both sides. He says that, unfortunately, "dilemmas of this sort do not yield to conventional logic. Nonetheless, we learn to embrace their tensions in ways that open us to something new."
If we practice this idea in our personal relationships, we can apply it to political disagreements. If we hold the tension long enough to let it open our hearts, we can unleash the creative energy that gives us a solution. "The powers we need will be released only if the heart has been made supple by practice so that it breaks open instead of apart under stress."
In a democratic society, I'm thankful the arguments will never end. Our system, for better or for worse, is designed to be an ongoing experiment. In its 200-year year history, it has handled tensions—except for the Civil War and racial strife—without violence. Not a perfect record, but the best option yet known to man.
Tocqueville said, "Democracy doesn't give people the most competent government, but it does what the most competent government is often powerless to do. It spreads throughout the entire social body … an energy that never exists without it."
Palmer is influenced by his background as a Quaker. He believes that organized religion can play a role in creating space to hold the tensions of our society, just as he thinks schools, not-for-profits, businesses and other institutions can provide similar training.
He notes the importance of reviewing the narrative of our lives and that of others, the insights gained from "inner work," and the enormous impact of voluntary associations in American society.
This book is full of cautions, but also gives us hope for our country's future. Palmer says, "if we are willing and able to hold the tensions that American democracy deliberately creates, the system itself will help us develop the habits of the heart required for the health of the body politic."
Palmer will be speaking in Indianapolis on Oct. 23 as part of the Petticew Faith-in-Action Program sponsored by Christian Theological Seminary.•
__________
Mutz has held leadership positions including lieutenant governor and president of Lilly Endowment and PSI Energy. Send comments on this column to ibjedit@ibj.com.
Please enable JavaScript to view this content.