Tim Durham and his co-defendants in the fraud case involving Fair Finance sit on the same side of the courtroom, but that doesn't mean their interests are always aligned.
Attorneys for Durham co-defendants Jim Cochran and Rick Snow have emphasized in cross examinations of government witnesses in U.S. District Court this week that their clients took orders from Durham—who ultimately set the strategy and direction for Fair and held authority over its assets.
Federal prosecutors allege Durham, Cochran and Snow ran Fair Finance as a Ponzi scheme to enrich themselves at the expense of more than 5,000 Ohio investors who lost over $200 million. Durham attorney John Tompkins has acknowledged "panic, fear and bad decisions" at Fair stemming from the financial crisis, but he and the other defense attorneys argue there was no crime.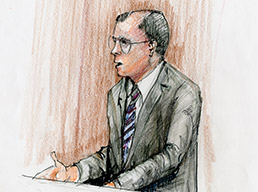 Attorney John Tompkins is representing indicted financier Tim Durham. (IBJ sketch / Tina Hansford)
The defense attorneys face the difficult task of offering both a unified front against the government's claims and a strong defense of their own clients, even if that means pointing fingers at Durham, a flashy financier once known for a lavish lifestyle including fancy cars, decadent parties at his waterfront mansion and generous political contributions.
The result is a sort of circular firing squad trained on Durham.
The strategy isn't surprising to prominent Indianapolis defense attorney Jack Crawford, who expects the finger-pointing toward Durham will only intensify as the trial continues.
He predicted it will be helpful to Snow that he worked at Fair before Durham bought the company, and he didn't take any insider loans. It will be a tougher road for Cochran, Durham's longtime partner and Fair co-owner, who prosecutors say regularly pulled money out of Fair to cover expenses including a home down payment, mortgage payments, car payments and home improvements, including landscaping.
"Everybody's going to say they were just following orders, that Tim was running this thing," Crawford said. "If push comes to shove, they'll all turn on Durham."
Snow was working at Fair Finance before Durham and Cochran bought the company in 2002, and he never rose to the level of partner, defense attorney Jeffrey Baldwin noted in his opening statement. Snow, the firm's chief financial officer, didn't take out loans from Fair for himself or any companies in which he had a stake.
"He simply was an employee and did his job," said Baldwin, a partner in Indianapolis-based Voyles Zahn Paul Hogan & Merriman. "He received a salary and nothing more."
Baldwin on Tuesday asked Doug DeRose, the former controller at Fair and a star witness for the government, whether Snow had any more authority than DeRose over how Fair spent its money, or how it went about changing its business model.
DeRose, who testified under an immunity agreement with the government, said "no" to both questions.
During a cross examination of Donald Fair, who ran the company for almost 50 years before selling out, Cochran attorney Bill Dazey sought to pin ringleader status squarely on Durham's shoulders.
"Who was the leader and who was the follower?" asked Dazey, a public defender, referencing Fair's $20 million deal to sell his company.
"Durham was the leader," replied Fair.
The questions did not leave Tompkins with the impression the attorneys were trying to help their clients "inappropriately escape responsibility or place blame," he said. Baldwin and Dazey have been helpful and cooperative, he said, and the three attorneys see the defense of the co-defendants as a "mutual effort."
Tompkins cited the famous quote from President Ronald Reagan, who argued those who agree with you most of the time are friends, not enemies.
"We're way over 70 percent agreement, but we're not 100 percent," Tompkins said. "As it becomes clearer and plays out who was where and what was going on, it will be clear to see this wasn't some vast conspiracy. This was three different people with different jobs trying to make a business succeed."
Tompkins said showing the co-defendants are independent actors also helps make the case for the defense.
Baldwin and Dazey declined to comment while the trial is under way.
Crawford figures the government offered the co-defendants a deal to testify against Durham, but it probably included jail time, so they opted to "roll the dice" with a jury. The trial is expected to last about three weeks.
To catch up on IBJ's coverage of Durham and Fair Finance, click here.
Please enable JavaScript to view this content.