While mergers and acquisitions have been rampant in central Indiana's benefits-broker industry the past five years, a handful of brokers has grown the old-fashioned way.
Indianapolis-based Apex Benefits Group Inc. has been increasing its revenue 30 percent a year recently and adding staff rapidly—without acquiring any other firms. LoCascio Hadden & Dennis LLC has been growing at a 15-percent clip, all on its own.

Gause
Other firms, such as Indianapolis-based Gregory & Appel Insurance and Indianapolis-based MJ Insurance, also have enjoyed fast growth primarily by adding clients. Gregory & Appel, for example, has boosted its annual revenue more than $2 million over the last five years with only one acquisition: a single broker's book of business of less than $200,000 per year.
"We acquire talent. There have been no acquisitions of blocks of business," said John Gause, who founded Apex Benefits Group in 2003 after a career as an underwriter at American United Life Insurance and stints at two other benefits brokers.
Apex has bulked up its staff from 11 in 2008 to 27 now. The firm now manages $325 million of premiums for its clients—nearly four times as much as it did five years ago—and its revenue topped $4 million last year.
Gause said he has considered acquiring other companies, and might even make a deal soon. But Jeff Hadden, principal of LoCascio Hadden, said mergers just don't fit within his business philosophy.
"That type of growth just doesn't fit who we are," he said of acquisitions, noting that most of the recent roll-ups have been made by publicly traded companies, such as Florida-based Brown & Brown Inc., Illinois-based A.J. Gallagher & Co. and Evansville-based Old National Insurance.
In addition, Florida-based AssuredPartners Inc., which is backed by private equity firms, has been active, acquiring Louisville-based Neace Lukens and its Indiana operations last year, then acquiring two firms—one in Fort Wayne and one in Indianapolis—this spring.
In Hadden's view, those deals are driven more by the excess profits that can be quickly gained by building up a larger organization.
The merger activity got rolling in 2007 as several veteran benefits brokers opted to cash in their sweat equity, rather than invest heavily in the computer systems and specialized expertise employers increasingly were demanding.
Then came the 2010 health reform law. Because it mandated government-run health insurance exchanges for employers with fewer than 50 workers, many brokers worried there would no longer be broker commissions paid by health insurers for those companies.
But it got even worse than that. In 2011, the U.S. Department of Health and Human Services ruled that health insurers could not count broker commissions toward the minimum 80 percent of premiums they are required to spend on medical care. That means health insurers would have to pay broker commissions out of the 20 percent they are now allowed for overhead and profit. To no surprise, they're not doing that.
Brokers' commissions typically have been invisible to employers, who ultimately paid the bill as part of their health insurance premiums. Now brokers are increasingly being forced to directly bill employers—and justify why their services are worth the money.
"Some of these companies have been [working] through the same brokers for years and years, are now underserved, and they're just realizing it," said Sheri Alexander, senior vice president of Gregory & Appel's employer benefits division. "We are getting more and more requests for proposals than ever before. It's unbelievable."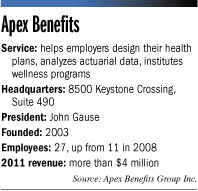 A common characteristic among firms that have grown with few or no acquisitions is that they serve mainly medium-size to large employers and were already billing many of their clients in this transparent, fee-based model. So the new reality has not forced these firms to undergo the same drastic change that other firms have.
"Our model has always been full disclosure," Hadden said. "We've just always done it that way. It's really how the client prefers to compensate us."
That's true if the client is a midsize to large employer, most of which do not buy health insurance, but instead buy only claims payment and wellness services from health insurers. Such firms look to brokers more for consulting services, rather than negotiating with insurers.
Smaller firms, which often have no dedicated human resources person, typically look to brokers mainly to handle the contracting with health insurers, as well as dental, vision and wellness programs.
Apex and Gregory & Appel have tried to set themselves apart by hiring increasingly specialized personnel in-house, such as financial analysts and human resources experts.
Many of those hires have left larger, national firms. Gause himself had worked at London-based Aon plc a few years before starting Apex. Alexander worked at New York-based Marsh Inc. before joining Gregory & Appel.
The level of service such specialists can provide persuaded Natalie Roberts, senior vice president at Monarch Beverage, to switch to Apex—even from a broker she said she liked but would not name.
"What they were able to do is really give us the numbers behind things, to run what-if scenarios, not what I already knew or what I could look up on the Internet," Roberts said about Apex. "Always before, I had to figure out what that would mean: How would that affect enrollment? How would that affect our bottom line? Would that be a good financial decision?"
Gause said Apex is looking for new office space to accommodate as many as 15 more employees because he expects the growth to continue.
"We're having fun. We're growing," he said. "I still think there continues to be a lot of opportunity."•
Please enable JavaScript to view this content.