The gas stations that occupy an increasing number of Kroger parking lots are like a Great Wall, protecting the grocer's market share from encroaching big-box retailers.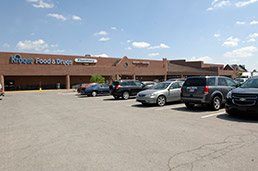 Kroger Co. is facing resistance to adding a gas station at its West 86th Street and Township Line Road grocery. (IBJ photo/ Perry Reichanadter)
That's why Cincinnati-based Kroger Co. isn't about to let opponents of a proposed gas station at West 86th Street and Township Line Road stand in the way of its store-by-store growth campaign.
The company is appealing directly to customers, who stand to gain convenient access to Kroger's discounted fuel, as it girds for battle with the Indianapolis City-County Council.
"In other words, approval of this fuel center also is about protecting the investment Kroger has made in the existing store and the 106 associates who work there," said a June 18 letter signed by Bob Moeder, president of Kroger's Indianapolis-based central division and architect of its national gas station strategy.
The letter, available in the store, goes on to blame a single neighborhood representative for spreading "false and deliberately misleading" information about Kroger's plan. The letter doesn't name that person, but it's most likely a reference to Susan Blair, president of the Pike Township Residents Association, an umbrella group that birddogs planning and zoning petitions.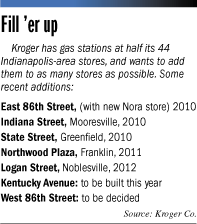 "It's disheartening that Kroger is resorting to such tactics," Blair said. "All we're doing is looking out for the community, including the other businesses located in Willow Lake Plaza."
Kroger has opened 40 gas stations in Indiana, Illinois and Ohio since 2003, and it plans to open 10 more this year alone. Half of Kroger's 44 stores in the Indianapolis area now have a gas station.
"Our long-term goal is to add fuel at every store we possibly can," spokesman John Elliott said.
The gas station planned for 86th Street would be Kroger's sixth in the Indianapolis area since 2010. The Metropolitan Development Commission voted 5-4 to approve the plan June 6, but it could be stalled by the City-County Council on June 25. Councilor Jose Evans, a Democrat, said he will force the plan to a full hearing, unless Kroger agrees to put the gas station in a different spot, away from Bravo restaurant's outdoor seating.
Kroger is one of the few traditional grocery chains posting increases in same-store sales, and it's the only one not losing ground to the likes of Sam's Club and Target, said Karen Short, managing director at BMO Capital Markets.
Short, who follows grocery stocks, said gas discounts for loyal shoppers contribute to Kroger's taking market share from other conventional grocers. "I think Kroger will be one of the last ones standing."
In May, Kroger doubled its fuel discounts, so loyalty-card users now can accumulate as much as $2 a gallon off store-branded gas.
That seems to have prompted a response from Fishers-based Marsh Supermarkets, which is offering as much as $2 a gallon off gas from Speedway stations with $200 spent in a single transaction at Marsh stores.
Marsh spokeswoman Connie Gardner did not respond to a request for comment.
Last year, Marsh rolled out a plan to catch up with Kroger, which has a 27.5-percent share of the local market compared with Marsh's 16.5 percent, by remodeling and building new stores. Marsh also deployed a new pricing strategy.
A number of grocery chains and gas marketers have chased loyalty programs, with mixed success, said Tom Kloza, chief oil analyst at Oil Price Information Service in Gaithersburg, Md.
Albertson's, an Idaho-based grocery chain owned by Supervalu, sold its gas stations last year to focus on its core business. Before that move, however, Albertson's sold so much gas that it looked to Kloza as if demand was going up even when government data indicated it was going down.
Northeastern grocery chains that had tie-ins with gas stations drove a lot of traffic to those stations, Kloza said, but those relationships fizzled because of disputes with the software provider that facilitated those partnerships.
"Ten years ago, we thought every supermarket was going to get in the gasoline business," he said. "That happened to a certain extent. Then it stalled."
Marsh has 43 stores in the Indianapolis area, and until its 2006 purchase by Sun Capital Partners, the chain included Village Pantry gas stations and convenience stores. Those stores have since been folded into North Carolina-based VPS Convenience Store Group, also owned by Sun.
The promotion with Speedway gives Marsh customers access to discounts at 67 gas stations in Indianapolis.
Similarly, Kroger has an affiliation with Shell, which extends the geographic reach of its promotions, Elliott said. (Kroger's discounts at Shell aren't as steep as at its own gas stations.)
Alliances like the one Marsh has with Speedway are the minimum a grocery chain needs to stay competitive, Short said. She argues that they're not as effective as store-owned gas stations.
"It's all about the convenience," she said. "It's not convenient if you have to make two trips."
Kloza disagrees. "There's a significant portion of the population that drives an unreasonable distance to find cheaper gasoline," he said.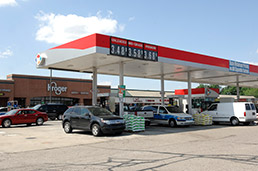 Kroger's gas station at West 71st Street and Georgetown Road. (IBJ photo/ Perry Reichanadter)
Springfield, Ohio-based Speedway, which Kloza calls a "terrific" retailer, probably wanted the tie-in with Marsh to combat a loss of its own customers to Kroger, he said.
One limitation to Kroger's strategy is that it won't be able to add fuel at all its existing stores, either because of zoning or because it doesn't control the land.
Part of the company's capital spending plan is to buy more of the real estate that its stores occupy so it can add fuel stations, Short said.
Northwest Indianapolis isn't the first place Kroger has encountered opposition. The town of Plainfield turned down Kroger's request in late 2009 to put a gas station at U.S. 40 and State Road 267. The Indiana Court of Appeals reversed the decision and sent it back to square one with the town's zoning board.
"That is the busiest intersection in the town," Planning and Zoning Director Joe James said. "It's already difficult to maneuver into their parking lot."•
 
Please enable JavaScript to view this content.