The state has decided not to employ a contractor-financing approach for completing the U.S. 31 upgrade in Hamilton County, but says the approach remains an option for other big projects.
Contractor groups had expected the state within weeks to issue requests for qualifications from private teams interested in building and financing the $300 million remaining portion of the project.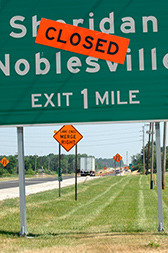 INDOT is rebuilding U.S. 31 in Hamilton County to freeway standards. The final contracts, at nearly $300 million, will be awarded soon. (IBJ Photo/ Perry Reichanadter)
It would have been the first local application of the Indiana Department of Transportation's contractor-financing approach, an idea championed by Gov. Mitch Daniels.
Contractors would have teamed with funding sources to finance the work, with the state paying for the project over roughly a decade.
Interest in the plan was so strong that about 75 representatives from engineering firms and construction contractors attended a May 16 bidders conference.
But after feedback from contractors and more number-crunching, INDOT decided to pay contractors as work is completed during construction—essentially, the conventional approach.
Even though it won't use the contractor-financing approach for U.S. 31, INDOT will continue with the project's accelerated completion date of 2015, or three years earlier than it would typically be finished with the conventional approach.
INDOT says accelerating construction is estimated to save $50 million, in part due to today's lower materials and labor costs.
One pillar of the contractor financing concept is that it's intended to shift much of the risk from the state to the contractor team.
The concept envisions the contractor team's handling not only the financing but also design and even maintenance of the roads and bridges.
Contractor-financing teams take the brunt of the risk in a project, say proponents. They also say using private capital allows state and local governments to use their bonding capacity to finance other things.
INDOT had already conducted much of the design for the U.S. 31 project and found other cost savings such that it determined late this month that the concept wouldn't have been as cost-effective as first believed.
Also, "the project itself, because it would be done in a compressed time frame, didn't offer a real robust risk transfer," said INDOT spokesman Will Wingfield.
Nevertheless, state officials are looking to innovative financing techniques with the wind-down in Daniels' "Major Moves" highway program, funded by the 2006 leasing of the Indiana Toll Road to an Australian-Spanish consortium for $3.8 billion.
Those proceeds unleashed a flood of highway projects statewide under Major Moves, including some of the work currently under way to upgrade U.S. 31 between Indianapolis and South Bend to freeway-like standards.
Toll road proceeds most notably allowed the start of the new-terrain Interstate 69 downstate, between Evansville and Bloomington.
In May of last year, Daniels signed legislation he'd sought that allowed for expanded use of private capital for transportation improvements. The nearly $300 million uncompleted portion of the U.S. 31 improvement project in Hamilton County was viewed as large enough to bundle up for possible private construction and financing.
"I have to give a high-five to INDOT for trying things," said Bill Hall, CEO of Indianapolis engineering firm United Consulting and board president of American Council of Engineering Companies-Indiana.
Hall noted that states face issues such as declining fuel tax revenue and federal highway funding uncertainty. "The current level of investment in infrastructure is inadequate to maintain our system."
Under the canceled concept, to use contractor financing in Hamilton County, the state would have paid back the private team over a roughly seven- to 10-year time period.
The financing technique has piqued the interest of the local construction industry. Build Indiana Council, a construction industry trade group, has said the contractor financing model will ensure some projects that could not have otherwise been financed will get done, meaning more jobs.
Given the complexity and costs of putting such deals together, it's likely bigger projects will be most suitable under this approach, said Dennis Faulkenberg, a principal of Indianapolis transportation consulting firm Appian.
Faulkenberg said a number of local contractors were trying to put together partnerships for the construction and financing of the U.S. 31 project. Some were concerned that large, out-of-state firms would end up getting the bulk of the work, he added. Large firms might find it easier to line up private financing.
That doesn't necessarily preclude Indiana firms from participating. Hall said United Consulting is a partner on one of several teams vying for an Ohio River bridge project.
Build Indiana, during a presentation earlier this year, said local contractors will still be in demand. Most public-private partnership deals around the country have small-business/disadvantaged-business goals that could assure some local involvement.
Some see broader, community benefits to innovative financing arrangements to the extent they can speed project completion. Christine Altman, a Hamilton County commissioner, said the consensus among county leaders is that the sooner the U.S. 31 project is completed the better, given the inconvenience and cost of prolonged construction involving U.S. 31 and key roads that intersect with it.
Much of the work being completed so far is to the north, at the State Road 38 interchange north of Westfield. This summer, work intensifies in more congested areas, such as near Clay Terrace mall.
INDOT's first private financing and construction project involves the planned Ohio River bridges. It's narrowed the list of private teams to four, with plans to reach a final deal by year's end.
The other privatization deal on the radar is for the proposed 47-mile Illiana Expressway. It would run west from Interstate 65 in northwestern Indiana to Interstate 55 in Illinois.
"Indiana is fully committed to the use of public-private partnerships in procuring future projects such as the Ohio River Bridges Project and the Illiana Corridor," Wingfield said after the state's decision to not contractor-finance U.S. 31 in Hamilton County.•
__________
Greg Andrews' Behind the News column will return next week.
Please enable JavaScript to view this content.