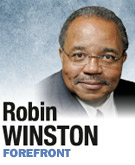 As many of you know, as a result of Wisconsin Gov. Scott Walker's efforts to implement an anti-worker agenda, members of organized labor joined with other groups to form a coalition that forced a recall election on Walker. That election was about keeping Walker in office, not about the elimination of organized labor. Walker won, but organized labor did not lose.
Make no mistake—the Wisconsin election will have an impact here in Indiana. It served as a wake-up call to organized labor that it is important to organize early in order to affect the 2012 elections. Those who believe that his win is a precursor to a continued erosion of support for organized labor are making a major mistake.
In 1995, I witnessed the power of organized labor when over 25,000 workers came to Indianapolis and protested against labor policies. During our 1996 gubernatorial race, labor played a key role in the election of Frank O'Bannon, and labor will be a major ally in our efforts to elect John Gregg as governor and to help elect countless candidates for local, statewide and federal offices in 2012.
Why do I believe the loss in the Wisconsin recall is not an indicator that labor is finished in Indiana?
First, labor learned valuable lessons from Wisconsin that will be transferred here. Indiana's unions have seen the tactics that will be used by those pursuing an active anti-worker agenda. We now know the playbook, the techniques and the efforts that will be used. That intelligence has enabled labor members to develop plans to combat those activities and to focus on one basic goal—getting their members to the polls in record numbers.
Second, the most important measure of the future of the middle class is per-capita income. According to the Census Bureau, per-capita income in Indiana over the past 12 months in 2010 dollars is $24,058, while the average per-capita income in the United States is $27,334.
This is simple: Because of the shrinking job market, the priority on creating lower-wage jobs and the newly passed right-to-work legislation, income earned by working families will decline. Members of organized labor, who represent working middle-class families, know that impact and will be heavily engaged in our 2012 elections.
Third, the disparity of pay between CEOs and working families continues to increase. According to the Indiana AFL-CIO, the CEOs of the S&P 500 companies earned an average of $12.9 million in 2011—a 14-percent raise. Remember, this is at the same time many working families face increased fuel costs, depressed wages, spiraling health care costs and a shrinking per-capita income. Labor members will better educate their members and our neighbors about this disparity.
Fourth, the presidential campaign will affect Indiana. You can expect constant references to the resurgence of the automobile and recreational vehicle industries by the president. The economy will affect the presidential race in a different way from past elections because voters will have a clearer choice. This election will be about the kind of jobs that will be created by Mitt Romney or by President Obama.
I have told my friends in Marion to expect major national media attention on their community because of the failure of Romney's Bain Capital with the Ampad plant. Expect to see Randy Johnson, a union organizer from Marion, featured nationally telling how wages and benefits were reduced and how Ampad closed the plant and laid off all the workers. This will be used to define Romney's policies toward working families.
When folks discount the impact of labor on our November elections, please remember the words of former Republican President Dwight Eisenhower, "Only a fool would try to deprive working men and working women of their right to join the union of their choice."
And only a fool would discount organized labor and working families in the November elections.•
__________
Winston is president of Winston/Terrell Group, an Indianapolis-based government affairs, public outreach and community relations firm. He was chairman of the Indiana Democratic Party from 1999-2001. Send comments on this column to ibjedit@ibj.com.
Please enable JavaScript to view this content.