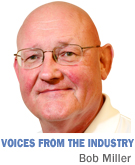 Have employees reached the tipping point where rising health care costs have forced them to think seriously about jumping ship? According to national surveys, the answer is an emphatic yes.
According to the Ninth Annual Study of Employee Benefits Trends by MetLife, "This year's findings reveal a work force that has grown more dissatisfied and disloyal, to the point where a startling one in three employees hopes to be working elsewhere in the next 12 months."
The study also shows that, year after year, employees who are satisfied with their benefits (especially their health plans) are more likely to be satisfied with their jobs. The more satisfied people are with their job, the higher the productivity levels and the less likely they become a turnover statistic.
As employees wrestle with the financial impact of the recession, the stress in their workplace, the rising cost of their medical plan, and in their personal lives, there appears to be a growing "satisfaction disconnect." Feeling overworked and underappreciated, 40 percent of employees report that they worked harder in the last 12 months, and 25 percent feel less secure in their jobs than they did a year ago.
These burned-out employees were the most likely to say they hope to be working elsewhere in 2012.
These trends are a clear warning of potential problems in the near future. Employers have kept talented employees through the recession. Are they about to lose them just as things start to turn around?
Many employees are struggling to make ends meet with the rising costs of goods and services while their pay remains the same or marginally increased. The "affordability gap" is getting wider, according to Towers Watson Health Care Cost Survey 2011.
"Affordable health care is key to providing a competitive reward package and to attracting and retaining top talent," according to their 2010 Global Talent Management and Rewards Study.
This is an issue employers struggle with at every renewal. Employers pay 36 percent more for health care than they did just five years ago, and employees contribute over 45 percent more over the same period.
As the economy continues to pick up, top employees will keep an eye open for that next job that has better benefits at a lower cost for them. This will have a major impact on a business if it starts losing top talent.
Surveys have shown that employees in all age groups rate health care as their top concern. Yet employers continue to believe employees are loyal, and they do not appear tuned in to this potential flight risk. But as the economy recovers, there is evidence employees are more likely to seek other employment opportunities—especially as many are feeling frustrated in their jobs.
Employers must lower their health care cost and engage their work force to become partners in this ongoing struggle to control cost. Without significant changes to medical plans and getting employees more engaged, morale will continue to decline and bring productivity down with it.
Carriers have begun to offer specialty (narrowed) networks with deeper discounts, or direct negotiations with specialty vendors for lab services, dialysis and pharmacy. Employees must take an active part in controlling their health care spending. Placing a greater emphasis on wellness and preventive care will help, but that takes time.
Some employers have started taking a more serious look at wellness programs to help reduce cost and to engage their work force. Depending on budget issues, some are starting out with the "new" basic wellness plan that includes biometric screening, health risk assessment and condition-specific coaching. Others have looked at on-site medical clinics to get the cost down. New plan designs that require all family members (employee, spouse and dependents) to complete certain wellness-related activities like "age-specific annual physicals" in order to enroll in the top medical plan are starting to catch on.
This is not the time to lose sight of how benefits help with employee attraction, retention and productivity. Start communicating with employees about health care cost, what they can do to help costs, and share the true cost of medical coverage.•
__________
Miller is vice president, senior consultant, at Gregory & Appel Insurance. Views expressed here are the writer's.
Please enable JavaScript to view this content.